Baby2Baby, the national nonprofit organization that provides basic needs to children experiencing poverty, hosted its annual Baby2Baby Gala presented by Paul Mitchell on Saturday, November 11 at the Pacific Design Center in West Hollywood.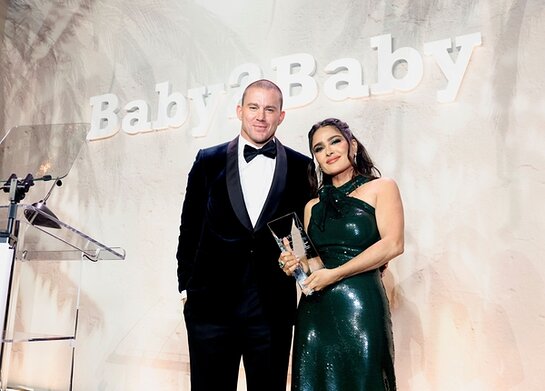 The evening featured Salma Hayek Pinault being honored with the "Giving Tree Award" presented by Channing Tatum, and a special performance by Snoop Dogg. The sold-out gala was attended by more than 800 guests, including Hollywood talent and executives, business leaders and philanthropists, who helped raise more than $12 million to support Baby2Baby's mission. Since its founding, the organization has distributed 170 million diapers to children living in poverty across the country – more than any organization of its kind.
Baby2Baby Angels Kim Kardashian, Olivia Wilde and Zoe Saldana kicked off the night to welcome guests, highlighting the incredible work of Baby2Baby year-round and emphasizing the importance of the gala to the organization's fundraising. "I'm so proud to be back on this stage after receiving the Giving Tree Award last year, and I can't believe how much Baby2Baby has accomplished since then," Kardashian said. "In just one year, they distributed 100 million items like diapers, formula, clothing and cribs and have now provided more than 375 million essential items over the last 12 years. The bottom line is that Baby2Baby means business and they know how to get things done. And that's why I chose to invest in Baby2Baby."
"This event is more than just a party. This alone raises millions of dollars to make Baby2Baby's vital work possible. "Baby2Baby raises 60 percent of its operating budget in this one night," Wild said.
Saldana reflected on her work with Baby2Baby, serving families and hearing their stories. "I have seen tears in moms' eyes and heard their sighs of relief when they receive a pack of diapers," she shared. "This is the entire mission of Baby2Baby. To provide the essential things every child is entitled to. "They are a lifeline for parents in need."
Baby2Baby Co-CEOs Nora Weinstein and Kelly Sawyer Patricof took the stage to draw attention to Baby2Baby's core mission and highlight their vital work providing essential items to one million children across the country this year alone. "For 12 years, we've talked about how 1 in 3 families in this country are choosing between food and diapers, which inspired the two of us to start Baby2Baby. And now, after that covid And record-breaking inflation, it just got worse. nasty. Today, half of all families in this country struggle to afford diapers," said the co-CEO. "A few years ago we created our own manufacturing system to make diapers at a price 80% lower than retail and deliver five times the volume. This has allowed us to donate 170 million diapers, more than any other organization nationwide. But we are only working on the surface. "This year alone we have had requests for 1.3 billion diapers."
The co-CEO also shared how Baby2Baby partnered with the White House this year to run a program to tackle the maternal mortality crisis in this country, where women are more likely to die during or shortly after childbirth than they were a generation ago. are dying at double the rate. Additionally, Weinstein and Sawyer Patricof highlighted Baby2Baby's recent critical disaster relief work across the country, including sending more than half a million emergency supplies to children affected by the Maui wildfires, supporting thousands of families who lost their homes following the tornado To do included delivering formula and clothes. More than 350,000 emergency supplies are being sent to Florida, and more, in the wake of Hurricane Idalia's devastation in Mississippi. "We know and deeply understand the fear donors have that their money or donations will not reach the intended recipients. But we did and did. We step back and listen and assess. We look forward to requests from trusted grassroots partners ranging from the smallest grassroots organizations to the largest government agencies FEMA Or Red Cross. Then, we provide families with their most important needs – in the shortest amount of time."
Oscar-nominated actress, Emmy-winning director, producer and humanitarian Salma Hayek Pinault was honored with the "Giving Tree Award" for her commitment to supporting children in need around the world. The award was presented to her by actor Channing Tatum, who said, "For 10 years I have followed the amazing work Baby2Baby does and it represents everything Salma cares about most – babies, babies , mothers and women." And continued saying, "Salma, thank you for always being a source of inspiration." When Salma accepted the award from her former co-star, she said, "Channing is like family to us. He's Channing Tatum Pinault Hayek. We appreciate that completely. Such a good heart."
During Hayek Pinault's acceptance speech, she said, "I can feel the love in this Baby2Baby community… and I can't tell you how thrilled I am that you guys included me on this special night. I'm a big fan of the organization. "I have a lot of respect for it." He spoke from first-hand experience to emphasize the importance of providing basic essentials, from saving lives to cultivating compassion. He concluded, "Dignity is a must. Diapers are dignity, make no mistake. She added, "Everything you donate and everything Baby2Baby brings in – there's not just money, there's an intention. It's love. It's compassion. It's caring. "We are interconnected – from child to child."
During the celebration, Baby2Baby Board Member Julie Bowen and Baby2Baby Angel Zooey Deschanel led the fundraising portion of the evening to help raise more money than ever before for Baby2Baby, helping the organization reach millions of children in need. Found.
Baby2Baby board members Nicole Richie and Sofia Richie Grainge concluded the evening by introducing the event's featured musical artist, global music and cultural icon Snoop Dogg, who performed "Nothin' But a 'G' Thang," "Gin & Juice, " "Beautiful" presented. "Drop It Like It's Hot," "I Want Love You," "The Next Episode," and "Young, Wild & Free." In honor of his performance, Baby2Baby has provided approximately 300,000 essential items to support children in the Snoop Youth Football and Basketball League and Snoop Special Stars, both of which provide thousands of inner city children in Los Angeles the opportunity to participate in youth provide. Soccer, youth basketball and cheerleading.
Additional guests at the ceremony included Jessica Alba, Camila Alves McConaughey, Alessandra Ambrosio, Jen Atkin, Hailey Bieber, Julie Bowen, Jordana Brewster, Vanessa Bryant, Ayesha Curry, Micheline DeJoria, Jenna Dewan, Kirsten Dunst and Jesse Plemons, Dany Garcia, Emma Were. Grede and Jens Grede, Lucy Hale, Lori Harvey, Sarah Hyland and Wells Adams, Savannah James, Heidi Klum, Monique Lhuillier, Chrishell Lim, Demi Lovato, Joel Madden, John McEnroe, Michelle Monaghan, Normani, Gwyneth Paltrow, Katherine Power, Nikki Reed, Michael Rubin and Camille Fishel, Maria Sharapova, Jay Shetty, Molly Sims, Cole Sprouse, Chrissy Teigen, Rachel Zoe, LA Mayor Karen Bass and many others.
Sponsors of the 2023 Baby2Baby Gala include title sponsor Paul Mitchell as well as City National Bank and Volvo Cars. Use,
The culinary dinner experience, featuring cuisine from Los Angeles' top chefs and restaurants, was moderated and led by John Shook and Vinny Dotolo of John & Vinny, Son of a Gun, Cookbook Market and Caramelized Productions. Participating restaurants included Angelini Osteria, Badass, Broad Street Oyster Co. and Goop Kitchen, Burgers She Wrote, Catch, Cookbook Market, Dear John's, Funke, Helen's Wine, Kato, Kazunori by Sushi Nozawa, Kogi. BarbecueMister Chow, Night+Market, Pan Bianco, Slab, Sua Superette, and Yangban, along with desserts from Craig's Vegan Ice Cream, Levain Bakery, and McConnell's Fine Ice Creams, and late-night snacks from John & Vinny's and Tacos 1986. Baby2Baby Gala attendees also enjoyed Casamigos cocktails throughout the night.
For the second year, the event also featured a Baby2Baby Meta booth to help raise awareness of the organization and support its mission. The Baby2Baby Gala was produced by Best Events.
(Tags to translate) Jessica Alba (T) Salma Hayek (T) Snoop Dogg (T) Nicole Richie (T) Kim Kardashian West (T) Olivia Wilde (T) Zoe Saldana (T) Zooey Deschanel (T) Channing Tatum (T)Baby2Baby (T)Celebrity (T)Charity (T)News