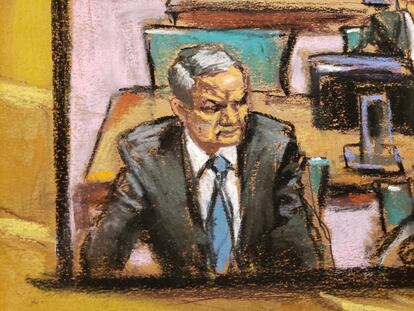 Genaro García Luna stared into space. Pensive, the former Secretary of Security put a pen to his mouth and on other occasions rested his head on his right arm. Everything around him was spinning. The room was like a carousel spinning in fast motion and you couldn't get off. There was his wife, his lawyers, the prosecutors and the jurors. Across the hall, in an alternate room, about 20 reporters were watching his every move and dissecting any reaction. Under that microscope, the highest-ranking former Mexican official to have set foot on a court in the United States looked alone, vulnerable and, at times, out of place. Outside the Brooklyn Court, there was talk of everything that was at stake, of the great political implications of his trial for drug trafficking, of everything that could come to light of his past. But inside the court, the former Secretary of Security was an unarmed policeman.
García Luna surprised locals and strangers by showing himself smiling last Tuesday, on the first day of the trial. The New York Prosecutor's Office accuses him of cocaine trafficking, organized crime and false statements. Despite everything, he seemed calm. He greeted his lawyers with camaraderie and seemed unfazed by the camera that recorded his every gesture. In Mexico it was said that perhaps he was relaxed because he had an ace up his sleeve, some material to muddy someone else and reach an agreement to get out of the problem with a lesser punishment. César de Castro, his representative, categorically denied it and assured that the legal team was ready to defend his innocence. Prosecutors claim to have more than a million documents that incriminate him and more than 70 witnesses willing to testify. "We are not interested in any settlement unless they are ready to drop the charges," said De Castro, determined to send the signal that, despite the talk of a mountain of evidence, the evidence against his client is not strong.
It gradually became more serious throughout this week. His face was hard again, the frown that has characterized him, and his hair whiter than anyone remembered. In court, the judicial process stalled on jury selection. But in another office of the Court, Judge Brian Cogan had to decide on a series of motions filed by both parties. García Luna, for example, wanted to present a string of decorations and public compliments that his former associates in the White House had given him. The most intense period of security cooperation between Mexico and the United States was during the government of Felipe Calderón and the secretary had permanent communication with Washington at that time. He now wants to present himself as a politician endorsed by senior US officials and who has passed all the confidence checks that were imposed on him.
The judge stopped him dead on the grounds that what a politician can say at an official act or a similar ceremony has little or no probative value in court. He did allow her to choose five images from his photo album of prominent politicians. The list of people he rubbed shoulders with includes, among others, former President Barack Obama, then-presidential candidates John McCain and Hillary Clinton, and three CIA directors. Cogan told him that if there was any current or retired official willing to put in a good word for him on the stand, he would allow the jury to hear the testimony. But the possibility seems extremely remote. It seems that nobody in Washington wants to have anything to do with García Luna.
The trial has caused a stir in Mexico but has received very little attention in the United States. The Prosecutor's Office has been very careful and has tried not to splash any US agency or institution in the process of proving the collusion between a high-ranking Mexican official and organized crime. The president, Andrés Manuel López Obrador, highlighted this imbalance. "This calls my attention, that the lawyers say that the authorities of the United States should not be involved. Why not?" he questioned.
Former President Calderón has been criticized for arguing that he was never aware of any, if any, ties of García Luna to the cartels, but the US officials' argument is much the same. "Now no one found out, no one knew, until suddenly they stop him and the accusation comes," López Obrador ironized. The matter has gone virtually unnoticed and few US media outlets have addressed the implications on this side of the border, despite the fact that the drug war is being waged on transnational territory.
The defense has identified that weak point and is expected to exploit it in the coming weeks. The Prosecutor's Office has as weapons testimonies about millionaire bribes, corruption schemes, threats to the press and accusations that border on hit men. The main challenge is that the juries consider them credible and that after hearing dozens of testimonies, citizens can assume that the crimes are proven. For this reason, García Luna's lawyers will focus on attacking his credibility. It is read between the lines, despite the fact that a long stretch of legal strategies is still missing, which will not be so much a "I did not do it", but a "those who accuse me are not reliable". The Prosecutor's Office affirms, instead, that what is really implausible is that he did nothing when there are so many corrupt ex-officials, people who worked for him and drug lords pointing fingers at him.
It will be this Monday when two irreconcilable versions of the facts will be exposed for the first time before the 12 members of the jury. García Luna will arrive escorted into the room and nervously put on his glasses. He will sit down with his lawyers, once again submit to public scrutiny and go through the process with the help of translation before returning to solitude and exile. The fate of the most controversial police chief in recent Mexican history is now in the hands of his old associates, his enemies, and a jury.
subscribe here to newsletter from EL PAÍS México and receive all the key information on current affairs in this country