Health
Called the VI Son Espases Race to promote physical activity and sport to improve well-being and quality of life – Salud Ediciones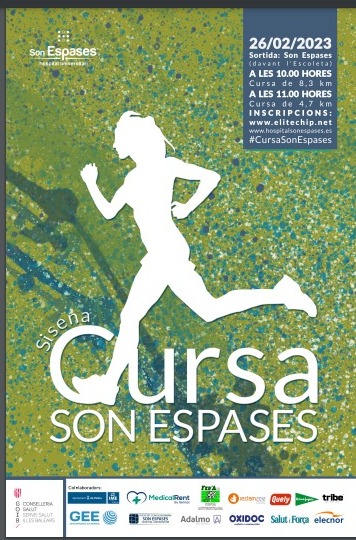 The Son Espases University Hospital has called the Sixth Son Espases Race for Sunday, February 26, an initiative that aims to promote physical activity and sport as fundamental elements to improve well-being and quality of life, and which has become in an essential annual appointment in the calendar of runners.
This year the number of runners has been increased to 700 participants, between the two routes. The absolute test (8.3 km long) will begin at 10:00 in the morning, in front of the Escoleta, with this itinerary: camí de Son Espases-camí de la Real-camí de C'an Gori-camí de l' Ullastre-Parc Bit road-Valldemossa-Escoleta Son Espases road, where the finish line will be located.
The popular test (4.7 km long) will begin at 11:00 am and the route will be as follows: Camí de Son Espases-Camí de la Real-Camí del Molí d'en Terra-Valldemossa road-Escoleta Son Espases. Trophies will be awarded to the top three overall male and female finishers in each of the two tests. Likewise, trophies will be awarded to the first classified by age.
The initiative is open to all those who want to participate. The minimum age to participate in the absolute test is 16 years old, while to participate in the popular test it is 14 (the authorization of the parents or guardian is required for those under 18 years of age). Registration must be made before February 24 at 11:00 p.m., on the web page, accessible from this URL, where the race regulations are also available.
The organization of the Sixth Son Espases Race is possible thanks to the disinterested collaboration of some fifty volunteers, the involvement of institutions (Health Service, Institut Municipal d'Esports and Palma Local Police) and the support of the companies GEE, Medical Rent By Remex, Hospital Universitari Son Espases Societat Concessionària, Adalmo, Oxidoc, El Corte Inglés, Salut i Força, Quely, Tribe, Elecnor and Reclam2012.


Readings:
90