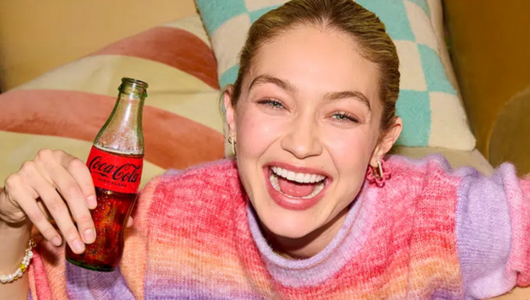 Three simple and essential ingredients. Good company, tasty food and a Coca Cola ice cream combine to create a 'recipe for magic' when friends and family gather around the table. That's the central message behind a new global Coca-Cola campaign launched in the United States, Canada, Latin America, Europe, Japan and other key markets.
'A recipe for magic' celebrates the human bond formed by family members, friends and even strangers as they break bread, rooted in the belief that, whether on an everyday or specially planned occasion, mealtimes become magical when enjoyed together.
The new Coca-Cola ad stars the model Gigi Hadid. "Cooking is a love of mine. It is an extension of my creativity. I learned, especially from my dad, that cooking has a lot to do with intuition, self-expression and connecting with others", she explained.
Although the audiovisual pieces recorded by Hadid and her friends will be presented in different continents and countries, the Chinese actor Yang Yang and the Mexican influencer Oscar Meza will also bring the campaign to life through films on television and social networks, billboards focused on recipes and more. And in all other markets approximately 750 relevant local chefs and influencers will create a variety of content to encourage people to come together and share more than just food on the table.
"It's clear that people crave more connection in today's hyper-connected world, and a universal idea is that food has the power to do just that," he said. Elif Kaypak, Global Brand Marketing Leader for The Coca-Cola Company. "Coca-Cola has a rich and historical connection to food and has established its role as the perfect pairing for meals cooked at home, ordered to go or enjoyed in a restaurant. We hope this campaign encourages our fans to come together and share more than just food on the table through authentic moments."
According to research, one in two global shoppers agree that Coca-Cola helps make meetings more enjoyable, and approximately 86% of the brand's global shoppers agree that Coca-Cola makes any meal better.
"We hope to create a movement where people share their own 'magic recipes,'" Kaypak said. "While Coca-Cola is universal, food is inherently local, so we are intentionally featuring a wide range of cuisines and creators. The complexity of life takes us away from each other and from the table, so we hope to inspire people of all ages, all backgrounds, all walks of life, to gather around the table and celebrate the magic of potlucks and Coca-Cola".