Sports
Cristiano Ronaldo visits his former Real Madrid teammates during their training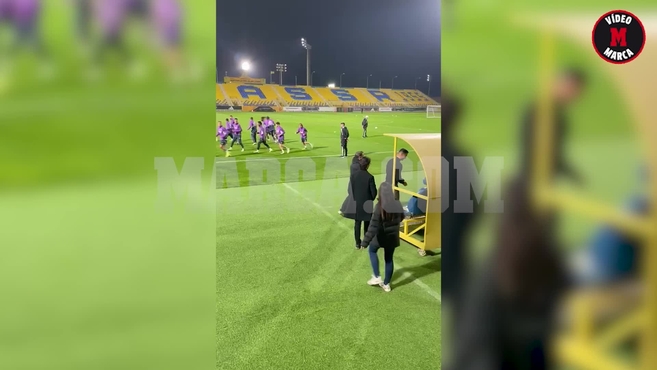 ANDthe portuguese Cristiano Ronaldocurrent player of the al nassr Saudi, visited the Real Madrid training session this Friday in Riyadh, the capital of Saudi Arabia, with a view to the final of the Spanish Soccer Super Cup, in which they will face Barcelona next Sunday.
The Portuguese wanted to hide as much as possible from the press, taking refuge on a bench on the pitch of what is now his Sports City, where he was talking with the Italian Carlo Ancelottithe Brazilian Robert Carlos and club members.
A young fan from Syria fulfilled "his dream", according to what he told the journalists present in Riyadh, by being able to take a picture with his "idol" during a training session in which, in addition to Cristiano Ronaldo, the rest of the team were present. al nassrwho trained after Real Madrid on the same pitch.
Cristiano Ronaldo, Real Madrid's top scorer
The Portuguese striker was a player for the white team for nine seasons, in which he became the top scorer in the club's history –451 goals in 438 official matches– and they won 16 titles, including four Champions League (three of them in a row) – and two Spanish Super Cups, the trophy that Ancelotti's men are chasing in Riyadh.
Cristiano Ronaldo's visit was one more example of the good relationship that exists between the Portuguese and Real Madrid.
After the elimination of Portugal in the Eurocup, due to the 0-1 defeat in the quarterfinals against Morocco, Cristiano, who was without a team after ending his second spell at Manchester United abruptly, exercised for several days, and always individually and away from the current first team so as not to interfere in the team's routine. Request to be able to train that he made directly to the president of Real Madrid, Florentino Pérez.
Cristiano is expected to make his official debut with Al Nasser on Sunday, January 22while on Wednesday the 18th they will be able to face the PSG of Argentine Leo Messi in a friendly in Saudi Arabia.