Entertainment
Fashion heartbreak, SZA, Miley Cyrus and Shakira coincide this season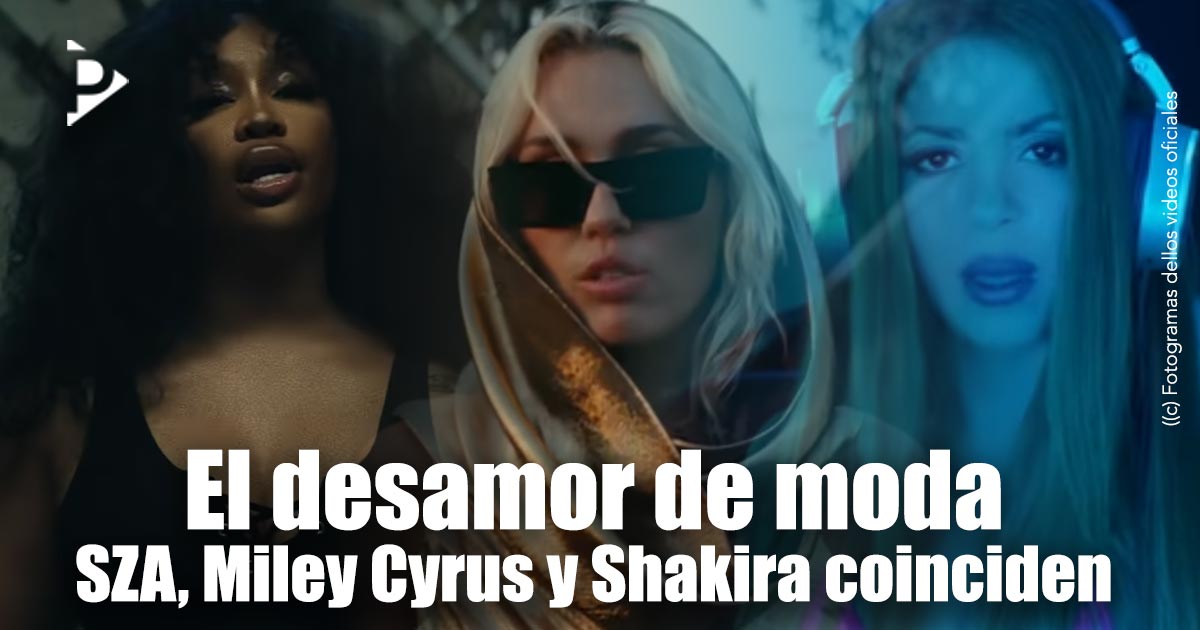 It is surely a coincidence but SZA, Miley Cyrus and Shakira have released three songs related to heartbreak and specifically failures in relationships almost simultaneously, and the most striking thing is that the three songs have become resounding successes worldwide by point that they are compared in terms of views, listens and impacts on the radio around the world.
We are talking about "Kill bill" by SZA, "Flowers" by Miley Cyrus and "Shakira || Bzrp music sessions #53", each one with different styles to narrate the matter, songs that are heard in Cuba both on the radio and from the social media.
Of the three, the one that has had the least impact in Cuba is "Kill bill" by SZA, something expected considering that SZA is not exactly one of the most popular singers here, yet. However, he peaked at #13 on the Top 100 for the week of January 21, 2023.
As for Flowers, #Pistacubana has just discovered that the song by Miley Cyrus is one of the most viewed Anglo-Saxon songs from Cuba on YouTube with more than 75,000 views in the last 7 days, second only to the radio hit "Calm down" by Rema and Selena Gmez in previous weeks. And surely it will enter the Top100 next week since it has already debuted in three portal counts, as Promo.
OFFICIAL VIDEO "FLOWERS" / MILEY CYRUS
Those of "Shakira || Bzrp music sessions #53" by Bizarrap and Shakira is already going to another plane, as she debuted directly at #1 of the Top100 of #Pistacubana thanks to a radio rotation, one could say that thunderous, and an impact from YouTube with some 400,000 views in a week, which has already reached 570,000 from Cuba when adding the last 9 days. Of course, Shakira is Colombian and the fact that she sings in Spanish allows us to understand her proposal in all its magnitude.
OFFICIAL VIDEO "SHAKIRA || BIZARRAP VOL. 53"
However, beyond views or impacts, or even turnover levels, #Pistacubana intends to address the thematic treatments of the three proposals, which differ totally.
Shakira's Latin spite, although with certain somewhat unhappy touches, falls short compared to the exquisite metaphorical level of Miley Cyrus and far above SZA's violent and explicit song.
It is true that unlike Shakira and Miley Cyrus, of whom infinite details of their breakups have been known, SZA's seems more like the work of the fertile imagination of its composers, although it goes too far in the toxic and fatal position of announcing a possible murder of his ex, which he even hints at as a fact at the end of the single.
Let's read some lines that allow us to appreciate the three ways of dealing with a breakup: spite, revenge and self-improvement.
I don't even know what happened to you
You are so strange that I can't even distinguish you
I'm worth two out of 22
You traded a Ferrari for a Twingo.
Fragment of the Shakira and Bizarrap theme
[ingls]
I might kill my ex
I still love him,
though Rather be in jail than alone


[espaol]
Maybe I'll kill my ex
although I still love him
I'd rather be in jail than alone
SZA song fragment

[ingls]
And I can hold my own hand
Yeah, I can love me better than you can


[espaol]
And I can hold my own hand
Yes, I can love myself better than you can
Fragment of the song by Miley Cyrus
Will this be a trend now, we will see if someone in Cuba gives it, although we already have precedents when they attributed to some songs by Laritza Bacallao such as Se te fue el avión, Shiina's Una nueva mujer or Arlenys' Second table dish as a response to a lost relationship, issues that in our context almost never make it to the media. Although they suggest SZA's point more, compositions that address common situations of human relationships that the performers do not necessarily have to suffer firsthand.
We will see how much gasoline these songs have to be enduring and mark one, this, little.