Folly opens in the former home of the Epoque Belgian Beer Café on Miller Street, joining recent arrivals Nico and Don't Tell Uncle in a mini hospo boom for the suburb.

Lachie Sturrock and Sam Smith met while working behind the bar at North Sydney's Albert's Tavern more than a decade ago, and were both fans of the nearby Camera Epoque Belgian Beer Café.
Now the pair have returned to the former Epoque site for the launch of their own venue, Follies, on Thursday, November 16, and they've brought a Michelin-star trained chef along for the ride.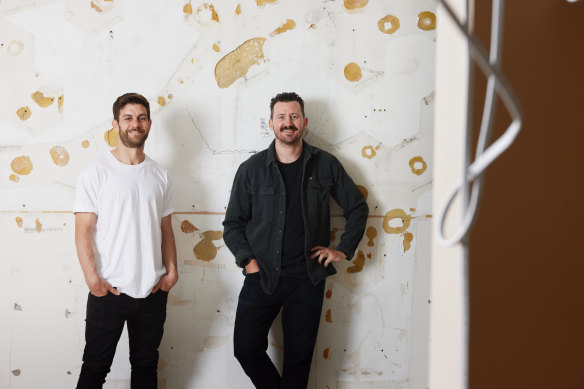 "The thing we like about this site is the layout," says Sturrock. "It fits that beautiful mix between the two (bar and restaurant)."
The memory of Epoch's big marble bar was so strong that, a decade after its closure, Sturrock admits he initially hoped it might still be hidden under the makeovers of later locations.
Sturrock and Smith both grew up on the lower North Shore, and the venue's nickname refers to nearby Folly Point. "It's also a silly play," says Sturrock.
A gamble perhaps, but both have built careers in the hospitality industry, and have also added some extra clout with Sydney publicists Bill Smith and Lee Dillon.
This isn't Sturrock's first start-up – he was involved in the launch of several locations as part of the management team at Applejack Hospitality.
The cocktail list is short and straightforward, rotating throughout the year to include seasonal fruits, while the wine list features between 80 and 100 mostly Australian producers, as well as Old World wines from France and Italy.
The Epoch's marble bar may not have survived, but its original wood floors and checked tiles did. Designer Katherine Thompson has decorated the space with a mix of leather banquettes, mustard and maroon tones, cork cladding and vintage rugs.
Chef Antonio "Ace" Espiritu apprenticed at France's Michelin-starred L'Osteau de Baumanier, before working locally at Icebergs Dining Room, A'Mare and Fauna.
The Folly Bistro at the back of the venue has a menu with an extensive Euro brief. Sturrock singles out kingfish ceviche with finger lime and snack-y potato balls with garlic-thyme butter as early favorites.
Recent camera openings from Nico and Don't Tell Uncle reveal that the area is in the midst of a mini hospo boom.
"We wanted to bring back that coziness and great energetic vibe that the place used to have," Sturrock says of Foley's addition to the party.
"Relive that neighborhood feel where locals happily dine out a few times a week, always looking for something new to try and experience."
Tue-Thu open 3pm-late; Fri-Sun afternoon-late.
429 Miller Street, Cameras, follys.com.au
Restaurant reviews, news, and the hottest openings delivered to your inbox.
Sign up

Scott Boles writes the weekly Short Black column in Good Food.