Health
Homologation of non-community titles: test scores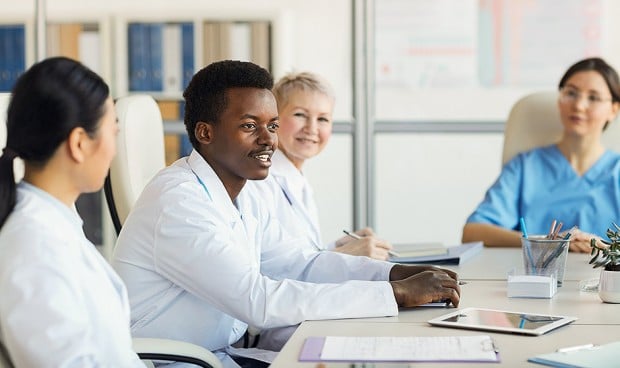 Health professionals.
The calls for the theoretical-practical tests for the recognition for professional purposes of foreign titles of health science specialists, obtained in non-member States of the European Union, are closer. The General Directorate of Professional Organization of the Ministry of Health has formalized two dates for the recognition of qualifications in this branch obtained abroad, which is an essential requirement for the exercise of activity in Spain. Specifically, as stated in the order published in the Official State Gazette (BOE), the process will be carried out by groups, depending on the medical specialty to be accredited.
According to the information shared by the ministerial body for the homologation of Medicine titles, as well as the rest of the degrees, the exercise will consist of Two parts that the candidates must resolve in a maximum of 165 minutes. On the one hand, a first part, lasting 90 minutes, which will consist of the resolution of 70 questions, plus five reserve. Each question will have four possible answers of which only one will be correct.
Each correct answer will grant 1 point to the applicant, while the wrong ones will subtract 0.25 points; the answer without answering will have a value of 0 points, but will not penalize. The final score It will be obtained on a scale of 0 to 70 points, being necessary to obtain at least 40 points to be considered 'Suitable'.
Of course, there is no specific agenda; The content of the test will be based on the professional skills of the current Spanish training program for each specialty.
Practical test for non-EU doctors
Next, the second part of the testwhich will last 75 minutes and will consist of the written development of three practical cases with specific problems of the specialty. They will be, explains Sanidad, at least three questions of course, with an open answer that must be developed in writing.
Each case will be assessed on a scale from 0 to 10 points, so You can get up to 30 points in this section. Of course, it is necessary to obtain at least 15 points to be considered 'Apt'. Therefore, applicants who leave any of the assumptions unanswered or obtain a score of 0 in any of them will be eliminated.
In addition, those applicants who obtain the qualification of 'Unfit' in the first part of the test they will not be evaluated in the second.
Homologation of health titles for non-EU citizens
Regarding the dates, the Ministry of Health has summoned the first group for the homologation of titles at 9:00 a.m. on the morning of February 4, 2023 at the headquarters of the Ministry of Health (Paseo del Prado, 18-20). To this call are called (in parentheses the number of candidates by specialty):
medical specialist in Anesthesiology and Resuscitation (65), in Digestive system (12); in Physical Education and Sports Medicine (2); in Family and Community Medicine (63); in Pediatrics and its specific areas (fifty); in Psychiatry (eleven); and in Radiodiagnosis (fifteen).
Also those called to recognize their degrees in Clinical psychology (1) and Obstetric-Gynecological Nursing (16).
The second of the dates is Saturday March 18, 2023 at 9:00 a.m., also at the ministerial headquarters. This group brings together specialists in other disciplines:
Medical specialists in Pathological anatomy (1); Angiology and Vascular Surgery (1); Cardiology (26); Cardiovascular Surgery (2); General and digestive surgery (8); Orthopedic Surgery and Traumatology (13); Pediatric Surgery (2); Plastic, Aesthetic and Reconstructive Surgery; Thoracic Surgery (7); Medical-Surgical Dermatology and Venereology (fifteen); Endocrinology and Nutrition (9); Geriatrics (2); Hematology and Hemotherapy (2); Physical Medicine and Rehabilitation (4); Intensive medicine (10); Internal Medicine (3); nephrology (5); Pneumology (1); Neurosurgery (4); Neurophysiology Clinic (1); Neurology (5); Obstetrics and Gynecology (3. 4); Ophthalmology (32); Medical Oncology (9); Radiation Oncology (4); Otorhinolaryngology (10); Hospital Radiophysics (1); Y Urology (8).
The information published in Redacción Médica contains affirmations, data and statements from official institutions and health professionals. However, if you have any questions related to your health, consult your corresponding health specialist.