Health
Internal medicine doctors reiterate the importance of recognizing obesity as a "chronic disease" in Spain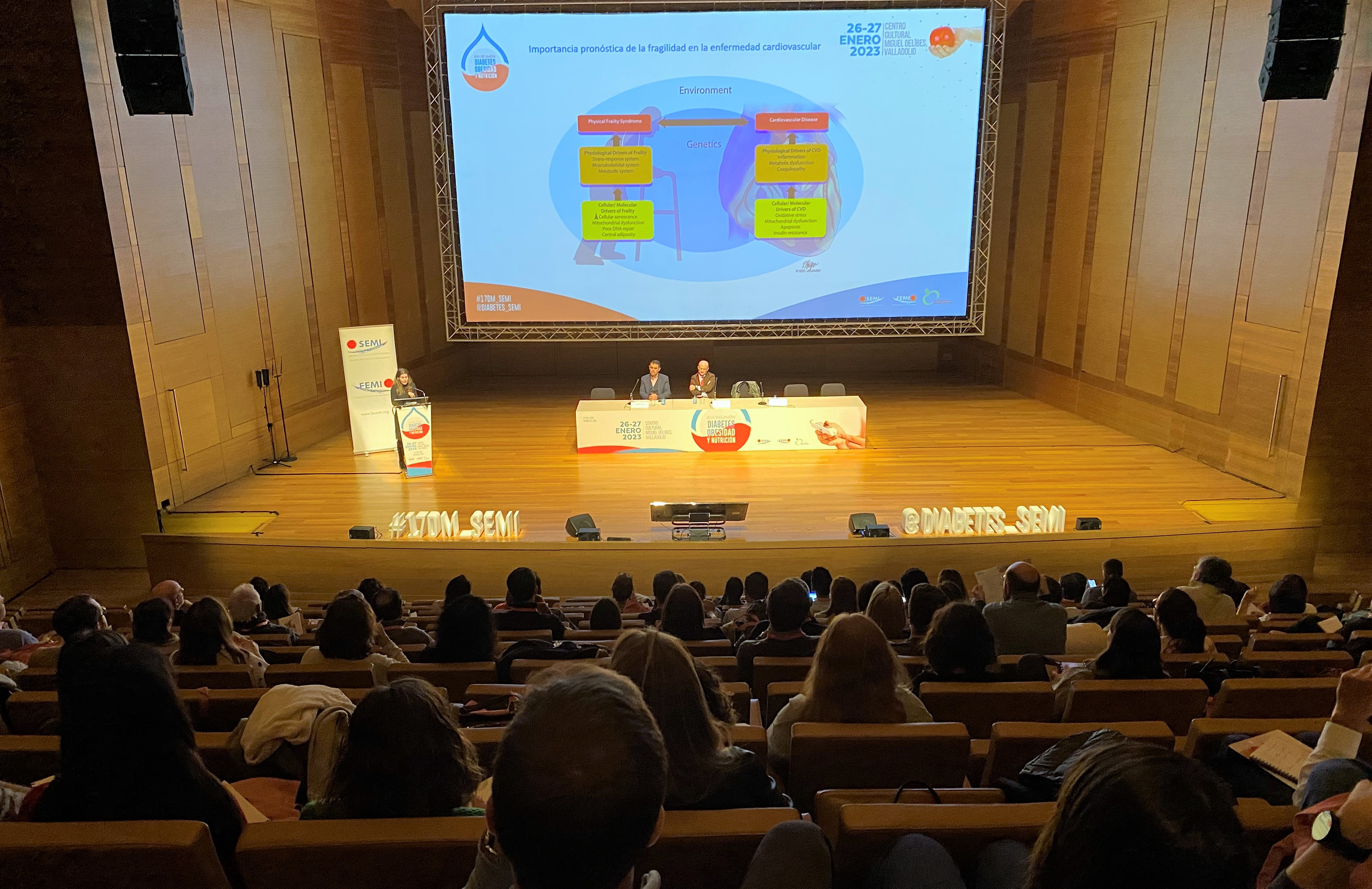 More than 285 internists have gathered at the XVII Meeting of the Diabetes, Obesity and Nutrition Group of the Spanish Society of Internal Medicine (SEMI), held on January 26 and 27 in Valladolid, where the main diagnostic and therapeutic novelties in the fields of study of the working group (diabetes, obesity and nutrition) with inter and multidisciplinary participation of patients and different medical-scientific societies.
During the meeting, topics of scientific relevance were discussed such as: "The past, present and future of the treatment of the person living with obesity", a "SEMI Algorithm for the comprehensive approach to hospital hyperglycemia" or how to address the obesity in the elderly, among many others, such as the role of adequate nutrition in hospitalized patients, news in the ADA-EASD 2022 consensus, ultrasound in morphofunctional assessment in Internal Medicine, insulinization in special patient profiles, anticoagulation of patients with obesity and the main projects, algorithms and initiatives carried out or underway by the Working Group in the last year (Customized Course, MIDIA Registry, Type 2 Diabetes Approach Algorithm SEMI 2023 or the Obesity Algorithm in the elderly person", among other relevant topics.
Past, present and future of the person living with obesity
Dr. Juana Carretero, president of the SEMI, has reiterated that "obesity is a chronic disease, as declared by most official organizations such as the WHO in 1997 or the EU in 2021. However, in Spain it remains without recognized as such and, therefore, without receiving adequate treatment". In addition, Dr. Carretero has highlighted that "it is estimated that by 2023 the prevalence figures in Spain will be 30% of the adult population, with growth at all ages, especially worrying in children and adolescents, with a expected growth of 1.9% per year and representing 2.43% of total health spending".
Likewise, he has put on the table that "in the past and currently, the person living with obesity has been blamed for their disease, simplifying it to a matter of eating a lot and moving little. This concept, so far from the true mechanisms that lead to obesity, leads the person to follow restrictive diets, with little weight response and recovery of lost weight in a short time. In this regard, Dr. Carretero has highlighted that, at present, "obesity remains underdiagnosed (less than 40% of people with obesity have this diagnosis), undertreated (less than 20% receive medication with scientific evidence) and less 1.3% of the professionals prescribe said medication". She has reiterated that "obesity must be understood as a chronic disease based on an excess of adiposity. Thus, her treatment should focus on preventing excess fat, avoiding the appearance of complications such as diabetes or hypertension and final complications, such as atrial fibrillation, heart failure, sleep apnea or osteoarthritis ". Likewise, he recalled that 2015 has meant "a before and after in pharmacological treatment with the authorization of GLP1 receptor analogues (arGLP1) specifically indicated for obesity" and that "bariatric surgery is currently a safe and effective technique indicated for BMI greater than 35 regardless of the presence of comorbidities, between 30-35 if DM2 or major comorbidities (osteoarthritis, sleep apnea, AF, fatty liver, CHF)".
Finally, Dr. Carretero recalled that the "future of obesity treatment is promising, but unfortunately, since it is not recognized as a disease, there are no financed drugs and, furthermore, people who live with obesity are blamed for the use of of other therapeutic options for this purpose". In the future, thanks to research, we will have drugs with a dual mechanism of action, such as Pemdivutide (glucagon/GLP1), Cagrilintide (amylin/GLP1) or triagonists (Retratutide (GIP, Glucagon, GLP1)" and also that "the New technologies, big data and "machine learning" techniques will allow us to anticipate the appearance of obesity, predict which people will develop it and how obesity will be expressed in said person, with which we will be able to offer personalized medicine that improve their care, their treatment and the response to it".
Initial approach to hyperglycemia in non-critical hospitalized patients
Dr. Francisco Javier Carrasco, SEMI internist, former coordinator of the DON-SEMI Group and Head of the Internal Medicine Service at the Juan Ramón Jiménez de Huelva University Hospital, spoke on the management of hyperglycemia in non-critical hospitalized patients. He highlighted the importance of "performing glycemia at breakfast, lunch and dinner in all patients for 24-48 hours from admission to detect stress hyperglycemia and unknown diabetes" and that "correction of stress hyperglycemia will be initially performed with analogues rapid insulin.
He also remembered the guidelines on "How to act in the event of hypoglycemia?" and, regarding intravenous insulin, "When and how to start it on the ward, how much and how to monitor it, and for how long?". All of this is part of a 2023 consensus document presented in the framework of this meeting of the DON-SEMI Group.
Obesity in the elderly
As indicated by Dr. Pablo Pérez Martínez, internist, member of the Board of Directors of SEMI and Scientific Director of IMIBIC, "when considering the clinical management of obesity in people over 65 years of age, it is important to assess the functional status and if the patient presents sarcopenia or cognitive impairment".
Dr. Pérez Martínez has reiterated that, if these are preserved, "different clinical scenarios are considered: in a patient with a BMI between 30 and 34.9, it would be indicated to intensify a healthy lifestyle; In those patients with BMI between 35 and 39.9, it is important to also assess if they present other comorbidities and the impact that these have on the patient's limitation, as well as the possible prescription of medication and, in the last clinical scenario, above BMI out of 40, it is recommended to intensify a healthy lifestyle, pharmacological treatment and in some specific group of patients even assess bariatric surgery".
What role can or should nutrition and exercise play in this type of patient?
In the words of Dr. Pedro Pablo Casado Escribano, coordinator of the SEMI Working Group on Diabetes, Obesity and Nutrition (DON): "all hospitalized patients may be at risk of suffering a deterioration in their functionality during admission and, to avoid this, It is essential both proper physical conditioning and optimal nutrition. In addition, he has reiterated that, in patients with frailty already present, "this becomes even more relevant due to their greater risk of functional deterioration, but it is important to take into account that we must not only attend to these needs in frail patients, but in the group of patients hospitalized for acute pathology".
Regarding multimorbidity in people with obesity, Dr. Casado Escribano also recalled that "obesity is a disease that is associated with high morbidity, only managing a body weight in a patient who lives with obesity would be a mistake, and as integrative doctors, internists must face the challenge of addressing the set of problems that these patients can present".
In relation to the different training activities and projects of the Working Group, Dr. Casado Escribano has reiterated that "the group has remained very active during the last year, thanks to the drive of many of its members. It is worth noting the algorithm for managing hyperglycemia in hospitalized patients (which will try to respond to a wide range of patient profiles faced by Internal Medicine), the new Diabetes Management Algorithm of 2023 (updated since 2019) , the MIDIA registry (to evaluate the management of patients hospitalized in Internal Medicine with DM or stress hyperglycemia) and many other different training activities.
About 33% (between 30-35%) of patients admitted to Internal Medicine have Type 2 Diabetes, even though the reason for admission is not diabetes. In addition, it is estimated that between 30% and 40% of people with diabetes who are seen by internists are obese.