Entertainment
Maluma shares his thoughts and clarifies rumors in an interview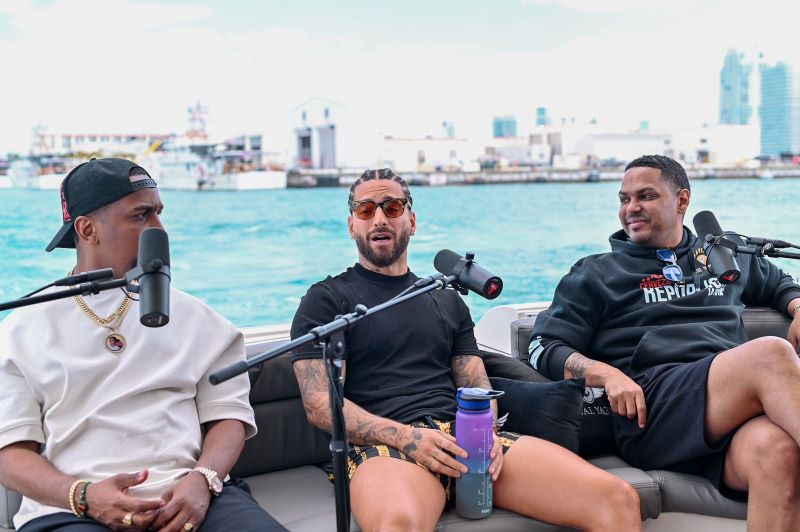 The Colombian artist Maluma was interviewed by Alofoke Radio Show
Maluma shares his thoughts, clears up rumors, and talks about the music scene in Colombia and Puerto Rico in a recent interview with the Alofoke Radio Show.
The Colombian artist stated that he has no problem with Neymar dating his ex-girlfriend, Natalia Barulich. He joked that the Brazilian footballer took it off, but he was fine with it.
He also revealed that he had a crush on Kylie Jenner but had never gotten close to her.
In addition, he addressed rumors of Karol G's relationship with Salón Villada Hoyos, also known as Feid, and Anuel AA's contempt for him in a song.
He says that what is happening with the Dominican dembow is incredible and highlights the work of El Alfa.
Maluma also talked about how the music scenes in Puerto Rico and Colombia differ in terms of their musical styles.
Below are details of the Alofoke Radio Show interview with the Colombian artist Maluma
In one of the interviews where the young Colombian Maluma has felt most comfortable, this time with the guys from Alofoke Radio Show, the artist talked about a little bit of everything, especially his love life, tastes for women, his crush on entertainment and clarified several rumors around him, in addition to his opinion of the new love relationship with his paisa Karol G.
Faced with the golden question about his feelings when he found out at the time that his ex-girlfriend, the model Natalia Barulich, was dating the soccer player Neymar shortly after breaking up with her, the artist was clear in saying that he doesn't care. who your ex is dating.
Maluma jokingly said that yes, the Brazilian soccer player took his girlfriend away, but immediately clarifying between laughs that it was not like that, he said: ́ ́well, I finished with her, and then I saw that they were out there together, but that's not hurt my ego or anything like that. He continued by saying: ́ ́when you end up with a woman, give her the last kiss or hug from her, that's as far as everything ends, she is no longer your woman, and bye, we left ́ ́.
After Santiago Matías's question about whether it would have hurt Maluma to know that Neymar and Natalia communicated in DM while she was still with him, the artist said: "I don't know that, but it would have hurt me there, yes." .
The artist stated that he has never had problems with Neymar, and that he would never stand between his ex-girlfriend's relationship and the player, since they are no longer together, and everyone does what they want with their lives.
Regarding her crush in the world of entertainment, she confessed that she is Kylie Jenner. Whereas she is one of the most beautiful women in the world. And without being sure that she is officially dating her colleague Bad Bunny, she dared to confess it, admitting that she is not one to write DMs, or anything like that, she never approached him, she is just a pure crush.
Regarding whether his paisa, Karol G and Salon Villada Hoyos, better known as Feid, are together, the artist limited himself to laughing and expressing that he suspects that they are.
Anitta and Maluma were together?
As you will remember, a while ago, the Brazilian singer Anitta, came to give very intimate details of Maluma, thus confirming or indirectly insinuating that at some point in the past they lived a passionate romance. Given this fact, Santiago Matías asked the Colombian if, in effect, they had some kind of sentimental and/or sexual relationship, to which Maluma said: "As the philosopher Juan Gabriel once said, 'WHAT IS KNOWN NO ASKS' (laughter and hullabaloo around).
About Anuel's phrase: Never ´´Flow ´´ Maluma, always Real G:
Ever since Anuel AA and Bryant Myers released the remix of 'Gan-Ga', a song in which Anuel raps "Nunca 'flow' Maluma, siempre Real G", Maluma's followers wondered at first, could it be that Anuel is pulling him do you taunt the HP interpreter? Well, in addition, the Puerto Rican published at that time a short video on his social networks highlighting part of the song.
Since then, not much has been known about the Colombian's opinion, and during the interview with Matías and the guys from Alofoke Radio Show, we learned how Maluma's immediate reaction to Anuel was.
He said: ´´I think that, at that time, we were very young. He was experiencing different things, just like Anuel has always been characterized by doing that kind of thing and making that kind of lawsuits. But the truth is, I did write to him at that moment, and yes, I got pressure and wrote to him, he said "but what is that shit, don't post things about me if you don't know me", but he told me to bounce that, no He was part of the show, then I met him in Miami, and I realized that he is a great guy.
The urban colors of Colombia Vs PR:
The musical seasonings are the same in PR and Colombia, but with a different variety, this is how Maluma refers to the constant comparison or difference of urban music, reggaeton, between both countries.
Regarding urban Colombian artists, the Colombian believes that his countrymen have achieved success because of the mentality they have in the industry, highlighting their constancy of work, especially their discipline and focus.
Are Colombian artists united?
´´Now we are united, but before we were setting a bad example (referring to J Balvin and him), so he blames the ego of both, and that, neither had anything against the other.
About the Dominican dembow
´´What is happening with the Dominican dembow seems incredible to me, and I have to give it to Alfa, he has been responsible for what is happening, but I never imagined hearing so much Dominican dembow on the Medallo album. And that calls my attention, because I said it years ago, that this return was going to come. It would be a blessing to come to the studio and be given an opportunity to enter this genre with the new talents ́ ́.
Music came into his life out of necessity.
Although we know a lot about Maluma, the artist took the opportunity to remember the material needs of his family, which led him to abandon soccer, since his father was bankrupt, his parents recently divorced at the same time as the financial crisis, and From being a wealthy child, he became a young woman with many needs, which awoke in him the need to enter music and luckily obtain the worldwide success that financial stability has achieved not only for him, but for his entire family. .
On the controversy in Qatar 2022
´´That situation was difficult with the journalist who approached me. But people have to begin to understand that artists are not 'superheroes', and that unfortunately we cannot save a country, one does it from where one can. I have a foundation, and nobody talks about it, I have been doing work for 5 years in my land, and I want to take it to the world. But with the artists that I sang I had never sung, and it was a magical opportunity, and to do a dembow in the World Cup anthem, I went there, did what I had to do and returned to my country with my foundation to continue helping my country that He has a lot of problems.
About his restaurant Dembow and the origin of the name
The Colombian commented that he chose the name because he is a grateful person, since today he has food on the table at home thanks to this genre. ´´I have always admired the Dominican and Puerto Rican culture. And today there is food on my table thanks to dembow, and if we talk about my favorite artist of that genre, the truth is one, El Alfa´´.
You want your brand to be worth a billion dollars
Like many artists, especially from the Anglo-Saxon urban world, the young Colombian Maluma is working in different businesses through his brand name, ´Maluma´, for which he hopes that he will achieve lucrative accumulations, but, clarified that, ´ I would never leave music, I would always work hand in hand in both worlds, especially since the foundation of business has been achieved thanks to the artistic world.
Finally, on his 30th birthday, which will be on January 28, 2024, the singer and businessman confessed that he will celebrate his birthday in the Dominican Republic, specifically in Casa de Campo, in Romana, but he will possibly go through Venezuela and the 42´, emblematic neighborhood of the Caribbean island.