Hopes for renewal of the Australian Wool Innovation Board, run by Woolproducers Australia, were dashed today in the 2023 AWI director election.
Wool growers today elected Australian Wool Innovation's preferred candidates to the Board Nomination Committee – South Australian stud breeder George Millington, Western Australian grower and stud breeder Neil Jackson and AgriDigital Chief Executive Officer Emma Watson.
Ahead of the vote in Sydney today, the WPA Board recommended that growers should consider voting for former WPA President and New South Wales grower Edward Storey, former WPA Director and Western Australian grower Steve McGuire and Mr Millington.
AWI's board nomination committee, consisting of two retired board members – David Webster from Western Australia and James Morgan from South Australia – recommended Mr Millington, Mr Jackson and Ms Weston to shareholders last week.
The AWI Board also decided that the open proxy directed to the AWI President would be voted in favor of Mr Millington, Mr Jackson and Ms Weston.
Mr Millington received the highest number of votes of any candidate – 131,051 – while only 17,974 votes were cast against his election. After this, Ms Weston got 128,084 votes and 16,846 votes in opposition. Mr Jackson received 98,168 votes and 39,863 votes against him, but this was a better result than Mr Storey's 74,401 votes and 37,276 votes against him. Mr McGuire received the fewest votes in favor of his election – 34,398 and 53,231 against.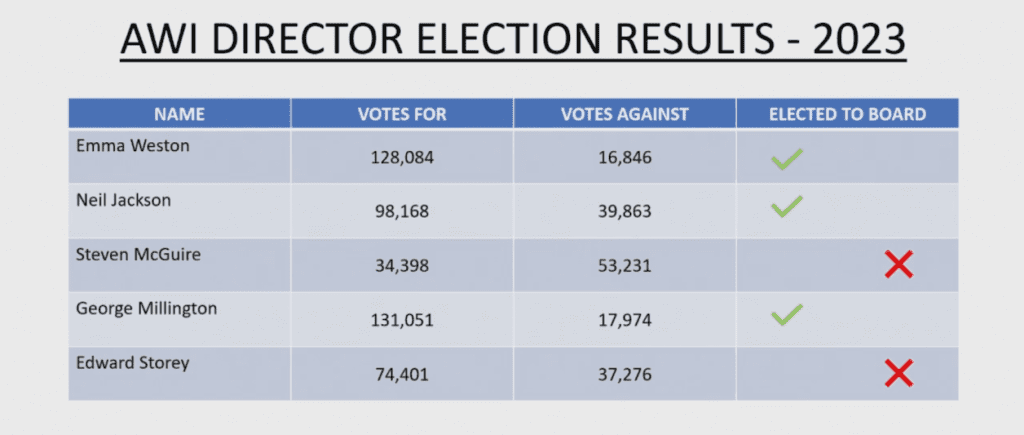 AWI President Jock Lawrie welcomed the new directors and said all three would make valuable contributions to the important work AWI does on behalf of the company and the Australian wool industry.
"His skills and experience will complement those of his fellow directors and I look forward to working with him.
"I would also like to thank the contributions of our retiring directors, who served the company and Australian wool producers with distinction," he said.
AWI chief executive John Roberts spoke at the annual general meeting about the challenging nature of the company's finances.
"Our revenues have decreased significantly as we share the impact or lower prices with our wool producers.
"It has forced us to refocus and refine our goals and activities," he said.
"This means many projects have had to be closed as we redeploy funds to areas where businesses and boards are seeing the most pressure," he said.
"In simple terms, on the supply chain front we have competing land uses on agriculture, and on the other end we know consumers have competing fiber options.
Mr Roberts said, "Our work has always been to work towards an environment where the wool-growing enterprise is at the forefront of other agricultural activities and where a consumer is willing to pay a premium to wear the world's most versatile and sustainable fibre. Look and justify."