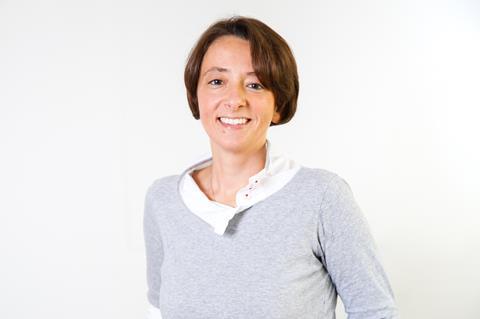 As London-based head of sales at Cornerstone Films, Italian-born Carla Quarto Di Palo has played a key role in the company's growth since it was launched in 2015 by Alison Thompson and Mark Gooder, following a stint at Hanway Films. Had attended. Focus Features.
He attended AFM earlier this month with a slate that included Euros Lynn's supernatural black comedy RadleysStarring Damian Lewis, and BFI London Film Festival premiere to remain hungrySecond feature from apostasy Directed by Daniel Kokotajlo, Matt Smith and Morfydd Clark.
How is your office?
We work some days from office and some days from home. We have a lovely hot spot in Bermondsey Street, London. When I work from home, I like to focus on contracting stuff; When we are in the office, we talk about general strategies and planning.
Whom do you respect in the industry and why?
Alison (Thompson). I started as a junior (at Focus Features) and she was leading the company. As I grew into my role, I started to look at friends in the industry who became successful and ran businesses on their own – generally women who have been successful. For example, I have a client in Switzerland, Corin (Rossi), who runs a distribution company called Presence there.
What was your favorite movie growing up?
The first movie I saw in the cinema ET extra-terrestrial – My grandmother took me. Stories with fantastic elements attracted me. Then growing up, as a teenager, I loved John Hughes films, like Ferris Bueller's Day Off, My favorite, favorite filmmaker is Billy Wilder. I always say that I am in the film industry because of him.
What are you most proud of professionally?
I am proud to have seen this company be born and grow to what it is today. When we started, we were working in Alison's kitchen. I couldn't have imagined where we are now, having films at major festivals and the success we've had. Now we have a team of 10 people.
What is the biggest business mistake of your career?
It is not a mistake but a regret that I am coming into the film world later rather than in the first 20 years of my life. I was pursuing a career in music – I have a diploma in sound engineering and I wanted to produce music. I always wanted to work in cinema, but when I was studying, there were no universities (opportunities) in Milan that focused on cinema.
Which is your favorite film festival?
Toronto – I love the people there, I love the audience. This is the most exciting festival to attend. It's comfortable and nice. I'm Italian, so obviously I love going to Venice too.
What do you think the sales of the film will be like five years from now?
I don't think there will be a drastic change in this. There are always challenges – we've been disrupted by Covid, we've had economic crises, wars and now big company mergers and (Hollywood) strikes. The industry is very good at adaptation. I think the only thing that will change is new windows and new technologies that will bring new opportunities. There are probably going to be more production companies and sales companies merging – everyone is trying to merge to compete with the bigger players. Independent people are getting smarter and want to continue running their own business (and taking on challenges), so there will be more mini-studios in five years' time.
What new technologies do you see impacting the industry?
We now have a whole list of Windows that we are using in terms of licensing rights for our content – ​​we are watching movies in the cinema, on TV, on our tablets and phones. What will happen next? What is Apple or Google going to launch?
Who would play your role in a movie of your life and who would direct it?
I don't think I look like an actress, but I love Saoirse Ronan – I saw her recently Enemy And liked it. As far as direction goes, there are two directors for the two versions of my life – one directed by Cameron Crowe and one by Wes Anderson.