The liturgical time is marked by the succession of events which the Church remembers and makes us participate in. Among these, the feast of the Marriage of Mary and Joseph, which is remembered on 23 January.
To the Holy Spouses we turn our intentions with confidence, trusting in their powerful intercession with God.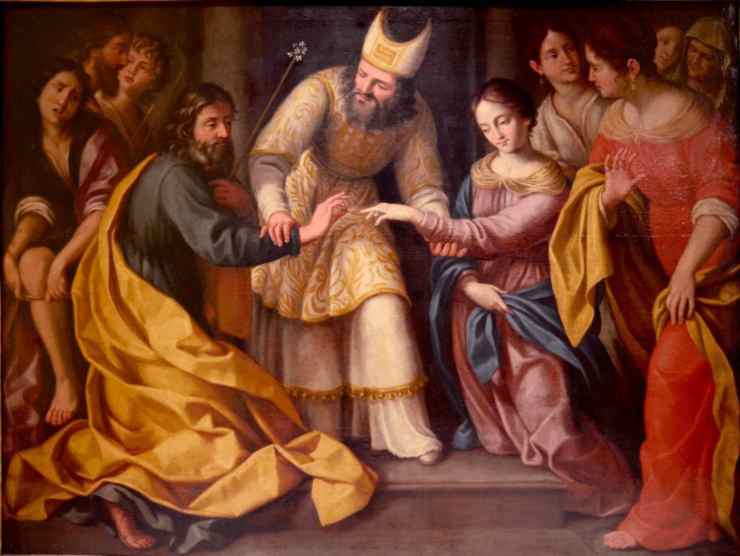 This feast dates back to 1400 and was born as an expression of the faith of the people of God, who saw in this marriage a fundamental event in the history of Salvation.
Such an important anniversary it is an opportunity to prepare ourselves spiritually with prayer and the sacraments: of Confession, since a free heart is obviously more ready and open to receive God's grace; and of the Eucharist, beyond Sunday as is a holy habit for a Christian, whenever we have the opportunity to participate in the Holy Mass, which does us great good for the soul.
Novena to the Holy Spouses – first day
In the name of the Father and the Son and the Holy Spirit. Amen
Prayer
O holy spouses Mary and Joseph, come to our aid in all our spiritual, corporal and temporal needs; remove from us the dangers that threaten us, help us with love in the difficulties we encounter in our daily life. Take our lives and those of our families under your maternal and paternal protection. Show your goodness towards those who full of hope invoke you and always want to remain your devoted children. O most holy Mary, or glorious Patriarch Saint Joseph, help us to glorify God with a holy life, faithful to the precepts of the Gospel.
Holy Spouses Mary and Joseph, pray for us and for all the spouses.
Invocation
O Mary, Mother of all mercies, or glorious Patriarch Saint Joseph, our protectors and advocates, we turn to you to obtain (express the grace we desire ……) for which we beg you with this novena. By recognizing ourselves unworthy of divine favors, should we therefore lose hope of being helped by the Lord? Never be this! Knowing your great goodness and how much your Son Jesus is always willing to accept your requests, we present ourselves at the foot of your glorious throne to implore your help. Make up for our shortcomings with your precious merits, and welcome as you are before God, obtain for us from your Divine Son the grace that we implore with this novena. Confident in the mercy of your Divine Son and in your goodness, accept from now on the homage of our deepest gratitude.
Our Father – Hail Mary – Glory to the Father
Consecration to the Holy Spouses
As God the Father, in his infinite wisdom and immense love, here on earth entrusted his Only Begotten Son Jesus Christ to you, Most Holy Mary, and to you, Saint Joseph, spouses of the Holy Family of Nazareth, so too do we, who became children by baptism of God, with humble faith we entrust ourselves and consecrate ourselves to you. Have the same care and tenderness for us as you had for Jesus. Help us to know, love and serve Jesus as you have known, loved and served him. Obtain for us to love you with the same love with which Jesus loved you here on earth. Protect our families. Defend us from every danger and from every evil. Increase our faith. Keep us in fidelity to our vocation and our mission: make us saints. At the end of this life, welcome us with you to Heaven, where you already reign with Christ in eternal glory. Amen.
READ ALSO: Miracle in Rome: what happens is really the hand of Providence
The completeness of the information is in everyone's interest. For this reason we ask you to suggest additions or changes and to report any inaccuracies or errors in this or other articles of Lalucedimaria.it by writing to the following address: redazione@lalucedimaria.it