CLASP analysts visited approximately 250 homes in seven countries (Italy, Spain, France, Slovakia, Romania, the United Kingdom and the Netherlands) in a study believed to be the largest of its kind ever conducted in Europe . , Well, the report highlights that "there is an urgent need to consider cleaner and safer cooking options for people's health and the environment." This urgency will be even greater given the findings published by CLASP in another study: Unknown health effects of gas stove use (January 2023), a report by the NGO states that gas stoves have caused more than 700,000 children in the EU to suffer asthma symptoms in the past year.
The Federation of Consumers and Users of Spain (CECU), the NGO that disseminates the CLASP studies in Spain, has shown its "deep concern" about the scope of the results of both reports.
Below these lines, there is a table extracted from a study of the unknown health effects of gas stove use.
The study has now been published by CLASP, titled Clearing the air: cooking gas and pollution in European homes (Cleaning the air: gas stoves and pollution in European homes), CECU highlights the fact that, in the case of Spain, 85% of homes with gas stoves studied exceed nitrogen dioxide (NO2) limits established by the world Has been. Health concerns for outdoor air are an even more serious problem if we take into account that we are talking about indoor spaces. In Spain, almost a third of households are still using gas stoves, according to data managed by CECU.
As a result of this risk – explains the Union of Consumers and Users – people who prepare their food with gas stoves, "due to this high rate of nitrogen dioxide pollution, and, in particular, the most vulnerable or those with pre-existing diseases. People, they may see their symptoms worsening or suffer from immediate health problems, primarily respiratory related: asthma, cough, wheezing, respiratory difficulty…
Soledad Monteiro, Energy Head at CECU: "It is concluded that the shift towards electric stoves in homes is not only a safe option, but also an important step towards a healthy indoor environment for people"
(Below these lines, there is a table extracted from the study, which shows the exceeding limits above which the presence of NO2 is harmful to health, recorded in the Spanish homes studied).

The study, which in the case of Spain included a sample of 34 kitchens, 15 of them with gas systems and 19 with electric hobs, showed that NO2 levels in the living rooms of homes with gas stoves were "significantly higher." " (in the living room, not the kitchen). Furthermore: while 77% of these homes (about eight in ten) exceeded the World Health Organization's hourly guidelines (thresholds where concentrations of NO2 is potentially harmful) and 69%, the EU limit, in no households with electric stoves exceeded these limits, highlighting the effectiveness of electric stoves in maintaining clean indoor air.
an invisible public health problem
CECU, in its reading of the report, highlighted that most consumers are unaware of the health risks associated with gas use in kitchens due to the invisible nature of contamination. However, he says, a consumer survey conducted by CLASP as part of the study showed that most respondents (between 58% and 74%) would consider getting rid of their gas stove if they knew. Was there any risk? Health
This is why CECU leads the campaign on gas-free kitchens, in which it makes a clarion call to "make breathing clean indoor air a fundamental right".
Soledad Monteiro, Head of Energy at the Federation of Consumers and Users (CECU): "The transition to electric cooking is an essential requirement to protect this right. Gas stoves release harmful pollutants that can have serious health effects. Therefore, converting them to electric alternatives is an essential measure to improve indoor air quality and protect the health of citizens. Clean air starts at home and pollution in the air we breathe is a public health threat. It is up to our public administration to protect ourselves from these and take proactive measures to avoid them."
EU legislation
CECU, taking all this into account, urges a government action which it describes as "urgent" to confront this problem: "The World Health Organization guidelines are not binding and there is no European regulation that regulates the quality of indoor air. Determines the level of pollution.. Therefore – they add from this Spanish NGO – the European Commission should establish legislation with clear and mandatory limits for pollution emissions from kitchens and promote a more ecological design of household appliances.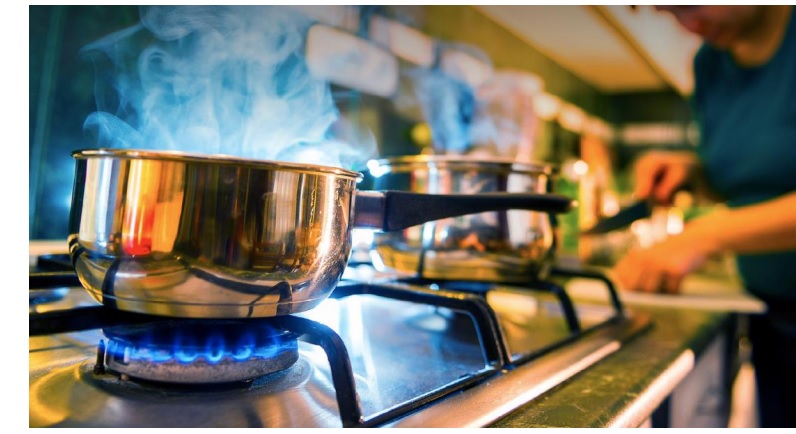 But that's not all, says CECU. At the same time, appliance manufacturers – says the federation – must commit to producing and selling less polluting stoves and ovens. Along with this, we must also delve deeper into citizen awareness: "Public awareness – this consumer organization believes – is important and it is the responsibility of all (government, industry, media and civil society) to do their part "Inform and educate about the risks." About gas stoves and the safest alternatives available."
this moment is auspicious
Federation of Consumers and Users of Spain Encourages action within the framework of the current Spanish Presidency of the European Council: "It is a good time – considers CECU – to propose air pollution limits supported by updated scientific studies and WHO recommendations for both external and external "Including indoor air, as well as better access and transparency of information on air quality."
For all the above, and in light of the study's results, CECU calls for "coordinated and conscious action at national and European level" to protect citizens' health and ensure a "safer and more sustainable" future for the times to come. Does. generations. "The quality of the air we breathe in our homes is a public health issue that requires a decisive and effective response. Now is the time to act to guarantee healthy indoor environments for everyone," he concluded.
Credentials of the Union of Consumers and Users (CECU)
The Confederation of Consumers and Users (CECU) defines itself as an organization "dedicated to the protection and defense of the rights of consumers and users". CECU thus works with the aim of "promoting responsible and sustainable consumption, providing information to consumers, education and dissemination". To this end, it is committed to and works on "legal defense of consumer rights, education for responsible consumption, and participation in the design and application of consumer policies at the national and international levels".
About CLASP and the study
CLASP is an international non-profit organization that leads research and advocacy on appliance efficiency and energy access to improve the lives of people and the planet. CLASP works with governments, industry, communities and other agents to promote policies and markets that favor products of the highest quality and lowest possible consumption of resources. CLASP has worked in more than 100 countries since its founding in 1999. The European study on gas stoves was initiated by CLASP and carried out by the Netherlands Organization for Applied Scientific Research (TNO).
About Nitrogen Dioxide and Health (Ministry of Ecological Transition and Demographic Challenge)
The so-called nitrogen oxides include both nitrogen monoxide (NO) and nitrogen dioxide (NO2). Of the two, the latter is the main chemical form with adverse health effects; Additionally, NO is easily oxidized, leading to rapid formation of NO2 when present in the atmosphere.
These adverse effects are of a very diverse nature, and can occur on human health (inflammation of the airways, conditions of organs, such as the liver or spleen, or conditions of systems, such as the circulatory or immune systems, resulting in the lungs). infections and respiratory failure) and on the environment (acidification and eutrophication of ecosystems, metabolic conditions, limitation of plant growth). Acidification processes can also affect buildings.
On the other hand, NOx also contribute in a secondary way to the formation of inorganic particles (since they are precursors to nitric acid, HNO3, and hence to nitrate, NO3- particles), and they also act as precursors to the formation of particulates. ozone (O3) and other photochemical pollutants (for example, by reacting with volatile organic compounds, VOCs), which potentially increase the above consequences on health and the environment and impact on climate.
Clearing the air: cooking gas and pollution in European homes, CLASP, November 2023
Unknown health effects of gas stove use, CLASP, January 2023
(TagstoTranslate)Renewable energy(T)Clean energy journalism.(T)Panorama – Gas stoves cause asthma symptoms in more than 700,000 children in the EU