Sports
Pedro Álvarez, an example to imitate upon graduating as a doctor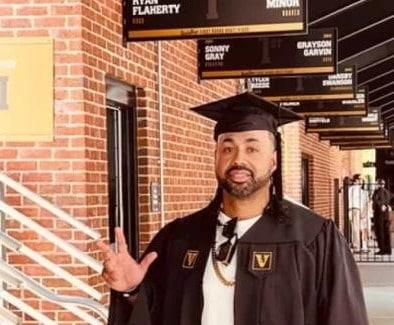 "The Spider's Web/The Dragon's Claw/Takes You To Hell/She's Your Addiction"Ricky Martin, La Vida Loca"
At a time when, in the Major Leagues and other settings where baseball is played, scandals for the use of controlled substances and accusations of domestic violence and assault are part of our daily bread, that the former Major League third baseman Pedro Alvarez graduating as a doctor of medicine is an example to emulate.
After his retirement from the Major League diamonds, where he played for nine years with the Pittsburgh Pirates and the Baltimore Orioles, receiving a salary of about $20 million dollars, instead of taking the route of Mexico, China or Japan to catch a few more dollars, he decided to take the highway to Vanderbilt University where he graduated in medicine, health and society, one of his dreams that had not come true.
Álvarez, a native of Santo Domingo, retired from Major League Baseball at the age of 31, should be taken as a model by Major League Baseball (MLB) so that players who sign with millionaire bonuses and fail to make it look in that mirror. to the Great Circus, so that instead of subscribing to the crazy life of "42 street" until the last chele is left, they reflect and go back to school until they achieve a profession.
Pedro Alvarez during his major league tenure, he hit .235, with 162 home runs and 472 RBIs.
Álvarez is an example that it is never too late to cultivate the study and continue serving society.
Pedro Alvarez he fulfilled his dream and as he points out: "I always had my plans that, if I retire young from baseball, I would study medicine. For me, this was kind of a testament to my ability to do other things and apply myself."
The first major league baseball player to graduate with a medical degree after hanging up his spikes was John Lavan, who graduated from the University of Michigan in 1908. According to American Baseball Research, Lavan played shortstop for four different teams in eleven seasons. Among them were the St. Louis Cardinals, a team he belonged to from 1919 to 1924 and with whom he ended his career as a baseball player.
TWO IMMORTALS: At the Cooperstown ceremonial on July 23 in Cooperstown, New York, there will be two immortals: Scott Rolen selected with 76.3% of the vote out of 389 members of the Baseball Writers' Association of America, narrowly beating out the three-quarter majority required for immortality and first baseman Fred McGriff, chosen by the 16-member era committee.
A day like today
1957. Home run by outfielder Ray Shearer, of the Leones del Escogido, in the ninth episode, gave his team a 1-0 victory over Licey in the opening game of the final series. This was the only home run hit in the final.

1959. El Escogido overwhelmed the Eastern Stars 11×3, where pitcher Charlie Kolakowski bit the dust of defeat for the 14th time to impose a negative mark on our ball. In this challenge Felipe Rojas Alou scored his 45 new national mark career.

1960. The Leones del Escogido had 28 hits at the Trujillo stadium to massacre the Estrellas 22-5, establishing a hit record in the final series. Osvaldo Virgil connected for 5-5.

1972. Winston Llenas hits a home run against Federico Olivo at the Cibao stadium to defeat Licey 6 by 4.

2004. The Tigres del Licey defeated the Gigantes del Cibao 11-3 to win the 13th crown in the Dominican League. Henry Rodríguez hit .579 the third-highest average in the final series.

2020. The Pittsburgh Pirates trade veteran center fielder Starling Marte to the Diamondbacks for two prospects, pitcher Brennan Malone and infielder Liover Peguero, and money from the international bonus pool.