Sports
Players who need improvement, by team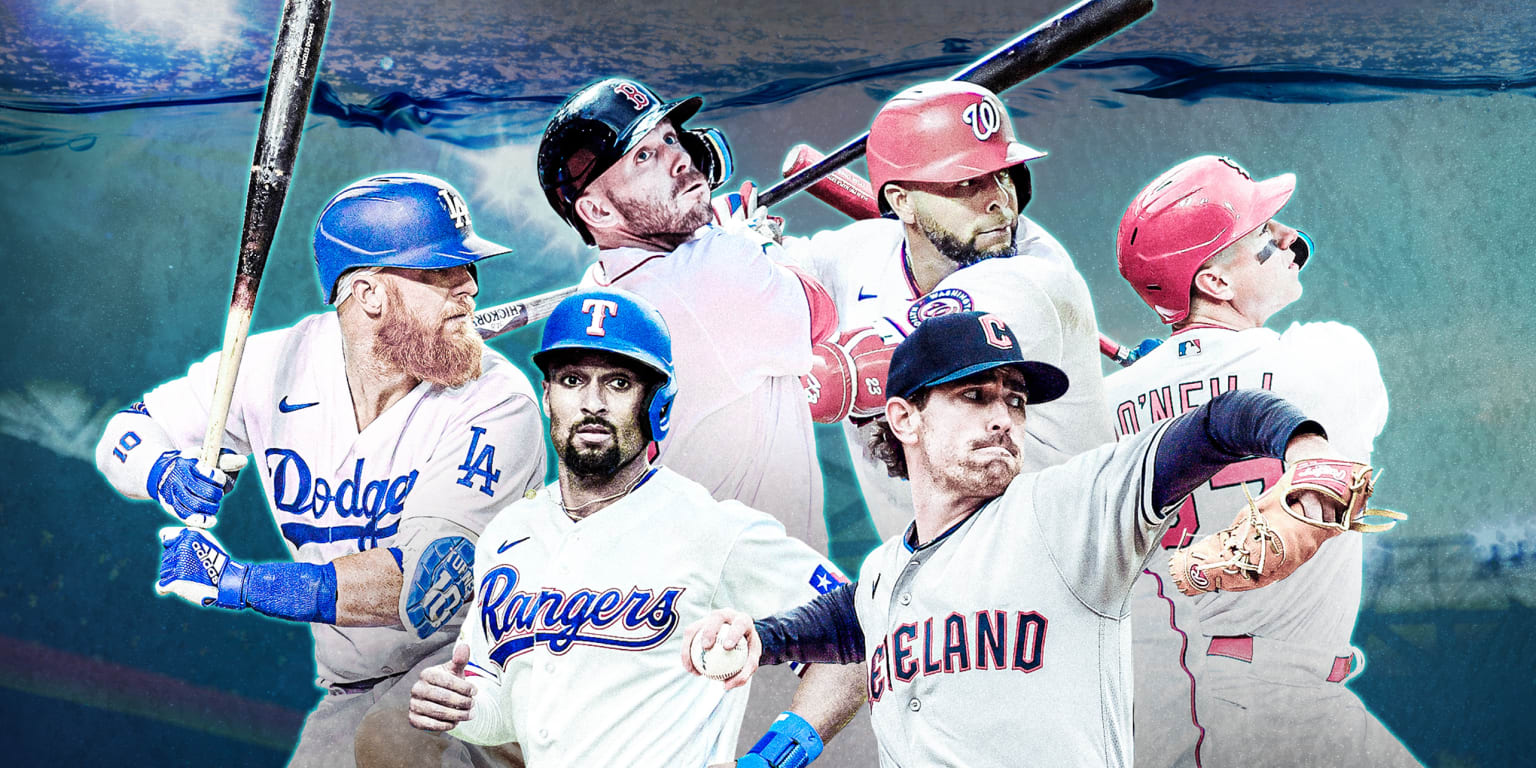 The season is barely a month old. There is no reason to panic! Remember, Mike Trout hit .220 in the first month and a half of his career. Anyone has a bad few weeks! Most people who have a bad month end up doing just fine.
But… well, Memorial Day is coming up soon and it's probably time some of these guys started revving up. So, let's take a look at the one player on each team who needs to pick up the pace. They have been successful in the past and there is reason to believe that at some point they will find their way again. But the clock keeps ticking.
Blue Jays: José Berríos (ERA of 5.82)
One of the most exciting things about the Blue Jays' trade last year for José Berríos was that he also had a contract for this season. It was a sign that they were just beginning. But Berríos has been hit hard so far. Many thought he would contend for the Cy Young Award this year, but he's not pitching as a front-of-rotation pitcher himself.
Orioles: Trey Mancini (1 HR, PRO of .286)
The Orioles resisted every temptation and didn't trade Mancini, a fan favorite who has overcome every possible obstacle to get to where he is today. But perhaps they can no longer change him as they wish, since much of his power seems to have disappeared.
Rays: Randy Arozarena (1 HR, PRO of .223)
Cuban Arozarena, the American League Rookie of the Year in 2021, is already 27 years old and technically should be entering the best years of his career. But he's off to a pretty low start, with just one home run and a low walk rate. This was supposed to be his time, but so far, it hasn't.
Red Sox: Trevor Story (1 HR, .206 PRO)
This was not a particularly difficult choice. Story isn't done kicking off and with the Red Sox currently in last place, it's only a matter of time before Boston fans start to lose patience.
Yankees: Joey Gallo (PRO .190, 3 HR)
Gallo seemed like a perfect fit for the Yankees, and with that right-field fence so close to home plate in the Bronx, you figured he'd be a part of the lineup for years. (At least against rights). But he hasn't done well so far and the strikeouts keep piling up.
Guardians: Shane Bieber (EF of 4.13)
Bieber has had his problems with injuries, and it's not like he's pitched that poorly. (We could go here with Dominican Franmil Reyes, if we wanted). But if the Guardians are going to have any hope this year, they need Bieber to be Bieber. And he hasn't been anything like Bieber so far.
Royals: Salvador Perez (.200/.240/.391 offensive line)
The Venezuelan continues to contribute with his leadership and defense, but he is also supposed to be the monster in the middle of this lineup. Right now, he looks like a player who's given up too many games behind the plate and is starting to tire. Is he returning to his normal level after two years on the rise?
Tigers: Jonathan Schoop (.147/.189/.224 offensive line)
For now we will not include Spencer Torkelson or Akil Baddoo because in the end, they are still young. But what is Schoop's excuse? One of the team's most consistent hitters in recent years hasn't lived up to his potential on offense so far in 2022.
Twins: Carlos Correa (2 HR, PRO of .255)
The Puerto Rican infielder had turned around before getting injured, but given the way his contract is structured, he doesn't have much time to get into a rhythm. With the pace he's been at so far…it's possible he'll stay in Minnesota for next year.
White Sox: Yasmani Grandal (PRO .163, 1 HR)
You'd expect someone like the Cuban catcher to have a low average, but a decent on-base percentage because he walks a lot. But the expectation of some is that some power will be seen. So far this season, he has hardly shown it: He has three extra-base hits in 106 at-bats.
Angels: Shohei Ohtani (The Hitter) (.317 on-base percentage, 6 HR)
We're asking a lot of Ohtani, who ultimately has been pretty much an average hitter in this current offensive environment. But Ohtani is not here to be one of the crowd. It's Ohtani! This Angels lineup has been fantastic so far. Imagine what can happen when Ohtani enters in a good rhythm.
Astros: Yuli Gurriel (.198 PRO, 0 HR)
Will this be the season in which Cubans feel the weight of age? He is 37 years old and has done almost nothing with the bat so far. Some advanced stats indicate that he has seen some bad luck. But we will come to conclusions soon.
A's: Cristian Pache (.167/.190/.255 offensive line)
The Dominican has always been considered a great figure with the glove, but the bat has never reached the same level. However, he had never looked this bad. He came to the A's from the Braves as part of the Matt Olson trade, so there's some pressure on him to pay dividends as one of the top picks in Oakland.
Mariners: Jarred Kelenic (.140/.219/.291 offensive line)
We can forgive fans of the Seattle team for feeling like they've been through this before with the Ranger. He rebounded from his slow start last year, but has now been optioned to Triple-A Tacoma. When will he overcome this obstacle?
Rangers: Marcus Semien (.165/.228/.217 offensive line)
Here's something to remember about Semien, who turns 32 in September: He's finished in the top three in two of the last three NL MVP votes … and is under contract through 2028.
Braves: Charlie Morton (5.65 ERA)
He was a little better in his last start, but Atlanta still needs the veteran to be one of the main weapons in the starting group … no matter how old he is now.
Marlins: Jorge Soler (.178/.271/.347 offensive line)
Here's a warning about the potential dangers of falling in love with a player's postseason performance: Soler was a star last October with the Braves, but the Cuban — like most of the Fish roster right now — has Had trouble making contact.
Mets: Adam Ottavino (5.91 ERA)
The fact that the Mets' most disappointing player right now is a reliever who's thrown just 10 2/3 innings is a sign of how well the Queens squad is doing.
Nationals: Nelson Cruz (.170/.260/.277 line)
Part of the Nationals' calculation in signing Nelson Cruz was likely to send him to a team with playoff chances if they found themselves out of contention by the trade deadline. But right now, the Dominican doesn't look like much of a game changer.
Phillies: Rhys Hoskins (.221 PRO, 5 HR)
Of all the sluggers in that lineup, it's Hoskins who has had the hardest time getting fired up, though he looks like a terrific defender compared to the rest of the Phillies' outfielder, who are currently without Bryce Harper's glove.
Brewers: Brandon Woodruff (5.97 ERA)
Woodruff's secondary numbers look much better than his ERA, so we can expect him to bounce back soon. And that's what the Brewers need, another pitcher dominating everyone.
Cardinals: Tyler O'Neill (.200 PRO, 2 HR)
O'Neill won his second Gold Glove last year and seemed like a low-key MVP candidate this season. But he's striking out too much and having a hard time making hard contact, which seems hard to believe given his physical build.
Cubs: Nick Madrigal (.203/.250/.241 offensive line)
Madrigal seemed like a perfect fit on North Chicago and came across as a player the White Sox would bait for trading him. But he's not hitting the ball with authority and he's not trading walks either. Right now, he is on the disabled list.
Pirates: Mitch Keller (0-4, ERA of 6.11)
There was a lot of talk over the winter that Keller, who was once a top prospect, had figured something out and that this would be his breakout season. That reveal hasn't happened yet.
Reds: Joey Votto (.122 PRO, 0 HR)
In a team full of disappointments, unfortunately, it is Votto who has fallen the lowest. He will soon come out of the pothole. I mean, we're talking about Joey Votto, right?
D-backs: Carson Kelly (.105/.150/.123 offensive line)
Kelly once seemed like an All-Star candidate. But right now, he's one of the worst hitters in the league. But Kelly is on the disabled list right now and hopefully the time off the field will help him recover when he returns.
Dodgers: Justin Turner (.202/.259/.308 offensive line)
The Dodgers are lucky to be able to stay on top without a key piece of the offensive order producing. But still, it's strange to see Turner in such a rut.
Giants: Joey Bart (.167 PRO)
He's drawing enough walks and homering enough to be a useful player, but so far he hasn't made anyone forget Buster Posey.
Padres: Trent Grisham (.144/.264/.231 offensive line)
There was a time when Grisham seemed like a great acquisition from the Brewers. Now, surely, the Padres would prefer to get Eric Lauer back.
Rockies: German Marquez (0-3, 6.47 ERA)
For years, the Rockies have avoided trading Marquez to a team with a more pitching-friendly environment. The way things have turned out for the Venezuelan this season, you have to wonder if they missed their chance.