Business
Public Ministry investigates complaint against Jairo González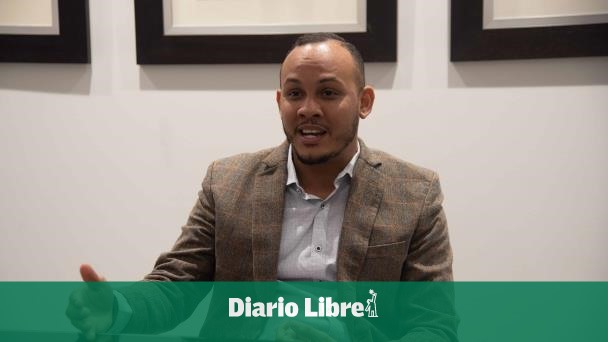 The Attorney General of the Republic confirmed to Free Daily launched an investigation against the company Harvest Trading Cap and its owner Jairo Gonzalezafter at least 50 people who allegedly had invested large sums of money in the company of trading and investment in the stock market and cryptocurrencies reported that they were victims of an alleged scam.
González, a 29-year-old young man, assured that he created his company eight years ago. He recorded it in 2019 dedicated to "negotiations of the different capital markets or stock market through brokers from Internet"although this activity is not regulated by the Superintendency of the Stock Market (SIMV) of the Dominican Republic.
The modus operandi of this company was explained by Jose Alquilo Espinal Rodriguez, González's cousin-in-law, since the businessman preferred to reserve the figures that include the problem he is facing during the interview he conducted with him Free Daily at your facilities.
According to Espinal Rodríguez, who filed a lawsuit for breach of trust, fraud and criminal association against his relative, investors gave large sums of money to González under an initial contract of three months, which was later extended to six and could be renewed. He said he was supposed to set profits of 30% each quarter. "These funds were placed by González with the intermediation of brokers in various international financial markets."
Espinal Rodríguez said that he began to invest in Harvest Trading Cap on September 29, 2021 with an initial capital of $26,300 for six monthsstated that they only gave him part of the money and allegedly advised him to renew his contract, reinvesting his profit and his capital.
When taking stock of his almost two years as an investor, he said: "I have 60,000 dollars invested, I have 21,000 dollars in accounts payable, and they only deposited 5,500 dollars."
The 38-year-old who said he was a System Engineer, assured that since June 2022 he has been behind Jairo Gonzalez to pay him his money, he even stressed that he is going through a bad economic situation after he lost his job five months ago. "He knows my situation," he deplored.
interposed together with two relatives a criminal complaint in constitution and civil plaintiff through his lawyers Miguel de León Carbonel and Wander Olmos against González and his partner Kelmin Santos Rodriguez. They said that among their three clients the amount Harvest Trading Cap He owes them around 220,000 dollars (equivalent to 12,485,000 Dominican pesos), supposedly.
Gonzalez's response
According to González, his company was operating well until with the bitcoin crash in early 2022 started the problems, In addition to others that it establishes, such as "Russia's war with Ukraine, the blocking and bankruptcy of brokers where it had placed its clients' investments and the temporary blocking of the bank account in the country where its investors placed their investments."
More than the problems described above, González attributes that the bankruptcy of his project Harvest Trading Cap It was due to the uncertainty of its clients that before the fall of the crypto: "Investors began to have uncertainty and requested the withdrawal of capital and profits, with this any company that works with the capital of third parties goes bankrupt," narrowed.
González admitted that since June 2022 he began to have problems honoring payments to his clients. All his contracts expired last year, and supposedly, it no longer attracts more investments.
"People complain because unfortunately we have breached the contracts we had with them, but that does not mean that the company will not continue or will not pay those commitments," express.
Preferred does not respond to the amount of the amount owed to its clients, but assured that the investment money is not lost"It is placed in international financial markets and I have how to prove ithe said quietly.
To resolve this situation, he said he needs his clients to give him within 180 days (six months) to pay them. Once this time has elapsed, or the necessary one, he hopes that the situation with the business of the cryptocurrencies better to disassemble those backgrounds.
"We are making a process of time, because since you place abroad and you have such a strong drop in crypto, all of this affects the internal economy, so bringing that money entails a monetization process that takes time. We have months developing a structure and looking for other structures in favor, because it is what I need, we know that there are problems and it affects everyone"Jairo GonzalezCEO of Harvest Trading Cap"
He indicated that while some complain, he is preparing another structure to pay his clients, he referred to the Harvest Ecosystem that would function as a digital portfolio of blockchain where includes Ico, Exchange, Wallet, NFT Marketplace, Token and Broker. A project that he announced and said that he could not develop due to the collapse of the cryptocurrencies.
The 180-day period is contemplated in a settlement that the complainants refuse to sign. Espinal Rodríguez said that this document supposedly establishes that by signing it, investors are disassociated from Harvest Trading Cap And they can't sue. In addition, he commented that he establishes the total or partial payment after that period.
"I did not sign anything, if at least he pays me up front, I will sign him, but he has not paid me anything more than the 5,500 dollars," Espinal Rodríguez deplored.
A risky activity
González resents being compared to Wilkin García Peguero, aka Butterensuring that your company "It's legal and formal, it pays taxes." He admitted "that it is not regulated because this type of business is not covered by Dominican law," in turn He denied that his business activity equates to a ponzi or pyramid system.
He said that those who have resorted to the media and the courts to complain are people who entered the business of trading for the benefits, but they did not fully understand that in this type of activity the risk of losing
This risk was warned since 2017 by the Central Bank, the Superintendency of Securities Markets and the Superintendency of Banks when referring to the volatility of virtual assets.
categorically, the Superintendence of Securities Markets issued a statement on Thursday warning that Harvest Trading CapSRL and its partners are not authorized, regulated or supervised by that entity.
The SIMV mayor, Enmanuel Cedeño Breaexplained that due to the proliferation of fraudulent deposits that the entity has currently identified, it has seen itself in the necessary task of warning the population about those people and companies that are dedicated to receiving money for investments in the stock market without being authorized.
He specified that those who invest in these companies run the risk of losing their money and not having the support of the SIMV, which can only intervene in the event of irregularities by the entities it regulates.
However, in the face of complaints against unregulated companies, he revealed that the SIMV collaborates with the Public Ministry in the investigations.
"When the SIMV receives complaints from the public or from competent bodies, it conducts investigations and works with the Public Ministry and other supervisory bodies to investigate the cases so that the Public Ministry can have the necessary inputs to carry out an investigation"Emmanuel Cedeno BreaSIMV Mayor"
He indicated that, although González alleges that his clients' investments are placed outside the country in different countries, as SIMV mayor, he warns people who deposit their resources in these structures that "these are not securities brokers, they are not stock market, they are not securities intermediaries, nor participants who are registered here, nor recognized with the capacity to offer securities to people and for months the SIMV has warned about these schemes".
tempting profile
When questioning the plaintiff José Aquilino Espinal Rodríguez, what motivated him to invest his money in Harvest Trading Capsaid:
"One is motivated to invest because they see a solid company, which is not in a backyard, and has a good profile, with branches, a person who goes to various responsible media outlets and, in short, one trusts… we are not a family of blood, he is a cousin of a cousin of mine"Jose Aquilino Espinal Rodriguezinvestor and plaintiff"
The solid company that Espinal Rodríguez refers to, who no longer believes in González's excuses, was created according to statements by the owner on the Youtube channel of Harvest Trading Cap when he was 21 years old (in 2015).
though the portal Open Corporates indicates that the entity was registered on May 30, 2019.
González is also the owner of Harvest Trading Cap Academy (registered in 2021), where he teaches courses for beginners and those interested in the world of trading and investments in cryptocurrencies.
The businessman, who has traveled several countries and the media to sell his project, confessed that he comes from nothing, "a humble young man, but with many dreams."
González said in one of his videos on his company's YouTube channel that he studied Business Administration, but did not graduate due to lack of resources.
However, in the portal harvesttradingcap.com reports that he is "professional trader, financial analyst, economist and expert in international negotiations, MINI – MBA in Stock Market analysis, BlockChain Technology and cryptocurrencies".
It may interest you