News
"Since my accident I say yes to everything in life": the inspiring story of the young TV presenter who overcame the trauma of his serious spinal cord injury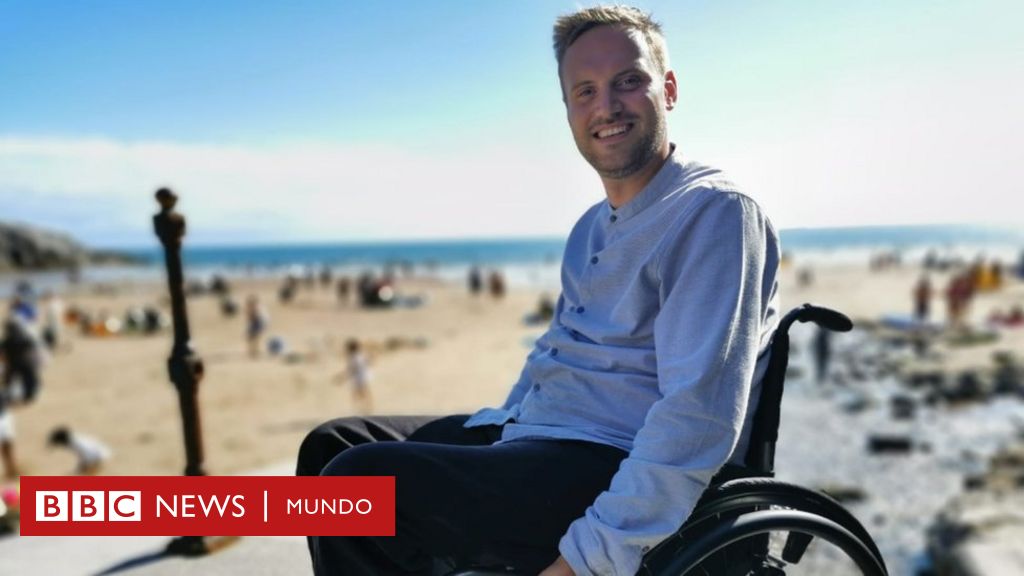 matthew bassett
TV Presenter at BBC Wales
Matthew Bassett's life changed forever on a trip to the beach 11 years ago. Today he is a television presenter and wants to show that life does not end after a serious spinal cord injury.
It started as an ordinary day, but it turned into one that I would never forget.
I was 19 years old and I remember that it was sunny when I arrived at the beautiful seaside town of Broad Haven in Pembrokeshire, Wales on May 13, 2011. The sea looked glorious and invited to wade in.
I put on my bathing shorts and took off my shoes. I ran to the beach, dove in, and hit my head on a sandbar.
The chaos that ensued was unforgettable.
Panic ran through my body as I realized that I couldn't move my arms and legs and was in danger of drowning.
It's amazing how long can a person hold their breathknowing that life can go with a wave.
I prayed, thought of my family, and breathed out.
Peace replaced fear, the waves calmed and I closed my eyes.
As you can tell by reading this, i survived.
That first breath out of the sea was the sweetest, most revitalizing breath of oxygen.
I remember a substantial gathering of onlookers trying to find out what had happened on that peaceful beach.
months in hospital
After taking me from the beach it was decided that an air ambulance was the best way to get me to the hospital.
It was my first time in a helicopter. The propellers over my head were mesmerizing and almost put me to sleep.
But the paramedics wouldn't let me.
"Keep talking to me, Matthew," was refreshing to hear. Usually they ask me to be calm.
After 20 minutes we arrived at the University Hospital of Wales in Cardiff.
My mom found me when they were taking me to the emergency room. I can't imagine how she felt when the doctor explained that she suspected she had a fractured cervical vertebra.
I don't remember much about that night: a mix of beeps, buzzes, and toilets telling me everything would be okay.
After several scans they put me in a neck brace. They also placed a tape over my head and tied it to the bed to prevent further damage from moving.
Then the news came: I had fractured a cervical vertebra that required surgery. An injury this high in the body can often affect all four limbs, called tetraplegia.
There was a high probability that he would never walk again.
I can't remember how I felt hearing that. After the shock of the day, I didn't realize the magnitude of it all until days later.
The next morning I had an appointment in the operating room first thing in the morning to try to get ready.
After a couple of weeks of recovery, I was transferred to the spinal rehabilitation unit at Rookwood Hospital in Llandaff, Cardiff, to learn to live again as a person without leg mobility, uncontrollable bowels and a catheter.
I was in bed for three months. Getting up and sitting in a wheelchair was the next challenge.
Goals were established each month with a view to being dischargedLike getting in a car and getting in and out of bed.
Finally, after 10 months of hard work, it was time to go home. It was not the same home that I left that Friday, May 13, but a new one.
It felt strange going to a new property, but at the same time it was a new beginning.
The house in Pencoed, Bridgend, had undergone a couple of adaptations: a ramp at the door, an automatic ignition key, and a bathroom.
I missed the hospital. He was too quiet at home, no beeping, loud snoring, no tea served and no attention all day. Being home was when the rehab really started. and it was hard.
Life felt great when I was with my friends and family, but it hit when no one was around. I honestly didn't know how to achieve a fulfilling life.
However, receiving more hours of care to have a personal assistant gave me more time to practice skills that would make me more independent.
Things like emptying my catheter bag meant that I could go out on my own and have a few beers without needingno one's help.
Sometimes it takes a push to change. For me it was being able to go to the bathroom alone.
"Life does not end after a bone marrow injury" is a phrase that I have drilled since my accident. Understanding it took time.
But once I got going, I learned how to get into bed, travel independently by train, and fly again.
In 2014 I was offered a job as an independent counselor in the same ward where my injury was treated. I was delighted.
Nine years later, I'm still working there and continue to talk with patients about life after injury.
It is a job that I like and take seriously because I know the importance of seeing and hearing about a full life after an injury like this.
Yes, life is different and can be complicated sometimesbut it can also bring the most beautiful and unexpected surprises.
When I was a patient, I met a wonderful nursing student named Amanda who had the best hair washing technique.
Whenever she was on duty I would ask her to do my hair and talk to her.
Sadly her internship ended and I didn't see her for a few years. So, in 2017, we met up and made a date for a few drinks around Christmas.
Since then we have not stopped seeing each other.
We got married in April 2021. She was the most beautiful bride on the most beautiful day.
another chapter
Since my accident, I decided to say yes to every opportunity that comes my way, something that has made me a TV host for the show Weatherman Walking of the BBC in Wales.
I feel lucky to travel across Wales and make films showing that it doesn't matter if you need a wheelchair to get around, you can always have an adventure.
My story could have ended the day of my accident, but it was not like that. It was the beginning of a new chapter.
Whatever you're going through, record every special moment you can.
Understand that Hard times come but they don't stay. There is a bright future ahead.
Now you can receive notifications from BBC Mundo. Download the new version of our app and activate them so you don't miss out on our best content.