Games
The best mobile games coming out in 2023: the best year ever for iOS and Android? – Mobile
The mobile video game It is becoming more and more important, but its increase in relevance at a commercial level has not yet been fully endorsed with the launch of a large number of titles that are truly worthwhile. However, we are already beginning to see the green shoots. Throughout the last few years there have been real peaches that had mobile phones as their main platform and things are not going to stop getting better. With the start of 2023 we wanted to take a look at the most important games that will be released on iOS and Android. A review that, when we carried it out, generated an intrusive thought: This could be the best year in the history of the sector.
To prove it, we wanted to compile the great mobile game releases that will take place in 2023. A hype compilation that, of course, does not guarantee anything. However it is undeniable that there are titles that look very good. It's normal. Large companies have seen the wealth of income that their expansion to smart devices can bring and have started working on extraordinarily ambitious projects. It is something that, in the end, could only have a positive impact on all those iOS or Android users who are not afraid to polish the section gaming from your smartphone.
The best mobile games of 2023
Honkai: Star Rail
Having played Honkai: Star Rail in the testing phases, I can't get it out of my head. It is one of the few titles on this list that I have been able to taste and, although I may be carried away by emotion, Genshin Impact being one of my favorite titles, the truth is that the impressions were wonderful. Turn-based combat with all the usual HoYoverse fantasy story and signature character or universe creation. It is the same extraordinary simplicity that we already know, but with being half as effective as other games from the company, the road is already done. Its development has been very long, and We expect it to reach mobiles and PCs at the beginning of 2023.
Zenless Zone Zero
We wanted to make it easy for you so that if you don't like HoYoverse games you can skip to the next parts of the article. Zenless Zone Zero promises to move away from the company's classic formula to focus on a structure closer to the 'roguelike' where real-time combat will be even more important. It's a somewhat smaller and more condensed project, but it also looks fabulous. The only drawback we put is that its development is not as advanced as Honkai's, and a few setbacks are enough for us to go to 2024. Cross your fingers, because the thing here also promises.
Assassin's Creed Codename Jade
We don't want to go too much into leaks, but what has been revealed about Assassins Creed Codename Jade it looks like Barbara. Both the visual section and the combat are reminiscent of the last great installments of the saga. It remains to be determined how exactly the title will work in terms of monetization or combat. Nevertheless, the gameplay seems pretty polished and we expect it to arrive in 2023 (not confirmed, but announced months ago with the tag coming soon). The saga seems to adapt perfectly to mobile, offering many hours of gameplay and ease of expansion. The only thing that surprises us is that they had not put the batteries before.
Final Fantasy VII: Ever Crisis
We have more doubts as to whether it will arrive in 2023, although it seems likely that it will by the end of the year. Its development has been very long and Final Fantasy VII: Ever Crisis promises to position itself as one of the biggest on iOS and Android mobile devices. Will be a "free to play" with a monetization system similar to that of Genshin Impact, although not all the details about it have been revealed. After its launch, there will be new story chapters every month. It looks like Square Enix will finally score that great success on mobile that it has been looking for for so long.
Monster Hunter Mobile
Many of the mobile video games are interesting because of the franchises they bring to our smartphones, but there are also some that are striking because of the studio that develops them. Monster Hunter, of course, is in both sections. Hand in hand with TiMi Studio (Pokémon Unite, Call of Duty: Mobile) an original adventure experience related to the franchise is being developed. A rematch for their discreet first appearances on smartphones that looks amazing. Although perhaps on mobile we expected Monster Hunter Stories 2, the truth is that an original adventure sounds extraordinarily good. The only downside we put on it (or rather ourselves) is that together with Zenless Zone Zero this seems the one that has the most difficult to arrive before next December 31, 2023.
Warcraft Arclight Rumble
We left action and adventure behind a bit to move on to strategy. We hate to say these things, but they are good to understand each other easily: Warcraft Arclight Rumble is something like "the clash royale of Blizzard". The first phases of tests were relatively positive and while the game still needed polishing up some of its systems, it looked like a solid foundation to build on. In this sense, it can be an alternative for players who are a little more burned out with the Supercell title or those who are afraid of starting so many years after its launch.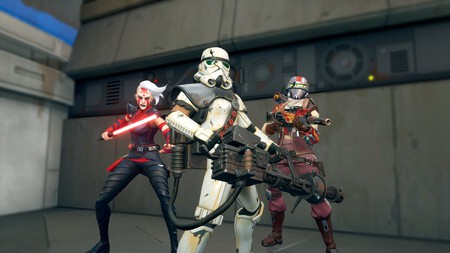 Star Wars: Hunters
This is one of those bets that only have two options. Either a true wonder comes out or it's the disappointment of all time. There has been a lot of work behind Star Wars: Hunters, a competitive multiplayer that will offer us fights between teams of four players to achieve different objectives. Betting on a third-person perspective that seems to suit him phenomenally, combining different categories of characters and familiar faces from the franchise in fights halfway between chaos and strategy.
ValorantMobile
We do not know when Valorant will arrive on mobile devices, but everything indicates that it will be soon. Riot Games has prepared itself over the last few years and, although in the West it continues to have a greater reputation for its titles on PC, the truth is that mobile adaptations go like a shot. Wild Rift, TFT or Legends of Runeterra are some of the three great wonders of the iOS and Android stores. A trajectory that only gives us fuel to trust that now, with his hardest jobthey can adapt the tactical shooter to the needs of mobile phone gamers.
Rainbow Six Mobile
From one tactical shooter to another. Ubisoft is another of the companies that is getting their act together with the issue of launching video games on mobile phones and now they want to adapt one of their masterpieces. We can argue a lot about the management of Rainbow Six: Siege in recent years, but the overall quality of the title leaves little doubt. Seeing it adapted to mobile phones, if the controls work as well as they should, is a guarantee that we are going to have a great alternative.
Harry Potter: Magic Emerges (Magic Awakened)
Building on the momentum of the Hogwarts Legacy, this Harry Potter-inspired adventure is coming to mobile devices around the world. It was a hit in China, combining an anime aesthetic with the witchcraft franchise. Is about an MMO with RPG overtones based on collectible cards and that tells an interesting story that will undoubtedly attract fans. The 'timing' of the premiere could not be better and I read it is true that the task of learning to master magic is going to keep us entertained since the beginning of next year.
Shall we continue?
In this list we do not intend to talk about all the good games that will reach mobile phones, because we would never finish. we haven't mentioned Warzonethe full version (once and for all) of Pokemon TCG Live, DC Heroes & Villains either Marvel World of Heroes. Hell, even in honorable mentions I feel like I'm forgetting things. Genshin Impact points to its version 4.0 During this year, there will be paid games that promise to be worth our money. there is also Path of Exile Mobile or Honor of Kings: World…. There really is a lot of interesting video game. Surely something is going to happen to us in 2024, but things in the mobile market are at their best. It was a matter of time before playing on iOS and Android was a little more appreciated, but things are getting very interesting at an even higher rate than we expected.