Sports
The best projected player of each team for 2023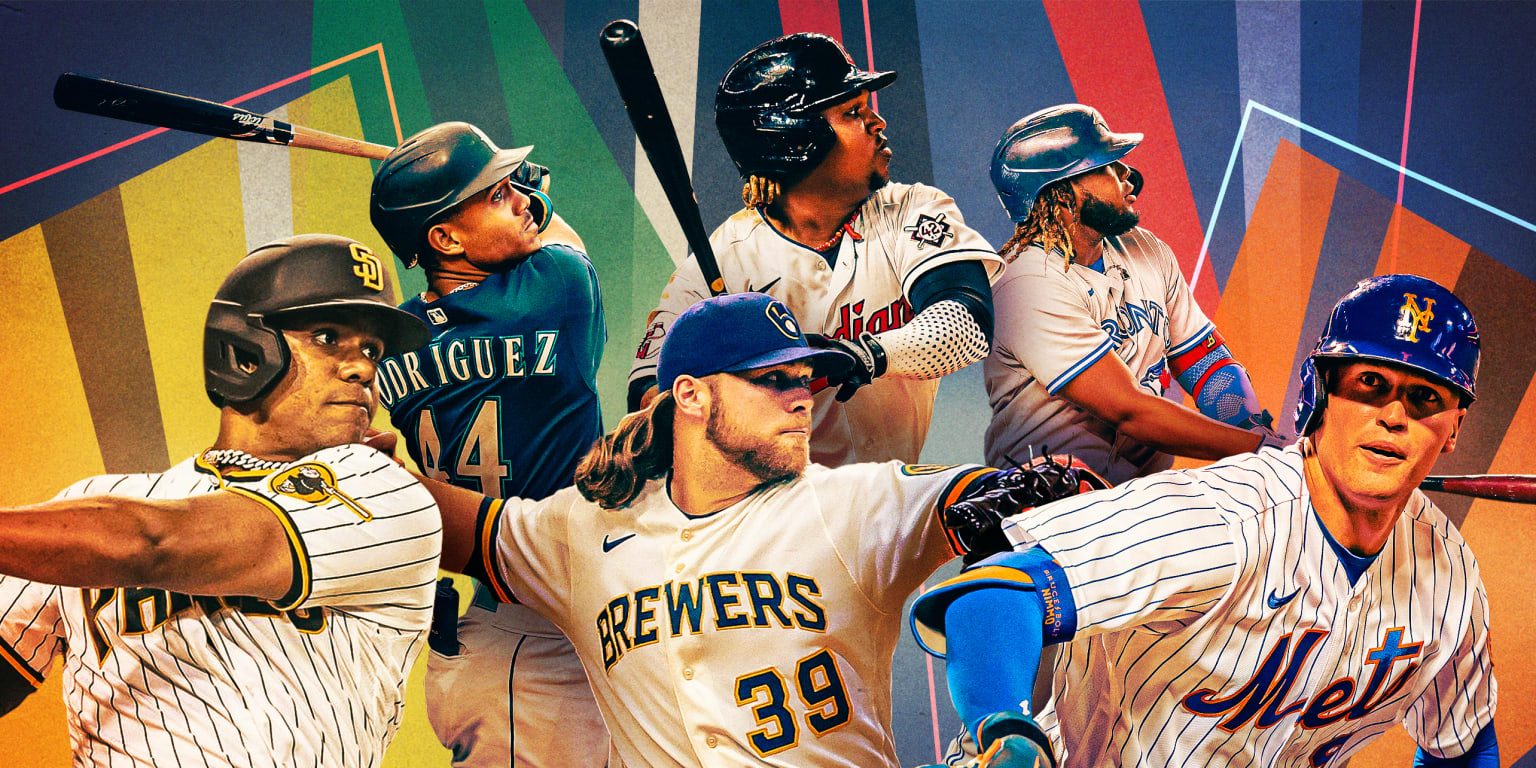 Every team will have at least one star worth watching this year.
But who will those stars be? Let's take a look at the Steamer projections on FanGraphs to find a solid candidate to be the No. 1 player for each team this upcoming season.
Here's the top-projecting player on each of the 30 teams in 2023, based on WAR.
Blue Jays: Vladimir Guerrero Jr. (5.2 WAR)
The Dominican has a projected 39 home runs, a .292 average and 111 RBIs. That would put him in a position to challenge for the Triple Crown.
Orioles: Adley Rutschman (5.6 WAR)
Rutschman, who finished second in 2022 Rookie of the Year voting, could take off even further at age 24. He has a WAR projection equal to that of Mike Trout.
Rays: Wander Franco (5.5 WAR)
After playing just 83 games due to injuries last year, Steamer believes Franco will be a top 10 player in the majors in 2023, with a wRC+ of 133, 16 homers and 10 stolen bases.
Red Sox: Rafael Devers (4.5 WAR)
The Red Sox gave the Dominican an 11-year, $331 million extension, and projections call for the 26-year-old to be one of the top five third basemen in the game, anticipating 32 home runs and 100 RBIs.
Yankees: Aaron Judge (6.9 WAR)
Following his historic 62-homer season, Judge is projected to once again lead the majors in home runs with 44, plus a WAR of 6.9, a wRC+ of 163 (63% better offensive output than the average hitter) and 106. driven. He is the only player with a projected 40+ home run.
Guardians: Jose Ramirez (5.2 WAR)
The Guardians' Dominican star, who finished in the top five for MVP for the fourth time in 2022, has a projected 30 shots and 20 stolen bases in 2023. The only other players Steamer sees going 30-20 are the Dominican Julio Rodríguez and the Venezuelan Ronald Acuña Jr.
Royals: Bobby Witt Jr. (3.9 WAR)
The 22-year-old shortstop would finish 2023 with 26 home runs and 27 stolen bases, one of only four players to go 25-25, according to projections.
Tigers: Riley Greene (3.1 WAR)
The dynamic 22-year-old outfielder would end the year with 15 homers, 65 RBIs and a wRC+ of 112, according to projections. He is coming off five homers with a wRC + 98 as a rookie.
Twins: Carlos Correa (4.9 WAR)
Now that the Puerto Rican's winter saga ended with his return to Minnesota, Steamer projects that he will be the Twins' best player in 2023 and one of the top two shortstops in the majors, along with Franco. He is estimated to hit 24 home runs with a wRC+ of 132.
White Sox: Luis Robert (4.0 WAR)
Robert's talent in all facets of the game is obvious and Steamer projects the 25-year-old Cuban will have the best season of his career, with 25 home runs, 13 stolen bases and a WRC+ of 127.
Angels: Shohei Ohtani (7.5 WAR — 3.1 hitting, 4.4 pitching)
If the superstar meets the projections in 2023, he will be favored to win his second MVP award in three years. No one projects better WAR in the majors (if you add up his pitching and hitting value). He is estimated to finish with 35 home runs, 16 stolen bases and 96 RBIs as a hitter and 12 wins, a 3.16 ERA and 217 strikeouts as a pitcher.
Astros: Yordan Alvarez (5.5 WAR)
The Astros' dangerous left-handed slugger could be on the verge of another monster year in 2023. The Cuban has a projected 36 home runs and 105 RBIs, with a wRC+ of 162 that would rank him as one of the top five hitters in the Major League. Tent.
Athletics: Ramon Laureano (2.5 WAR)
The Dominican Laureano has not yet demonstrated that electrifying level that he showed in 2019, his first full season, but the 28-year-old outfielder has a projection of 22 home runs and 17 steals.
Mariners: Julio Rodriguez (5.9 WAR)
Can the Dominican J-Rod improve even more after arriving in style at the MLB in 2022? Steamer thinks so. The current American League Rookie of the Year would be, according to projections, one of the best three position players in the Major Leagues, along with his compatriot Juan José Soto and Judge. Steamer anticipates 32 home runs and 25 stolen bases in 2023 for the 22-year-old center fielder.
Rangers: Jacob deGrom (5.5 WAR)
The offseason mega-signing could pay huge dividends for the Rangers if deGrom meets these projections. Steamer views him as the best pitcher in the majors by a wide margin, with a 2.65 ERA and 236 strikeouts.
Braves: Ronald Acuna Jr. (5.4 WAR)
Streamer believes Acuña will perform as MVP again in 2023. The Venezuelan is the only player projected to have a 30-30 season, with 31 home runs and 35 stolen bases, the most stolen bases in the Majors. That puts him in the Top 10 among position players, ahead of all-star teammates like Austin Riley, Michael Harris II, Sean Murphy and Matt Olson.
Marlins: Sandy Alcantara (4.0 WAR)
The reigning National League Cy Young Award winner is projected to be a "workhorse" again in 2023, with a major league-high 211 innings of work, 200 strikeouts and a 3.56 ERA. That makes the Dominican the best player on the Marlins, according to Steamer, ahead of Jazz Chisholm Jr.
Mets: Brandon Nimmo (4.8 WAR)
The Mets re-signed Nimmo for $162 million, and Steamer believes the 29-year-old center fielder will have the best season of any player on the team — better than Francisco Lindor, Pete Alonso, Max Scherzer and Justin Verlander.
Nationals: CJ Abrams (2.6 WAR)
Abrams, one of the sought-after prospects that Washington received in the trade for Dominican Juan Soto, is projected to be the best player on the capital team in 2023, with 11 home runs, 17 stolen bases and a solid shortstop defense. according to Steamer.
Phillies: Trea Turner (4.7 WAR)
Steamer projects that Turner, who has led the majors in hits twice, will once again be the major league hit leader in 2023 (177, just ahead of Bo Bichette). Turner is also projected to have a 20-20 season (21 home runs, 23 stolen bases).
Brewers: Corbin Burnes (4.9 WAR)
The National League Cy Young Award winner in 2021 is projected to win a pitching Triple Crown in 2023. Burnes is tied for the most projected wins in the NL (13) and is projected for the best ERA by any qualified NL starter (3.15), while also having the most projected strikeouts in the NL (239).
Cardinals: Nolan Arenado (5.2 WAR)
Paul Goldschmidt, Arenado's teammate, was the 2022 National League MVP; he could turn Arenado in 2023. Arenado is projected to be the best third baseman in MLB — unsurprisingly — with 29 homers and 99 RBIs, along with the Gold Glove-caliber defense we're used to.
Cubs: Nico Hoerner (3.5 WAR)
It's interesting that it's 2022 Cubs shortstop Hoerner, and not $177 million signee Dansby Swanson, who's projected to have the best season north of Chicago. To Steamer, the two are equally valuable, but Hoerner, who hits for contact and has a projected .280 average with a low strikeout rate, 11 home runs and 18 steals, has a slight advantage over Swanson's projected WAR (3.3 ).
Pirates: Bryan Reynolds (4.0 WAR)
Talented shortstop Oneil Cruz finished a close second to Reynolds after his rookie season. But the Pittsburgh outfielder who was named to the All-Star Game in 2021 has the best projection for 2023. Reynolds is projected to have 24 home runs, 83 RBIs and 91 runs scored for Pittsburgh.
Reds: Nick Lodolo (3.7 WAR)
Lodolo and Hunter Greene are expected to make leaps and bounds in 2023 after exciting but checkered rookie seasons. Both could establish themselves as young aces in Cincinnati, and Steamer believes both will be in the Top 25 in WAR among pitchers.
D-backs: Corbin Carroll (3.3 WAR)
Here we have an exciting one. Carroll debuted in late August as the D-backs' top prospect and established himself as the fastest player in the game, leading the Majors with a sprint speed of 30.7 feet per second. He now projects to be Arizona's No. 1 player, ahead of Ketel Marte and Zac Gallen. Steamer projects 20 homers and 19 stolen bases to the 22-year-old outfielder.
Dodgers: Mookie Betts (5.9 WAR
Betts has finished in the Top 5 in National League MVP voting twice in his three seasons with the Dodgers, and could do so for the third time in 2023. Betts is projected to be one of the top five players in Major League Baseball and the second most valuable in the Old Circuit, after Soto. Steamer projects him 31 homers and 15 stolen bases in 2023.
Giants: Alex Cobb (3.1 WAR)
The veteran right-hander revived his career in his first season in San Francisco, improving his speed to over 95 mph and racking up strikeouts with his changeup-splitter. Steamer projects that he will continue to succeed in 2023 as the Giants' best player (11 wins, 3.47 ERA, 161 strikeouts).
Parents: Juan Soto (7.1 WAR)
The Padres acquired Soto to be the best hitter in the world, and that's what Steamer believes the Dominican will be in 2023. Soto is projected to have the most WAR of any position player and the best WRC+ of any hitter ( 172), making him the favorite for the National League MVP going into the new season. The Dominican is projected to lead the majors in on-base percentage (.431) and walks (137) by a wide margin. The 24-year-old slugger is also projected for 33 home runs, 95 RBIs and 113 runs scored, the most in the majors.
Rockies: Ezequiel Tovar (2.8 WAR)
One of the best shortstop prospects going into 2023, Tovar, 21, is projected to have a strong rookie season in Colorado after a taste of 2022, including a .280 batting average, 17 home runs and 12 hits. stolen bases.