News
The Daniel Ortega regime condemns the first family of a political exile from Nicaragua | International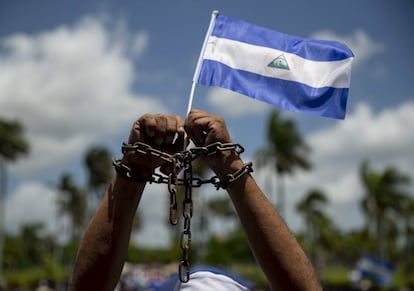 The wife, daughter and son-in-law of Nicaraguan opposition member Javier Álvarez were sentenced on January 18 by the courts of Daniel Ortega and Rosario Murillo for the crimes of "conspiracy" and "propagation of false news" on social networks. The sentences that the Prosecutor requested against Jeannine Horvilleur Cuadra, Ana Carolina Álvarez Horvilleur and Félix Roiz Sotomayor were eight years for them and ten for him. This family became the first to be sentenced for being relatives of a politically persecuted person. It is a new modus operandi repressive of the Sandinista regime: the imprisonment of relatives of political exiles.
Since before November 2022, when Ortega and Murillo held municipal elections without competition, in which the Sandinistas consolidated the one-party regime by winning all the 153 municipalities in the country, the police began to persecute and imprison relatives of political exiles. who from abroad continue to criticize "the dictatorship."
Mother, daughter, and son-in-law were arrested on September 13, 2022, when a police convoy arrived looking for Javier Álvarez. The officers did not find him because he had previously fled to Costa Rica into exile for fear of being arrested. However, the Police first captured Jeannine Horvilleur Cuadra and Ana Carolina Álvarez Horvilleur, who have dual nationality: Nicaraguan and French. Then the officers went to catch Félix Roiz.
The family was transferred to the Directorate of Judicial Assistance (DAJ), the prison better known as El Chipote, where human rights organizations denounce that political prisoners receive cruel and inhuman treatment, even torture. The family has been locked up in El Chipote for four months, until last October 1 they were finally brought before a judge addicted to the regime. What worries Javier Álvarez the most is the health of his wife Jeannine, a cancer survivor and whose state of health "is delicate." Despite this, the El Chipote officers did not receive the medications that the 63-year-old woman takes daily.
"It is a barbarism that the regime commits. It is about the most complete primitivism in human rights and respect for people. We are reaching unsustainable levels of aggression, "Álvarez said after learning of the capture of his relatives. "I demand that you release my wife, my daughter and that you release my son-in-law. If they have something against me, they should look for me, "he insisted.
Álvarez later revealed that the police offered to release his family in exchange for him turning himself in at El Chipote. "I am not going to return to Nicaragua because my life is in danger in the country. There is hatred against me that I don't know where it comes from because I have never appeared in the media giving statements nor have I signed any statement. I admit that I am an opponent. I don't like this regimen. I want a free Nicaragua," he said.
Join EL PAÍS to follow all the news and read without limits.
subscribe
Another similar case is that of Andrea Margarita del Carmen, director of PEN Programs in Nicaragua: on September 14, 2022, the police went for her, but when they could not find her, they captured her son Gabriel Alfonso López, a 34-year-old auditor. He was accused of the political crime "of undermining national integrity." Andrea Margarita reported that the police sent her messages from her son's cell phone that she ignored. "When my family went to ask for him at El Chipote, the police told them that they were interested in me, and that he would only go free if he handed me over," she recounted.
In exile in Costa Rica, the leader of the UNAMOS political party –formerly called the Sandinista Renovation Movement– Dulce Porras, fears for her brother, who was accused of "the crime of conspiracy" and "propagation of false news". The persecution against the relatives of exiles has installed a climate of self-censorship in Costa Rica and other countries. There is a lot of fear that the Ortega-Murillo regime will imprison relatives who are not related to political issues and do not have active opposition.
"This is already a pattern of arbitrary and unconstitutional actions by the police. Capturing loved ones of the persecuted people has the objective of not only intimidating, but forcing them to provide information for the capture of the wanted person," said Gonzalo Carrión, a human rights defender in exile in Costa Rica. "This new pattern reaffirms the practices of intensified terrorism against different social sectors of the country," added the lawyer and founder of the Nicaragua Nunca Más Human Rights Collective.
Subscribe here to newsletter from EL PAÍS America and receive all the key information on current affairs in the region