Health
The future of medicine is already here: devices capable of telematic diagnosis in real time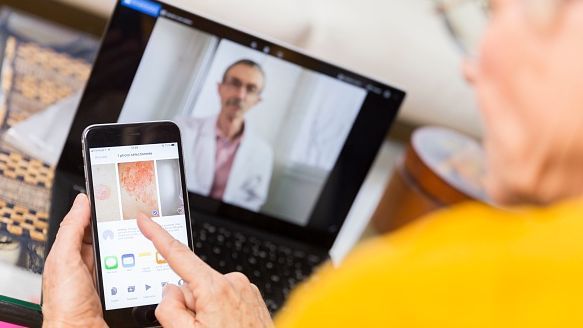 The covid pandemic was a boost to telemedicine, which since then has not stopped updating more and more




There are already devices capable of evaluating vital signs remotely and offering a medical diagnosis in real time: of the heart, skin, ears, throat, abdomen or lungs
One of the great revolutions brought about by the pandemic was the acceleration of telemedicine. At that time, caring for covid patients without having to go to health centers was vital to prevent them from spreading the virus not only to other patients but also to health personnel.. "The pandemic forced doctors to change the way they care for their patients. It forced the introduction of telephone consultations and other telemedicine tools that have come to stay", says Joan Carles March, a specialist in Preventive Medicine and Public Health.
So, the attention was more telephone than telematics. "A consultation over the phone can be something very long: a person whose face you are not seeing needs to use many more words to tell you something. But people became aware of the need that it was possible to do telemedicine", March points out. Since then, this system has been refined more and more. And although not all pathologies can be treated electronically, as medical professionals warn, the truth is that many queries can be resolved through this method. Among them, those who pursue a follow-up of chronic patients, such as medication reviews or clinical analysis and tests. Also when it comes to resolving doubts, detecting harmful habits for the health of a patient or for those patients who cannot travel or have an alarming symptom that a health professional can refer directly to a hospital without having to go through the health center.
Thanks to telemedicine, waiting lists can be reduced, in addition, unnecessary travel is avoided and care is often made bureaucratic. "You have to modify many reviews that were done to patients and that are not necessary. The phone call should not be interpreted as an alternative, but rather as a complement." March points out.
Devices for telematic diagnosis
But it is not only about a doctor taking care of their patients through a call or video call. There are devices that help to have a telematic diagnosis. One of them is Tytocare, launched by Vivaz, the health insurance brand of Línea Directa Aseguradora, through which patients can have a real consultation with their doctor through a remote physical examination supported by artificial intelligence.
This telemedicine device, distributed by Nébula-VPC in Spain, is capable of remotely evaluating vital signs and offering a medical diagnosis in real time: complete physical examinations of the heart, skin, ears, throat, abdomen and lungs, as well as measuring heart rate and temperature. This allows healthcare professionals, thanks to a special platform, to obtain vital clinical data needed to monitor, diagnose and treat patients remotely. For now, only a part of the Vivaz medical team is authorized to work with this system, although in the future the idea is that all doctors can have this integrated platform.
As for patients, there are different business models in which the device is provided free of charge to the insured while on other occasions it is offered through a monthly subscription. "At Vivaz, for this first pilot, this device has been offered free of charge to a group of customers. In these six months, the main objective was that a group of insured people could try this new modality, with a device by which to measure the degree of success of a real consultation with their doctor, through a remote physical examination supported by Artificial Intelligence. that was capable of providing the patient with a diagnosis virtually ", say company sources.
face scan
The truth is that most private health insurances have digital medical assistance. Sanitas uses face scanning TOI (Transdermal Optical Imaging) technology to obtain blood flow from the patient's face, which generates a series of data about your health, which the doctor then evaluates remotely.
In addition, with the MiSanitas app, patients have access to devices such as digital scales, thermometers or pulse oximeters monitored by their doctor at any time.
Asisa also has the Actúa online information program for the cControl of patients with chronic diseases, such as COPD, chronic heart failure through a digital application that collects clinical data, such as blood pressure, oxygen saturation or weight that are automatically sent to a monitoring and control platform.
But no one doubts that telemedicine can go even much further in the near future. As the borders between the sick and the doctor disappear, it could happen that a patient requests an appointment with a doctor, for example, from Washington and that the latter is able to control his chronic disease from thousands of kilometers away. And not only that, in the medium term, experts say that it will be common to perform surgery from a distance thanks to high-precision robots.