Sports
Video: the moment of the suspension of the match in Freyre at the Nacional de Baby Fútbol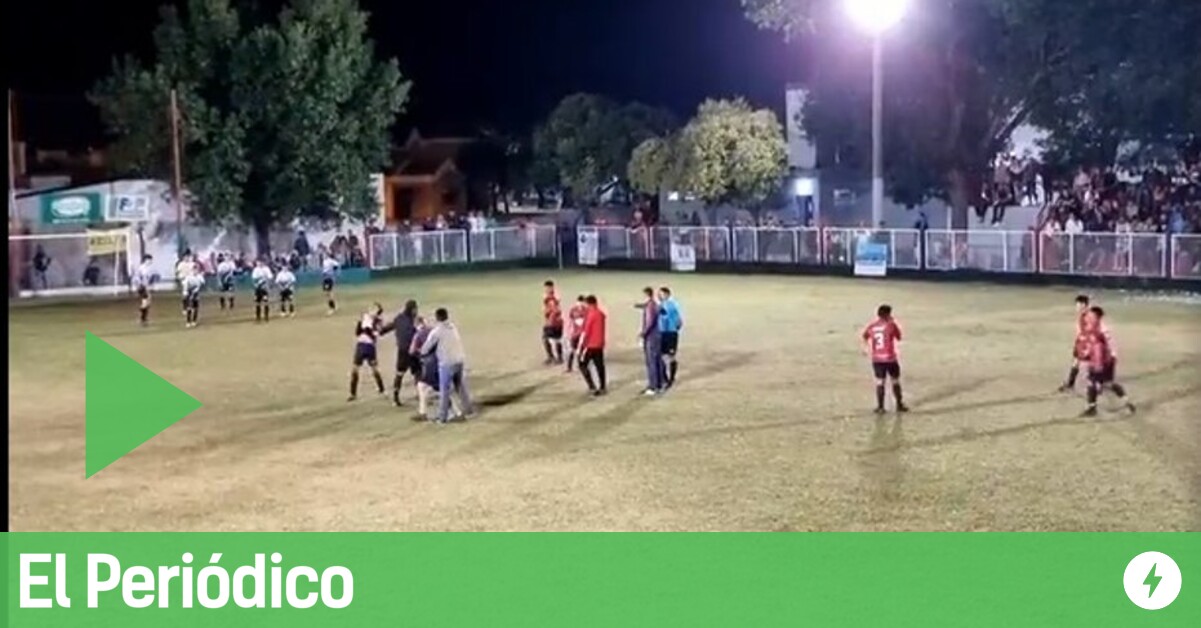 The second phase of the National Baby Soccer Championship closed with controversy due to the suspension of the match between the Freyre Municipal Department of Sports and 20-21 Tiger FC. It was 5 minutes into the first half when the referee decided to send off a home team player under unclear circumstances.
As can be seen in the video, after the red card, an attempter from the local team's coaching staff pounces on the referee to protest angrily and had to be separated and stopped by other people so that the situation does not escalate. Later, some children also protest before the referee. Given this, the judge decided to suspend the game due to lack of guarantees in the face of the reaction of the locals.
The Baby Soccer League will determine this Friday morning how the tournament continues since both teams qualified with that result.
On the other hand, the finalist teams of the Stimulus Cup were determined: Children's Xeneize and Sportivo La Playosa. This final will be played on Saturday on April 2 in the run-up to the championship final.
Results
Zone 1 – The Pheasant
Wednesday
Frontera Defenders 0-1 El Tío's Clover
Colón de Colonia Caroya 1-1 El Trébol de El Tío
Devoto's Pheasant 1-1 Frontier Defenders
Thursday
Colon de Colonia Caroya 1-5 El Pheasant
Defenders of Border 2-2 Colón de Colonia Caroya
Devoto's Pheasant 3-0 El Tío's Clover
Table: 1. The Pheasant 7 pts (+7) |2. The Clover 4 pts. (-23. Def. Border 2 pts. (-1) |4. Colon (CC) 2 pts (-4)
Zone 2 – South Star
Wednesday
cult. La Para 0-0 June 20-September 21
Sportivo Balnearia 1-3 June 20-September 21
cult. La Para 0-0 South Star
Thursday
Sportivo Balnearia 1-0 South Star
Cultural La Para 3-2 Sportivo Balnearia
June 20-September 21 2-0 Estrella del Sur
Table: 1. Jun 20/Sept 21. 7 points. (+4) |2. cult. The For 5 pts (+1) |3. Sp. Spa 3 pts. (-2) |4. South Star 1 pt. (-3)
Zone 3 – Sports West
Wednesday
Silver Arrow 2-3 Colon de Santa Fe
Los Andes 1-3 Colon de Santa Fe
Silver Arrow 2-0 Deportivo Oeste
Thursday
Los Andes 1-0 Deportivo Oeste
Silver Arrow 3-1 The Andes
Colon de Santa Fe 8-1 Deportivo Oeste
Table: 1. Colón (Sta. Fe) 9 pts. (+10) |2. Silver Arrow 6 pts. (+3) |3. The Andes 3 pts. (-3) |4. Dept. West 1 pt. (-10)
Zone 4 – DMD Freyre
Wednesday
LN Germany 0-1 20-21
Deportivo North 0-7 20-21
LN Alem 4-1 DMD Freyre
Thursday
Deportivo Norte 0-8 DMD Freyre
LN Alem 2-0 Deportivo Norte
20-21 vs. DMD Freyre (Suspended for lack of guarantees – led 20-21 by 1-0)
Table: –
Zone 5 – General Savio
Wednesday
Deportivo Josefina 2-1 The Happy Child of La Tordilla
Friends of Ituzaingó 1-2 The Happy Child of La Tordilla
Deportivo Josefina 1-0 General Savio
Thursday
Friends of Ituzaingó 0-0 General Savio
Deportivo Josefina 1-0 Friends of Ituzaingó
The Happy Boy of La Tordilla 1-1 General Savio
Table: 1. Dep. Josefina 9 pts. (+3) |2. The Happy Child 4 pts. (0) |3. Gral. Savio 2 pts. (-1) |4. Friends of Ituzaingó 1 pt. (-2)
Zone 6 – CD River
Wednesday
April 2 1-1 Shooting and Gymnastics
Belgrano 1-1 Shooting and Gymnastics
April 2 0-3 CD River
Thursday
Belgrano 1-1 CD River
April 2 0-0 Belgrano
Shooting and Gymnastics 2-4 CD River
Table: 1. CD River 7 pts. (+5) |2. Belgrano 3 points. (0) |3. Shooting and Gymnastics 2 pts. (-2) |4. April 2 2 pts. (-3)
Zone 7 – Tarzanito
Wednesday
Garden neighborhood 0-0 Cabrera neighborhood
Los Albos 1-2 Cabrera neighborhood
Garden neighborhood 1-0 Tarzanito
Thursday
The Albos 0-1 Tarzanito
Garden neighborhood 1-3 Los Albos
Cabrera neighborhood 0-0 Tarzanito
Table: 1. Cabrera neighborhood 5 pts. (0) |2. Tarzanito 4 pts (0) |3. Garden neighborhood 4 pts. (-1) |4. The Whites 3 pts. (0)
Stimulus Cup
Wednesday
Sp. La Playosa 1-0 Deportivo Sebastian
Castelar Grenadiers 4-0 Sociedad Sportiva Devoto
Antártida Argentina 1-4 Infantil Xeneize
Coltauco Mill (Chile) 0-7 Sp. Santa Clara
Thursday
Grenadiers (Las Varas) 0-1 July 9 (Freyre)
Sp. La Playosa 1-0 Grenadiers (Castelar)
Children Xeneize 3-0 July 9 (Freyre)
Sp. Santa Clara 0-3 Sp. La PLAyosa
Finalists: Infantil Xeneize vs. Sp. La Playosa (Saturday)