Summary
The Masked Singer Season 10 Groups A, B, and C have advanced to the finals, with three contestants advancing from each group.
Group A finalists include Gazelle, Cow and S'More, while Group B finalists include Husky, Sea Queen and Tiki. Group C finalists are Donut, Candelabra and Anteater.
S'More, Tiki and Anteater had to fight for their spot in the finals through SmackDown.
all 16 masked singer Season 10 contestants have performed in their respective groups, and now three contestants each advance to the Group A, B, and C finals. masked singer Season 10 welcomed back Host Nick Cannon, and panelists Robin Thicke, Jenny McCarthy Wahlberg, Ken Jeong, and Nicole Scherzinger, for its milestone season. On the season premiere, a special reveal revealed Anonymous to be superstar singer Demi Lovato.
Continuous masked singer season 10, 16 contestants compete in various theme nights, Group A attended the NFL and 2000 Nights, while Group B performed at A Celebration of Elton John and Harry Potter Nights. Group C took the stage for One Hit Wonders and Trolls Nights. As they move towards the end, there's still a soundtrack of disco, rock and roll and my life's nights to await. At this point in the competition, the panelists will have the opportunity to save one contestant with the Ding Dong Keep It On Bell. Here's who will compete in each group.
RELATED: The 20 Best Reality TV Shows Right Now
Group A Finalist
masked singer Gazelle, Cow, S'More, Disco Night will compete in the Group A finals, All three of them were original contestants in the group, which is a pretty impressive feat. Gazelle has made many incredible performances on the show so far, including "Uninvited," "The One That Got Away" and "Lucky." Cow advanced to the finals with his standout performances of "Bones," "Treasure," and "Cry Me a River."
However, S'More's journey to the Group A final was more difficult. After two successful weeks of singing standout versions of "Slow Hands" and "Moves Like Jagger", they found themselves in the bottom two in the third week after performing "Hey There Delilah". However, he won the SmackDown vs. Wild Card Contestant Pickle, in which both of them sang "Sugar, We're Goin' Down". Group A contestants Anthony Anderson (rubber ducky), Tom Sandoval (diver), and Michael Rapaport (pickle) were eliminated before the finals.,
Group B finalists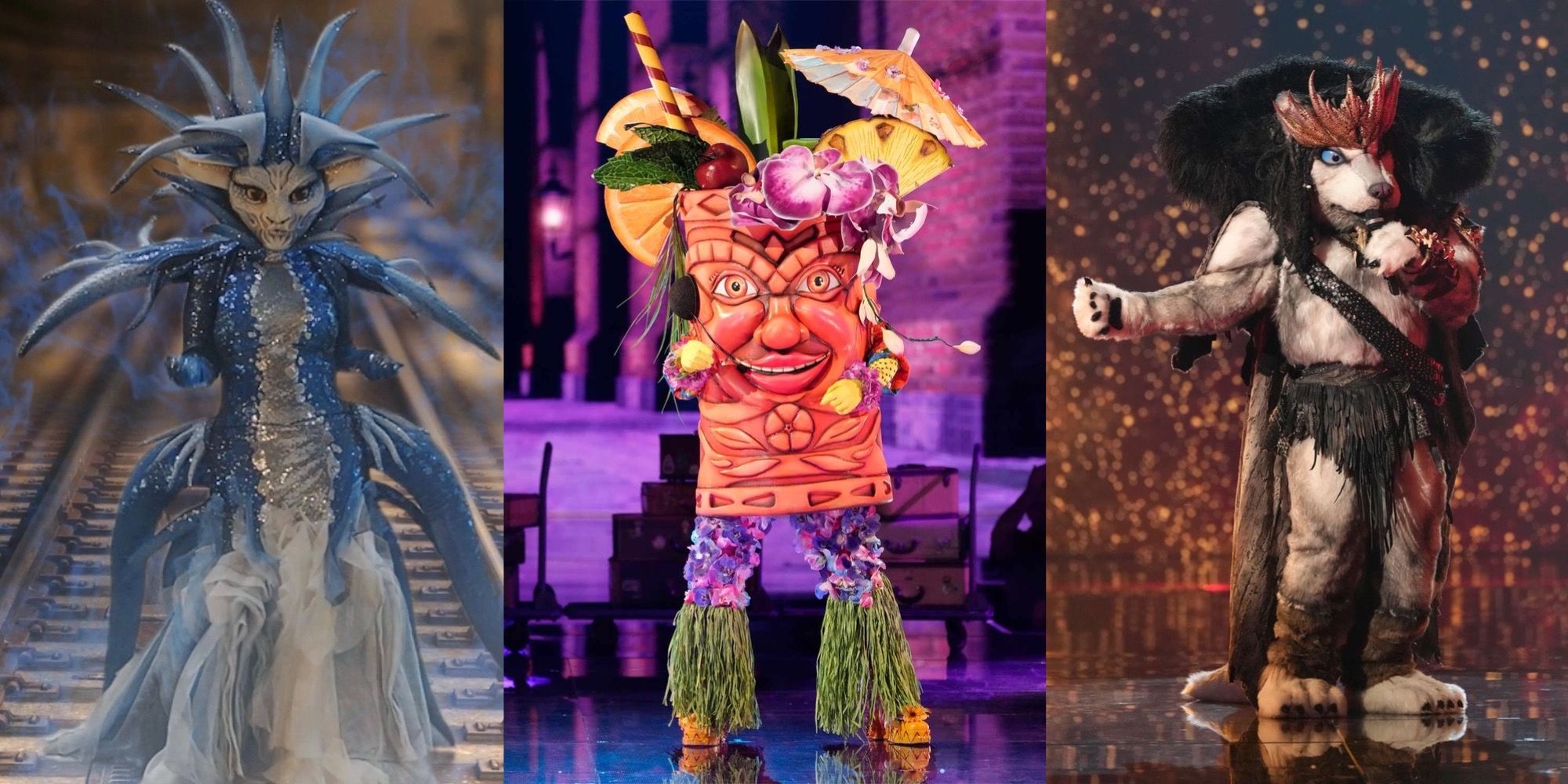 Husky, Sea Queen, and Tiki Are masked singer Group B finalists. Husky and Tiki were the original Group B competitors, but Sea Queen was a wild card. She is the only wild card competitor of the season who did not participate in SmackDown. The Huskies easily made it to the Group B finals, singing entertaining versions of "Bennie and the Jets" and "Super Freak". Sea Queen's performance of "Love Potion No. 9" was so mysterious that she went straight to the finals.
Tiki had to win SmackDown to earn their spot in the Group B Finals. After his powerful first performance of "Goodbye Yellow Brick Road", he was in the bottom two the following week after singing "Magic". However, Tiki won on SmackDown vs. Havok when they both sang "Monster". Group B contestants Billie Jean King (Royal Hen) and Tyler Posey (Hawk) were eliminated before the finals.,
RELATED: The Masked Singer Season 10: Every Celebrity Revealed
Group C finalists
masked singer Group C finalists Donut, Candelabra, and Anteater, These three were the original contestants in the group. Donut moved the audience with their emotional performances of "Hooked on a Feeling" and "I Do (Cherish You)", while Candelabra took the stage with their smooth and soulful performances of "1 Thing" and "All My Life". Set fire.
Anteater has had the toughest journey to the finals of any competitor in any group as he is the only competitor to have competed in two SmackDowns. Anteater has great vocals and stage presence, but he finished in the bottom two for two consecutive weeks after singing "Walking in Memphis" and "I Want It That Way". Anteater won their first SmackDown against Hibiscus when they both performed "Hey Mickey" and then the following week against Cuddle Monster when they both performed "Can't Stop the Feeling!" Performed. Contestants eliminated from Group C were Hibiscus (Luan de Lesseps) and Cuddle Monster (Metta World Peace).,
masked singer The ending will definitely be very exciting. Each group has remarkable vocalists that will be hard to beat. masked singer The panelists will definitely use their saves, which will ultimately bring four contestants to the final round. masked singer Season 10 is one of the best so far.
masked singer Airs Wednesday nights at 8pm ET on Fox.