News
A master class on drug trafficking in the trial of Genaro García Luna
Tirso Martinez, aka Football player either The mechanic, may not be the first name that comes to mind when one thinks of the Sinaloa Cartel. In the shadow of bosses much better known as Joaquín El Chapo Guzman or Ishmael the may Zambada, the second witness in the trial against Genaro García Luna, Secretary of Public Security in the Felipe Calderón Administration, can be considered an average drug trafficker. Even the decision to take him to the stand in New York was surprising from the other side of the border, especially to testify against the defendant, a person with whom he never spoke and whom he never met. Martínez's story, however, is an x-ray of how organized crime works in the country. He told of when he bought a private plane, four professional soccer teams, fine horses, Lamborghinis and Ferraris. He went over in great detail how he transported drugs in secret compartments, where he hid tens of millions of dollars in profits, what tricks he used to mislead customs agents and how he bought off police chiefs with bribes. He spoke openly about how the bosses were feared by their own employees and were untouchable, despite the fact that the government said it had declared war on them. It was a magisterial conference for the jury on what it means to be drug dealer in Mexico this Wednesday in the Brooklyn court.
He was known as El Futbolista for his obsession with owning clubs, but his list of nicknames and false identities is endless. "I have many", he would say with a proud and enthusiastic tone. Some of them: José Luis Martínez, Manuel Ochoa, Rafael Barragán, El Doctor, El Centenario, El Tío. The capo was born into a poor family in Guadalajara, in western Mexico. He studied by himself until high school and when he was about 18 or 19 years old he immigrated to Los Angeles. First, he worked in a restaurant, but within a few months he started selling cocaine and marijuana. He crossed the border without papers 50 or maybe 100 times during the 1990s. He came and went as he rose up the cartel. Suddenly, it occurred to the bosses that it was a good idea to start transporting the drugs on trains that left Mexico to New York and other big cities like Los Angeles and Chicago. After a few years they named him the manager of that route.
The first time he was taken to meet El Chapo, he was picked up at a cafeteria, put in a car and hooded up to a remote cabin. "Compadre, did you already tell him that I invented that means of transportation?" El Patrón told him, as he was introduced by a mutual friend. Guzman was excited. "He asked me how many train cars we were putting drugs in and I told him there were about 30, 40 or 50, but it was a lie, there weren't that many," Martínez said with a smile. He didn't want to disappoint the boss.
The first thing he did after receiving the assignment was to open several paper companies in Mexico and the United States with the help of a figurehead. The front was an oil export business. Thousands and thousands of bottles were leaving New York by train and several tons of cocaine were being shipped back from Mexico City. The merchandise was hidden in a false bottom of a freight car. He pointed it out on a screen himself, circling the part of the train where the product was stored and then the secret compartment was soldered back together, like a business presentation. The drugs came in plastic bags that were marked with adhesive tape of different colors. "It was a color for the one who was from El Mayo, this other one was the color of El Chapo and so on," he explained patiently.
He also had tricks to avoid checks at the border. "He put a little oil on it so that when he went to the United States, the customs workers would be afraid of slipping," Martínez boasted. The warehouses had rails that connected directly to the tracks of the main stations and when they arrived they were transported to another warehouse in trucks to avoid monitoring by the authorities. "They weren't going to find out so easily."
Between 2000 and 2003, Martínez amassed between 30 and 35 million dollars in profits, which motivated him to also bring drugs in speedboats, with which he earned a similar amount. "Most of it was spent on soccer teams, cockfights, parties, women, cars, the plane, and property," he recalled. Along the way, he became addicted to cocaine and an alcoholic. He had to explain what cockfighting was and how knives were placed in the legs of the birds so that they would fight to the death. He spent between two and three million dollars on such bets. He had so much ill-gotten money that he had to hide it behind false walls in his houses, in toilets, in furniture and in hiding places in his cars. "Maybe what I earned was 5% of what the bosses earned."
There were, of course, bribes to the authorities "to protect the drug." Martínez remembered how a corrupt tollbooth worker in León, a city in the center of the country, would stop him over and over again as he passed through that highway. "Well, how much do you want a month so that you are no longer bothering me and you let my people pass?" the boss recounted, now with a solemn tone. The problems ended when he paid her between $20,000 and $25,000 each month, "depending on the favors." But they were tips. He gave a police commander in Guadalajara, "they called him the Jaguarcito", between 100,000 and 200,000 dollars. El Capi, a corrupt commander in the State of Chiapas, asked him for a similar sum, but he himself was in charge of watching over the cocaine so that it would not be stolen or seized.
Martinez was afraid of getting caught. "How true is it that El Mayo has everything arranged with the authorities?" he once asked Juan José Álvarez Tostado, another member of the Sinaloa Cartel who pleaded guilty in the United States in 2019. "Compadre, El Corajudo [refiriéndose a El Mayo] He has arrangements with everyone: the federals, the military, the State judicial, the transits…", the drug trafficker replied. Vicente Carrillo, the group's high command, told him once that Zambada wanted him to send 14 tons of cocaine to the United States. He got nervous. "Mechanic, don't be scared, bastard," paraphrased the witness, while the laughter of the Spanish-speaking reporters was heard in the room and a translator desecrated to do her job: "Don't be afraid, you are a bitch". "Few bastards have the arrangements that he has."
It was not an easy job. Martinez faced three forfeitures in a matter of months. The first was in Brooklyn in mid-2002, it lost almost two tons. "Don't be afraid, keep fucking him," Vicente Carrillo tried to encourage him. The second was in Chicago and the capo began to get impatient. "Let's see if Shortlegs doesn't get angry [El Chapo Guzmán]", warned Carrillo. The third was in Queens, more than 1,500 kilos were seized. "What the fuck is going on, Mechanic? Let's see what my godfather El Mayo tells me, "he told her annoyed.
On one occasion he was in trouble because an employee stole a million dollars from him. When senior members held him accountable, he gave them a location to find him. "I thought they were going to hit him so he would tell them where the money was, I didn't know they were going to kill him," he said. "But yes, I feel guilty about it," he managed to say before Assistant Prosecutor Philip Pilmar continued his questioning. His own brother-in-law suffered the same fate, he could not say where a significant amount of cocaine had been left. "Did he benefit from that violence?" Pilmar asked him. "Yes, the people who knew I was from that cartel respected me and didn't mess with me," he replied.
It all ended in February 2014, when he was arrested in León. The United States offered a reward of five million dollars for him. He did everything he could to not get caught. He even tried to bribe the commander of the operation. "How much do you want to let me go?" he asked her. "Bastard, I know you don't have money," the federal police officer replied. He doubled the bet and offered her some land that he had in the area. "I can't this time, the DEA is involved," the agent settled, according to his testimony.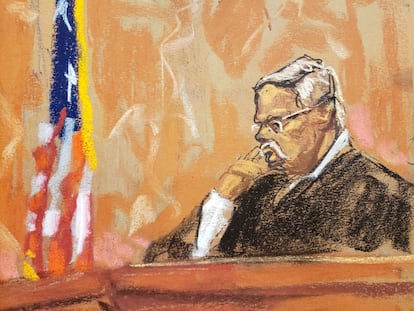 By December 2015, he was extradited to New York and tried in the same court and before the same judge as El Chapo and García Luna. "Drugs are more expensive here in New York and the cartel earns more money," he explained. He was charged with three counts of cocaine trafficking, the same amount as the former official, and he expected a minimum punishment of 10 years in prison up to life in prison. By October of the following year, he signed a plea agreement, cooperated with prosecutors, and served a seven-year sentence. He took the time to testify against Guzmán in the so-called "trial of the century" at the end of 2018. By December 2021 he was a free man. His incentive to speak against García Luna is to be granted legal stay in the United States. He has not returned to Mexico, where he still owns several properties, a fact he hid from authorities. "I lied to them, I was afraid they would take them away from me. I'm working to get them back."
After Martínez's testimony, five US agents took the stand to corroborate everything he had said moments before. Ernest Cain, a retired Chicago police officer, confirmed that he found the bags with colored ribbons that identified the boss who owned the drugs. Jamal Hormedo, a DEA special agent, interrupted his testimony for a moment to take from an evidence box one of the packages of cocaine that he found in the operation in Brooklyn against the people of El Mecánico. He showed it to the jury, 18 stunned New Yorkers, and he continued to testify. "We found a tremendous amount of cocaine in that warehouse," said drug enforcement agent Matthew Coleman, who was on the Queens raid.
Noel Malony, a customs agent, and Steven Tamayo, an immigration officer, also testified. It is a way of explaining to the jury why García Luna is being tried in New York: the Prosecutor's Office identifies him as a collaborator of the Sinaloa Cartel, which has operated in the State for decades. The last of the witnesses called this Wednesday was Héctor Tolentino, leader of the Dominican gang Los Trinitarios and a drug dealer for the Sinaloa Cartel. The highest-profile trial against a former Mexican official in the United States is scheduled to resume next Monday.
subscribe here to newsletter from EL PAÍS México and receive all the key information on current affairs in this country