Entertainment
Beyond 'Alpha Males': 10 series and movies that question masculinity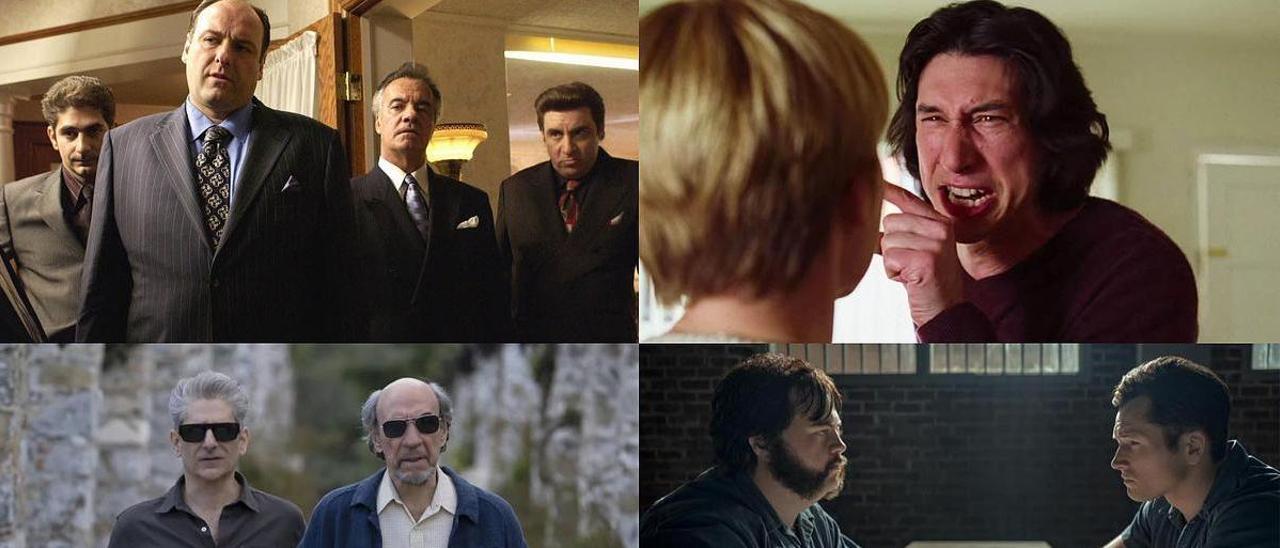 The recently releasedalpha males', latest local hit Netflix, addresses from humor the difficulties of a part of the male population to accept the world in all its (not so) new, diverse and feminist splendor. It is just the last link in a long collection of recent fictions about the crisis of a certain idea of ​​masculinity, one based less on empathy than on ecpathy and with the tear as an object of mockery rather than pride. David Chase opened with 'The Sopranos' an entire era of series about male antiheroes trapped in expired values. Films like 'Marriage Story' and 'The Last Duel' wisely oppose gender perspectives in search of something close to the truth. Here we recall these and seven other titles, indicating in each case on which platform they can be found.
1. 'The Sopranos'
The founding text of the male anti-hero of prestigious television. A One Man Odyssey, Tony Soprano (James Gandolini), ringleader of a mafia group at a time that is not very hot for old-school organized crime and traditional gender ideals. "Lately, I've been feeling like I'm coming to the end," she tells psychiatrist Jennifer Melfi (Lorraine Bracco) in her first therapy session. "When the best is over." Throughout the series, Tony has trouble accepting the often more masculine than feminine attitudes of his sister Janice (Aida Turturro) or his colleague Vito Stapafore's (Joseph R. Gannascoli) coming out as homosexual. Available in HBO Max.
2. 'Chevalier'
Deserved of the best film award at the 2015 London festival, this work as a director of Athina Rachel Tsangari, produced by Yorgos Lanthimos, is a comically anthropological exploration of the idiocy of the human being and, more specifically, men. Six guys aboard a ship in the Aegean Sea try to find out who is "the best overall" with a series of tests, each of which is the most ridiculous. They seek to hang the gold medal of masculinity without understanding that perhaps such an award is not a great achievement. Available in filming.
3. 'Marriage story'
In the masterful film of Noah Baumbach, the always intense Adam Driver plays a theater director, Charlie Barber, a self-appointed creative genius while his talented actress wife, Nicole (Scarlett Johansson), accepted all the sacrifices and was forced to settle for the role of muse. With the separation, not the divorce from her, he watches in some amazement as she achieves big breaks and even receives an Emmy nomination for directing. Even though we spend more time with Charlie, it's Nicole who emerges as a hero on every level. Available on Netflix.
After the terrifying 'It arrives at night', the director Trey Edward Shults He radically changed the scene with this melodrama about a family broken by tragedy and how children often carry the sins of their parents. In this case, Tyler (Kelvin Harrison Jr.) takes the worst fights from a patriarch, Ronald (Sterling K. Brown), who can cross red lines in an attempt to tan his children for a real world that is not kind to them. young blacks. The first part of the film reminds us how the pursuit of certain ideals of masculinity can, paradoxically, corner us and make us fragile. Rental on Amazon and Apple TV+.
5. 'The morning show'
The first season of the Apple TV+ battering title focused on the internal investigation into sexual harassment on a morning news television show, the title show of the series. The spotlight is placed, culturally and mediatically speaking, on the character played by Steve Carell, companion of the presenter played by Jennifer Aniston until the complaints begin to arrive. The aforementioned, Mitch Kessler, is a guy outdated by the times, unable to assimilate that valid behaviors and attitudes long ago among men are now the subject of criminal investigation. Available on Apple TV+.
6.'Palmer'
Fisher Stevens, the same Fisher Stevens we saw in 'Short Circuit', directs this little-seen drama with Justin Timberlake as an ex-con and former high school football star who, back in his Louisiana hometown, ends up in charge of the young son (Ryder Allen) of an addicted neighbor. At first, it's the male Eddie who gives the gender-fluid little Sam lessons in survival. But it is the presumed adult who will end up learning a thing or two about ways of being in the world in 2022. Available on Apple TV+.
7. 'The Last Duel'
When adapting Eric Jager's book about the last trial by combat held in Paris and the rivalry that led to it, Ben Affleck Y Matt Damon they did not want to rely solely on male optics. In this story of apparent rape, not only the knight Jean de Carrouges (Damon) and the squire Jacques Le Gris (Adam Driver) could be heard, the one who had allegedly raped the former's wife, Marguerite (Jodie Comer). So the writing duo signed the great Nicole Holofcener ('Friends with money') to invent the female world absent in the source and write an almost original script from Marguerite's perspective. Available on Disney+.
8. 'The White Lotus'
Among many other things, the acclaimed series of Mike White is a sharp but empathetic satire of masculinity. In his first season, Steve Zahn played a guy plunged into an unexpected midlife crisis and unable to connect with the rhythms and interests of his children. The second explores the diversity of toxic masculinity through three generations of an Italian-American family: (somewhat green) grandfather Bert (F. Murray Abraham), his sex-addicted son Dominic (Michael Imperioli) and grandson Albie, almost too proudly sensitive (Adam DiMarco). Available on HBO Max.
9. 'The Bear'
Related news
As Sophie Gilbert, a finalist for the Pulitzer for Critics in 2022, said, this acclaimed sad comedy of Christopher Storer it is "almost anthropological in its analysis of how male-dominated and masculine-dominated cultures are doomed to fail." The toxic hierarchy fueled by Carmy (Jeremy Allen White) at the family sandwich joint is set to create anxiety and insecurity rather than familiarity and involvement. Sydney (Ayo Edebiri) speaks straight to her boss in the tense penultimate chapter, with Wilco blaring in the background: "As a chef, you're great, but you're also an asshole." Available on Disney+.
10. 'Locked up with the devil'
To the great crime novelist and screenwriter Dennis Lehane At first, he did not want to adapt the memoirs of James Keene (Taron Egerton), a drug dealer who was offered his freedom in exchange for a certain mission: being transferred to a maximum security prison to subtly approach an alleged serial killer and extract information from him. sensitive. He found motivation when he discovered the possibility of another psychological and emotional journey. "I thought: wouldn't it be interesting if my Jimmy had to investigate certain uncomfortable aspects of himself, in terms of women, violence or family relationships, and discover who he is as a person?", he recalled in an interview with this newspaper. Available on Apple TV+.