Entertainment
Drake surprised everyone with his album "Honestly, Nevermind"
But opinions on this project are very divided.
There are only artists of the caliber of Drake, Eminem or Beyoncé to release surprise albums and make them a global event. Nine months after "Certified Lover Boy", the Canadian rapper therefore took everyone cold with his new project "Honestly, Nevermind" which he just announced last night by a publication on social networks and which was released in the night. It was the only harbinger of an installment that no one saw coming, including the American media, which was just as surprised and delighted as the rest of Drizzy's fans.


It must also be said that Drake has remained quite discreet musically since the beginning of 2022, apart, of course, from the featurings he cheerfully gives. Note, however, that rumors of a summer mixtape surfaced earlier this week. But the fact is that the surprise is usually not a marketing method of OVO which prefers to calculate everything upstream.
After all, it may just be a matter of signs…
Drake's new album which arrives 9 months after CLB whose cover was filled with pregnant women..

He had planned everything. pic.twitter.com/Kpcp6E1ngJ

— WRLD (@wrld_mag) June 16, 2022
Once the album was available, Drake split a long poetic statement in the description of the album on Apple Music.
"I let my humility turn into numbness at times letting time pass knowing I had the stamina to keep going. I work with every breath in my body because it's work not air that makes me feel alive. It's detrimental, but my perfectionist mind doesn't really bother me because no one knows what I'm thinking when I go to bed at 9 and wake up at 5 – unless I say so in rhymes. I got here being real/I didn't get here being blind/I know what and most importantly who's on my side/Honestly… Whatever. DEDICATED TO OUR BROTHER V."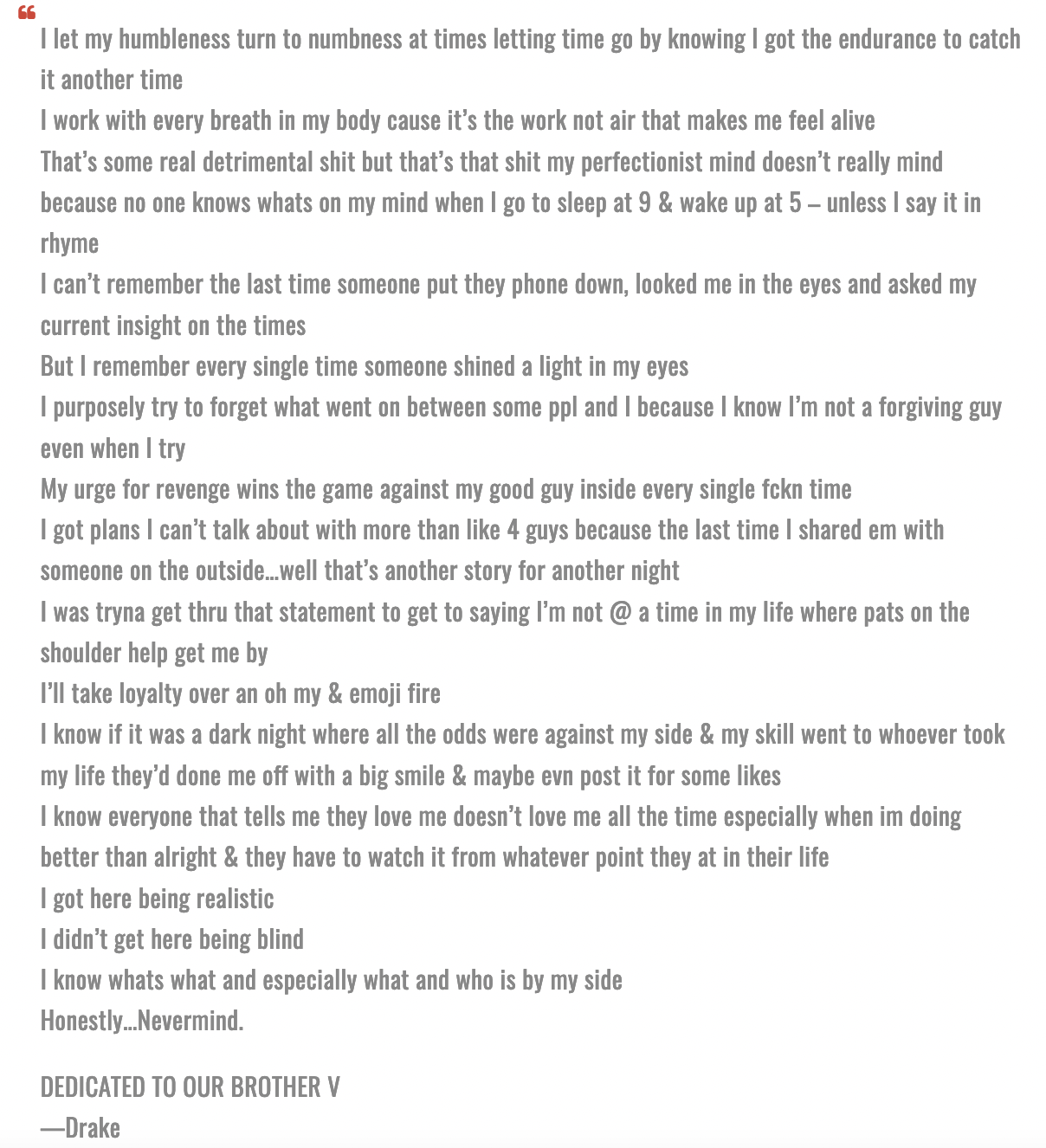 If you haven't listened to it yet, we'll let you make up your own mind. But, we must vbien admit that Drake has tried something new which does not necessarily make unanimity among the fans and it is undoubtedly one of the rare times that he does not put everyone in agreement.
Wesh Drake's album is INSANE!! I love risk taking!!

— Bilel 🦇🦋 (@bilel2054) June 17, 2022
I did not expect at all that it would be Drake who released the sounds of the summer, 0 very technical promo

— MarieK (@im__limitless_) June 17, 2022
The sounds in Drake's new album is when you go to Zara you don't know what to buy but you stay because of the sound and the shopping atmosphere.

— BAGNON (@SeryMaurice) June 17, 2022
Drake's album is so broke I hesitate between laughing and crying 😃😃😃. We have to take away his access to the studio. They look like songs created to break into tiktok… He doesn't give a damn about the posterity of his music… He created fast fashion music…

— m (@myriamknows) June 17, 2022
But Drake has to beat him up with his elevator music there

— pirate (@Hazardeux_) June 17, 2022