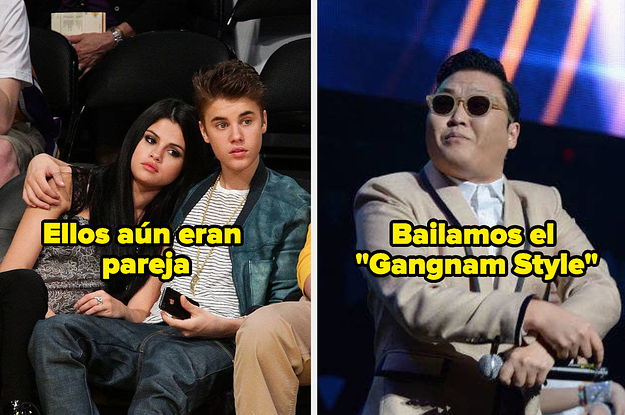 Let's talk about what the world looked like 10 years ago…
1.
10 years ago, the Instagram logo looked like this:
two.
Photos from around the world had filters beyond recognition, because we all thought we were *artists*.
3.
And people posted the most random things possible, in fact, the first photo of Harry Styles on Instagram was of some deer:
Four.
All the photos looked as if they had been taken with a potato…
5.
…and no one really cared what he posted on his profile, no matter how unflattering or random it was.
6.
In 2012, gossip-girl It was still broadcast on TV.
7.
Angelina Jolie did that with her leg.
8.
In 2012, Betty White was still alive.
9.
And I did photo shoots with boa constrictors and with Sarah Michelle Gellar.
eleven.
2012 was the year she walked through Coachella with the phrase "Thug Life" written in permanent marker on her belly while rolling a joint.
12.
In 2012, One Direction invaded the US.
13.
That means 1D-mania was at its peak…
14.
In 2012, Miley Cyrus was engaged to Liam Hemsworth.
fifteen.
Justin Bieber was still with Selena Gomez.
16.
And Taylor Swift and Harry Styles had their fall stroll *totally unprepared*.
18.
Taylor Swift was in her era Net.
19.
And the first of the movies The Hunger Games had just been released.
twenty-one.
In 2012, Madonna performed at the Super Bowl.
22.
Adele won a million Grammys.
23.
Middle-aged women were obsessed with Fifty shades.
24.
And people were still wearing flower crowns at Coachella.
25.
In 2012, it was all about the "hipster" aesthetic; I mean, people LOVED to call something "hipster."
26.
Ariana Grande's room looked like this:
27.
Miley Cyrus cutting her hair was *controversial* and a "cultural transformation."
28.
In 2012, Honey Boo Boo was the biggest reality TV star…
29.
In 2012, the Spice Girls reunited.
30.
Ed Sheeran posed with cereal boxes so he could get it for free.
31.
Meghan Markle posed with Dodgers merchandise so she could get it for free.
32.
And Anna Kendrick posed with bags of popcorn for free movie tickets.
3. 4.
In 2012, everyone danced the "Gangnam Style".
35.
People still used iPod Nanos.
36.
The iPhone had a headphone jack.
37.
The Kardashians looked like this:
39.
And last but not least, 10 years ago Donald Trump was just a guy on Twitter speculating on Robert Pattinson and Kristen Stewart. I mean, the guy had an obsession.
This post was translated from English.