Entertainment
"I looked at myself and I didn't want to live… I wanted to take my life"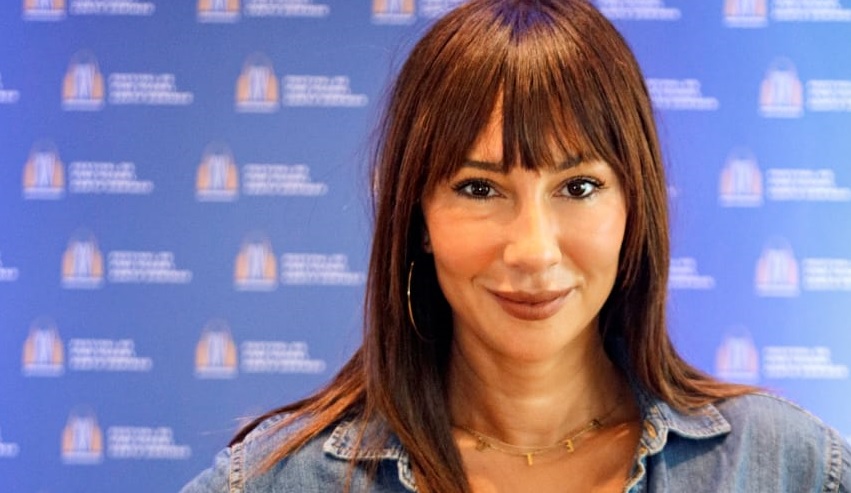 "La Flaca" from Orange is the new black, is the Dominican actress invited to the Global Film Festival
Born in Queens, the daughter of Dominicans, Jackie Cruz caught the public's attention with her role as La Flaca in the Netflix series Orange is the new Black. Invited to the XV Santo Domingo Global Film Festival, she spoke with elCaribe.
He was born in Queens, but lived in Santiago…
I was born in Queens, but at the age of 6 they moved me to Santiago and I grew up there until I was 15. I went to the María Monegro School. My parents are Dominican.
At what age did you return to the United States?
At 15 years old. My mom wanted me to do high school in the United States. But she also wanted me to be an actress, for my dreams to come true. And she said where can we go? To Hollywood! So at 16 we moved to Los Angeles. I went to a school called Hamilton Music Academy. Before that, he had studied the saxophone for ten years at the Centro de la Cultura in Santiago. So I went in for jazz on the saxophone.
But at 16 or 17 you left your mother's house. How was that?
At 16. It was the first time I lived with my mom alone. She had me when she was 16 years old. And then my aunts – who are also my mothers – raised me. I'm not going to say the name: Aunt Madelin, Aunt Lily, Aunt Lucy, my godmother Dayana. They raised me. So for the first time I was with my mom. And she had a lot of rules. And I said: 'No, no, no, no'. So I left the house. We lived in Los Angeles in a studio apartment. I took the bus to go to my school. Like an hour. I went to the street, at first to a big apartment with a friend. Her mother sent her money. One fine day her mom stopped sending her money and I went back to my mom's house with my friend to see if we could live there. And my mom told me "Ah, but you didn't want to be an adult? Go be an adult! Of course, hug me because something could happen to you "… And something happened to me…
Something happened to him… something very serious…
I had a car accident with the car where we lived. If we had nowhere to stay at a friend's house, then we would stay in the car. I went flying out the window, because I didn't have my seat belt on. So I had to undergo brain surgery.
And was he in a coma?
Yes, I fell into a coma for 72 hours. They told my mom that I was not going to survive. And she said yes. Give me a chance. I couldn't breathe on my own. It was recommended that I have a tracheostomy to save my life. My mother asked that they give me another day, because if they subjected me to a tracheostomy, they were going to ruin my voice, and I was a singer. So they gave me one more day. Well the next day I started breathing on my own. I started to revive. After two weeks of being intubated, I got up and didn't recognize myself. He had no hair, his face was turned, his eyes crooked. I looked at myself and I didn't want to live… I wanted to take my life…
I remember my mom told me that now was the time to try harder, because God had saved my life and that I was here for a reason. And if it weren't for my mom I wouldn't be here.
I went to a rehab hospital. There I met a girl in a wheelchair. The doctors told her: 'Look, there is a girl who does not want to live, can you talk to her? and she wheeled her into my room, and she told me, "You are pretty!" And I started to cry. The girl was seeing something in me that I did not see. From that day on I started walking, running, helping at the hospital. Her name is Melly Moreno, she is Mexican, and we are still best friends. In fact, I have written a series about our relationship, which I'm trying to sell right now.
And how old is she now?
She turned 30 years old. She is still in a wheelchair, but she is the most beautiful in the world. She can't move her hand but she does makeup herself. She made mine lying down. We made a video together. If you see my song "Melly 16", she appears in the video. I want to make a movie about it. Now I am learning to write scripts. I want to make a short film here in the Dominican Republic. People don't know I'm Dominican. I have a Puerto Rican family, maybe they think I'm Puerto Rican, but I'm Dominican. In Hollywood, if you're not Mexican, they don't give you much work. And even "La Flaca" (her character from Orange is the new Black) was Mexican.
I was going to ask you about La Flaca, perhaps the most iconic character you've done. How did you come to the series?
The nice thing is that I had stopped acting in 2006 because I said, 'Okay, I'm in Hollywood, I'm just the girlfriend of gangsters, or I have a line here, another line there. They are not giving me enough papers. My own agent told me 'you don't look Mexican and I don't know what to do with you'. She had long, curly hair, I came to the Dominican Republic and she had that little color. She didn't give me many chances. So I focused on my music, which took me to Miami, I lived for a year. Then to New York, there she worked as a waitress. A friend had a manager and I said, I want to try again after not acting for six years. That was like in 2012. The first casting was for La Flaca, who had two lines. It was Fighty Latina (a Latina of fire). She had a waitress friend who made me laugh a lot and I had told her, 'one day I'm going to play you on television.' So in those two character lines of hers I imitated her. They told me "wow that was incredible!". At the casting I was the first to arrive and my brother who lives in New York helped me with the accent there, because mine was very Hollywood, according to him. Two weeks later they called me to do nothing else that day. Fighting with one of the girls, and I said let's fight for real, we have to make it look real. You really give me and I give you. The next day I was sore. Because in real life she does beat me! That was how it happened. And Orange… was one of the first Netflix streaming shows. It was like an experiment. They tried characterizations of different characters. And when they found Maritza and me, it was like they saw a light there.
You also did a reality show in Miami
Yes with Kourtney Kardashian I did a couple of episodes. Kloe & Kourtney.
There you kissed with Kourtney…
(Laughs) I don't talk about it much anymore. Now we see each other in Hollywood, 'hi Jackie', 'hi Kourtney', but it's not like we're best friends.
Does it weigh you down? Would you do it now?
I think maybe not. He was young and I really didn't like men at that time, because they cheated on me a lot. He was enjoying life at the time.
Out of home
And my mom told me "Ah, but you didn't want to be an adult? Go be an adult! Of course, hug me because something could happen to you "… And something happened to me…".
He had no hair, his face was turned, his eyes crooked. I looked at myself and I didn't want to live… I wanted to take my life…"