News
The struggle of a Colombian family to obtain a US visa and be able to accompany their daughter with terminal cancer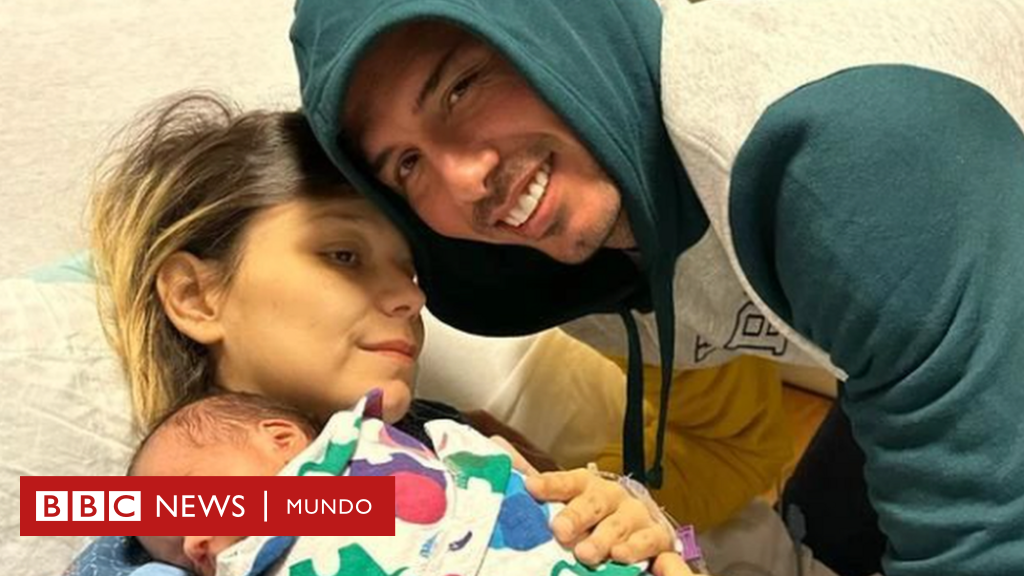 Leire Sales
BBC World correspondent in Los Angeles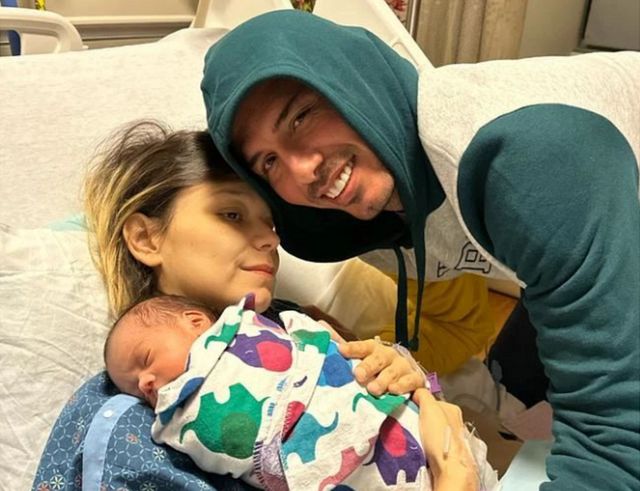 When an intense stomach ache began last November, Paula Durán thought that it was normal in her condition.
She was in the final stretch of her third pregnancy.
The news of that pregnancy was known to her while she was already in the US, where she moved in May from his native Huila, Colombiawith her husband, Sergio Vega, and their two daughters, Nanita and Julieta, 9 and 4 years old.
"While here we received the great news that we were going to be parents again," Vega says in a video on his Instagram account.
"We asked the Virgin of the Rosary so much to give us a child… [Ella] he was following his medical check-ups, we were leading a quiet life, happy because our scorer was going to be born. It was my dream to take him to training and I felt that this was close."
But such happiness was marred by the confirmation that the dizziness and discomfort that the 27-year-old Colombian attributed to pregnancy were actually due to a tumor.
A cancer that would soon become metastatic.
After doctors gave Durán a month to live, the couple asked the US government to grant them humanitarian visas to the parents of both so that they can accompany her at her home in Concord, in northern California, the time she has left.
"We need that love"Vega says on the networks, from which he has launched a campaign with that objective.
The diagnosis and the worst news
Things started to get complicated in the 34th week of pregnancy, at the end of the eighth month.
To the stomach pain was added to the headacheand constant dizziness and vomiting.
After a series of comings and goings to the doctor, and in view of the fact that her health was worsening at times — "she was almost vegetal" —, on November 28, Vega rushed her to the hospital.
"I took her at 8 in the morning, they did all the pertinent studies and at 11 at night they gave us the tragic news that she had a four centimeter brain tumor", says the Colombian in his networks.
From that moment the events precipitated.
She was immediately transferred to another clinic, John Muir Hospital in Walnut Creek, where the following day she underwent an emergency caesarean section and gave birth to a healthy baby.
"That November 29, at 11 in the morning, Juan José gave us a great message: that we fight for life, because despite the adversity in which he found himself, he was born." At 24 hours he was already breathing on his own.
The next day she underwent surgery and they removed part of the tumor.
The couple thought about returning to Colombia immediately after the intervention and before starting the radiology and chemotherapy treatment — "we know that they are quite strong procedures that wear the person down" — but the doctors advised against it.
They still had another announcement to make, the worst of all: cancer had made metastasis and had spread to other organs.
"I just had a meeting with all the doctors. They gave me news that broke my heartIt totally ripped my heart apart. It's the worst news I've ever received in my life," Vega says in a video posted on Jan. 7.
"Now medically in the hospital they are not going to do anything else. They gave him one month of life to my wife".
The next day she was transferred to her home in the San Francisco Bay Area and has remained there ever since. in bed, under the care of her husband and the attention of a nurse giving you pain medication.
And daily, through his Instagram account, Vega keeps his followers up to date on how his wife is evolving.
He shares videos of happy moments, like the one in which he grabs her hands, making them dance while his favorite song plays in the background.
In others, he speaks directly to the camera and describes, for example, a sleepless night for a crying baby and a suffering wife.
He receives hundreds of encouraging comments for them and a whole series of events have been organized to raise funds to help the family financially.
And Vega also uses that platform to rally support for his campaign to get humanitarian visas.
Campaign for humanitarian visas
"Hello, Mr. President, Mr. Biden. I want to ask you that my parents and in-laws can come here to the United States, so I can be with their support," Durán is seen saying with difficulty in one of the latest videos uploaded to account.
In the accompanying text, users are asked to share it, use a series of hashtags and tag Potus (the acronym in English for the US President) and Vice President, Kamala Harris.
"It's what we're doing a direct call tothe government of Biden, to the President, to the Vice President. They have the power to change this situation," Jessica Domínguez, the lawyer who is assisting them in the process, told BBC Mundo.
As of this writing, the US government has not made a public statement on the case.
A section of the Immigration and Nationality Act allows "inadmissible" aliens enter (or remain) in the US temporarily when there is an "urgent humanitarian reason" or the entry confers a "significant public benefit".
It is done through a humanitarian visa, a document also known as parole or humanitarian permit.
Among what the US Citizenship and Immigration Services considers an urgent humanitarian reason is "caring for or providing support to a family member who is in the US with a serious or terminal illness."
Also receive medical treatment, donate organs to a person who is in the country or attend the funeral of a relative.
Applications are studied case by case, assessing the evidence presented, and are granted at the discretion.
"Humanitarian reasons must be presented and in this case we have so many… There is enough evidence to request a humanitarian visa," adds attorney Domínguez.
For his part, he Ministry of Foreign Affairs of Colombia reported on Monday that since he learned about the family's case, he has been in permanent contact with Vega and has "provided him with the necessary accompaniment."
"In accordance with the humanitarian assistance provided in these cases, the Colombian Foreign Ministry has already filed with the United States Embassy in our country the request for a humanitarian visa for the relatives of Paula Andrea Durán," he added in a statement published in his Web page.
Gloria Camargo, Durán's mother, had asked Colombian President Gustavo Petro for support.
"Go to a mother in great pain in her heart, of not being able to be with her daughter at a time as hard as this," she said in an interview with Noticias Caracol.
"I wish I could have been with her a long time ago. I know that things are not easy but, please, that President Petro listen to this mother who begs and pleads to intervene with the United States so that they can give me that humanitarian visa".
Now you can receive notifications from BBC News World. Download our app and activate them so you don't miss our best content.