News
What does "chimba" mean, the expression of the Colombian miner?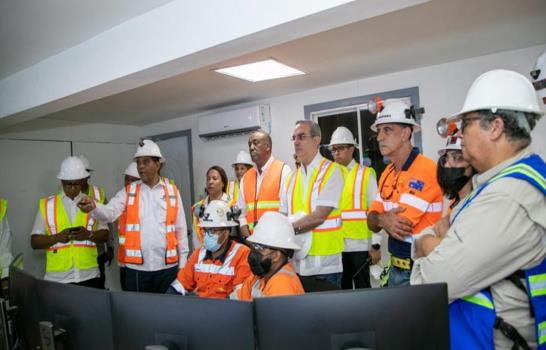 In the conversation between the president Louis Abinader with both miners who remain trapped in Cerro Maimon mineMonseñor Nouel province, a word was expressed by one of those affected that called the president's attention.
One of the two minersthe Colombian Carlos Yépez Ospina, when thanking the president for the invitation to receive them at the National Palace when they are rescued, used the expression "chimba".
After this, the president told him with laughter that he did not know what the word means "chimba" and at the same time wished a big hug to the Colombian "who is the most chimba".
"Well I know about jevy, I don't know the other word for chimba. The important thing is that everyone is there with faith and hope and that they maintain that spirit, that spirit that is setting an example and an entire country waiting for you to see you leave soon, a big hug to that Dominican who is the most jevy and the Colombian who is the most chimba", said Abinader when talking with the miners by radio when he visited this Thursday the Cerro Maimon mine.
What does that expression mean?
The word "chimba" has at least three meanings for Colombians depending on the context in which it is used.
According to the Colombian Academy of Language in its "Brief Dictionary of Colombianisms", this word is an adjective that refers to "good", "beautiful", giving as an example the expression ¡Que chimba From home!
Likewise, the academy explains that the word is also used to refer to something that was by chance, by chance.
The dictionary also indicates that in colloquial terms the expression is also used to refer to the vulva.
While the Association of Academies of the Spanish Language, an entity that brings together the 23 academies of America, Spain, the Philippines and Equatorial Guinea, maintains that the word has different meanings depending on the country where it is used.
The entity indicates that in Colombia "chimba" is a good or excellent thing and is also used to refer to a good-looking person.
He maintains that in Peru it refers to the opposite bank of the river and in Honduras it is a handcrafted firearm.
The miners Carlos Yépez Ospina (Colombian) and Gregory Alexander Méndez Torres (Dominican) have been trapped since early Sunday morning after a landslide occurred at the Cerro de Maimón mine.
The rescue efforts are headed by an internal relief team from the Dominican Mining Corporation (Cormidom), whose company is in charge of designing that mine.