Entertainment
What to see today on TV? Saturday April 1, 2023 | Television
12.10 / Movistar Classics
'Chimes at midnight'
Chimes at Midnight. Spain-Switzerland, 1965 (115 minutes). Director: Orson Welles. Cast: Orson Welles, Keith Baxter, John Gielguld, Jeanne Moreau.
Baroque and excessive, while intimate and delicate, chimes at midnight displays the quintessence of Orson Welles' style through a whirlwind of visual experimentation. A masterpiece shot in Spain, the only country where the director was able to get the financing to shoot according to his wishes. Welles melds four Shakespeare plays into a single story to create a bitter and sorrowful tale. And he reserves the character of Falstaff, with which he delivers one of his interpretive peaks.
2:00 p.m. / Movistar LaLiga and DAZN
Four appointments with the football day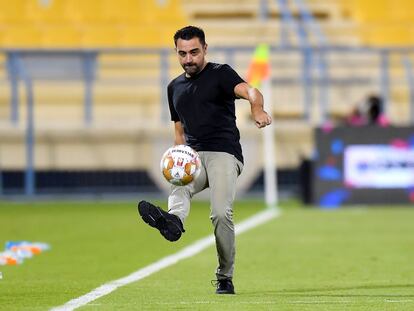 The 27th day of the League proposes four appointments with football. At 2:00 p.m. the duel between Girona and Espanyol will arrive, broadcast by DAZN. Athletic and Getafe will measure their forces at 4:15 p.m. in Movistar La Liga. At 6:30 p.m., Cádiz will face Sevilla before the DAZN cameras. Finally, Elche will receive Barcelona in a duel broadcast by Movistar La Liga.
16.00 / #0
'Love Actually'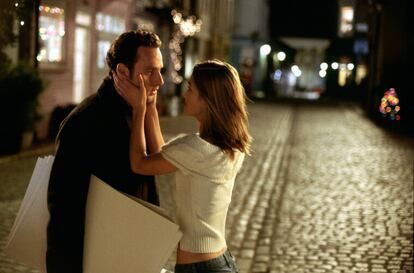 United Kingdom, 2003 (130 minutes). Director: Richard Curtis. Cast: Hugh Grant, Alan Rickman, Liam Neeson, Emma Thompson, Laura Linney, Colin Firth.
The directorial debut of Richard Curtis, writer of hits like Four Weddings and a Funeral and The diaryof Bridget Jones proposes a journey through several parallel stories, all of them moved by the motor of the feeling of love. Some are fun, others are romantic, they form an entertaining puzzle that thrives on the good work of the actors and the many songs that populate its soundtrack.
17.55 / Hollywood
Notting Hill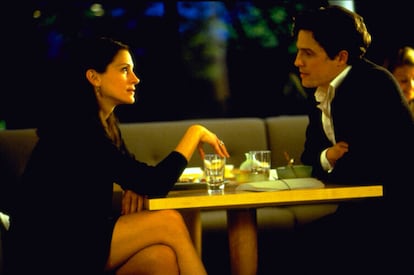 United Kingdom, 1998 (118 minutes). Director: Roger Michell. Cast: Hugh Grant, Julia Roberts, Rhys Ifans.
One of the box office bombs of the nineties. A romantic comedy that, although it does not bring any novelty to the genre, at least tells a funny story with simplicity and skill, something that cannot even be said of hundreds of titles of the genre that have arrived in recent years. Hugh Grant is a bookseller who falls in love with Julia Roberts, a movie star, so the gags are served.
10.18 / Movistar Classics
'The invincible legion'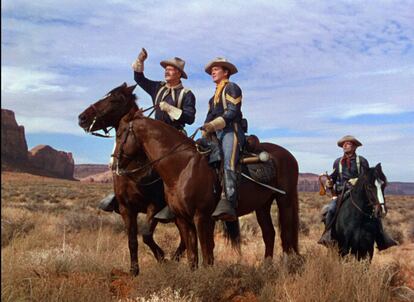 She Wore a Yellow Ribbon . 1949 (98 minutes). Director: John Ford. Cast: John Wayne, Joanne Dru, John Agar.
The second film that makes up the so-called "Cavalry Trilogy" in the work of John Ford is an itinerant story, of unusual plastic beauty, that turns John Wayne into a captain on the verge of retreat, faced with a war with the Indians. that you can't avoid. Ford wraps his characters in a halo of doom and makes the invincible legion one of his most bitter and radical films. A masterpiece.
18.15 / TNT
'Stabs in the back'
Knives Out. USA, 2019 (130 minutes). Director: Rian Johnson. Cast: Daniel Craig, Ana de Armas, Chris Evans.
A joyous reconstruction of Agatha Christie's thematic universe that, in an example of postmodernity, is referentially voracious. The meticulous intrigue, like a Russian doll display, constantly twists the plot and includes comic moments of cheeky glee.
19.05 / Movistar Drama
'The Age of Innocence'
The Age of Innocence. United States, 1993 (133 minutes). Director: Martin Scorsese. Cast: Daniel Day-Lewis, Michelle Pfeiffer, Winona Ryder.
After the violent explosions of One of ours and Cape Fear, Scorsese travels back in time to 1870 New York in order to dissect a vile and corrupt society, governed by the principle of double standards, and delve once again into its recurring themes: the guilt complex and the weight of tradition. . This is how an amazing film is born in which the visual showiness of the author flows and where the portrait, as stormy as it is delicate, of a loving obsession beats.
19.20 / Movistar Action
'The Amazing Spiderman'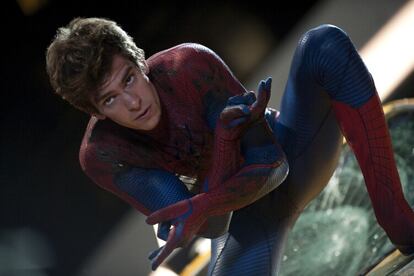 USA, 2012 (136 minutes). Director: Marc Webb. Cast: Andrew Garfield, Emma Stone, Rhys Ifans, Sally Field.
After the exhaustion that the Spiderman franchise had reached in the three installments signed by Sam Raimi, this new approach to the character revives him thanks to the fact that Marc Webb brings a certain pop air to the story, as well as combining action with an approach to melodrama.
20.00 / Be Mad
'Two Ride Together'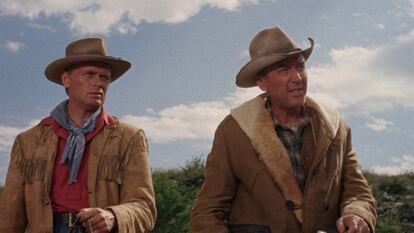 Two Ride Together. United States, 1961 (109 minutes). Director: John Ford. Cast: James Stewart, Richard Widmark, Shirley Jones.
Over the years, two ride together It has been praised and reviled in equal parts. It is true that, in John Ford's filmography, it pales somewhat in comparison to the film that preceded it, a masterpiece like daring mission, and of the work that follows it, the unforgettable hymn to the death of the myths of the West that supposed The man who killed Liberty Valance. Even so, two ride together clearly shows the dramatic depth that Ford was capable of pouring into his characters, and contains memorable moments of cinema such as the very long single shot that shows the two protagonists conversing next to a river: without fuss, without fuss, it becomes in one of the most emotional moments in John Ford's cinema.
20.40 / DARK
'Dark Water'
Japan, 2002 (102 minutes). Director: Hideo Nakata. Cast: Hitomi Kuroki, Rio Kanno.
After the two superb deliveries of The Ring, Japanese Hideo Nakata continued to renew the shabby horror film schemes with this chilling and terrible film, which drowns a mother and her daughter inside a house dominated by strange presences. Nakata manages to convert to Dark Water not only in a monument to the horror genre, but also in an explosive mosaic of funereal and suffocating sequences that overflow with malignancy, a story full of edges, shadows and horrors. And all this without using a drop of blood.
21.20 / 1
'Weekly Report' turns 50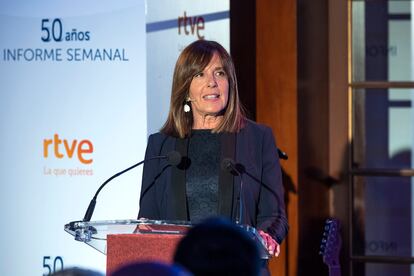 The mythical informative space of Televisión Española, Weekly report, turns 50 at the foot of the present time. On March 31, 1973, this program premiered that reviews international, national, social and cultural news every Saturday with reflection, context, analysis and careful production. Five decades and 2,500 programs later will be celebrated tonight with a special from the Guggenheim Museum in Bilbao hosted by the journalist Ana Blanco. The special will start with the special title of 50 years and a message from Queen Letizia, who began her career on TVE presenting the program in the summer of 2000. It will include the testimony of Carmen Sarmiento, the only woman in the initial team of the program , which approached information from a gender perspective, circumventing censorship and opening paths for many other informants who would follow her. There will also be an extensive report on how we have changed when it comes to telling the news in these 50 years. Especially, on issues such as politics, feminism or the environment, with the testimony of journalists such as Rosa María Calaf, Diego Carcedo, Pepa Bueno, Lorenzo Milá, Baltasar Magro, Mari Carmen García Vela, among others. He will also remember the Weekly Reports with the greatest impact over the years and an analysis with the professionals who were in front of and behind the cameras, such as Rosa María Artal in the fall of the Berlin Wall; Evaristo Canete, who recorded the unforgettable images of the Omayra girl and the Nevado del Ruiz volcano; or Vicente Romero and the Hotel Kigali.
22.00 / TCM
'Arsenic for compassion'
Arsenic and Old Lace. United States, 1944 (118 minutes). Director: Frank Capra. Cast: Cary Grant, Raymond Casey, Peter Lorre.
Cary Grant's elderly aunts are a case in point: with their best intentions, and in the name of their good hearts, they help homeless people who come to their home to a better life. But the poor forget to ask their permission. Since there are still fans who point to Frank Capra as the paradigm of sweet cinema, this completely perverse comedy that vibrates from the pages of the memorable script by Julius and Philip Epstein should be carefully studied. For his part, Capra gives the film a prodigious rhythm that gives off explosions of black humor and turns the plot into a madness that is as joyous as it is evil. Almost in every plane a gag explodes.
22.20 / 1
New date with 'Cover Night'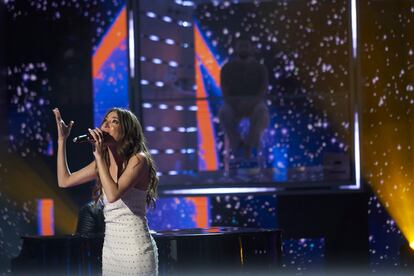 The great musical format conducted by Ruth Lorenzo, Cover Night, will open its fifth installment with a performance by Ana Guerra. The Canarian singer, accompanied on piano by the actor and musician Víctor Elías, will give off feeling singing a medley by Camilo. After her, twelve new contestants will try to shine on stage to get the key that gives them access to the booths of the program. One more night, Abraham Mateo will show everything that happens in rehearsals and Ana Guerra will take care of the new participants backstage. Miguel Bosé, Mónica Naranjo, Chanel and Juan Magán, together with the public, will have the last word before knowing which artists will finish the fifth program occupying the desired booths.
0.50 / XTRM
'The fighter'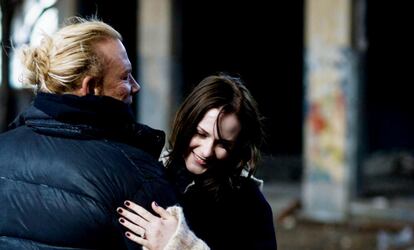 The Wrestler. USA, 2008 (100 minutes). Director: Darren Aronofsky. Cast: Mickey Rourke, Evan Rachel Wood, Marisa Tomei.
Disturbing approach to the world of American wrestling, which Darren Aronofsky draws with a hyper-realistic tone. The fighter portrays an old sporting glory with undisguised tenderness: Mickey Rourke's wounded face, which once again shows the immense actor he once was, reflects bitterness and despair, but also pride. Aronofsky traces a certain epic of defeat in his images and impregnates all the sequences with a twilight tone that flees from both artifice and aestheticism.
You can follow EL PAÍS TELEVISIÓN on Twitter or sign up here to receive our weekly newsletter.
Receive the television newsletter
All the news from channels and platforms, with interviews, news and analysis, as well as recommendations and criticism from our journalists
SIGN UP