News
Dina Boluarte calls for a "national truce" before a new mobilization in Lima | International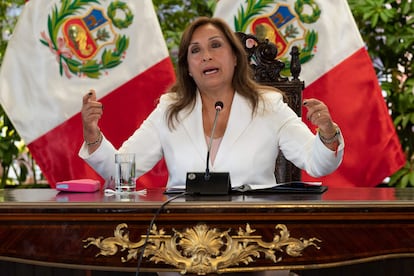 He apologized three times to the international press and called for a "national truce." She said on more than one occasion that she is saddened by the death of fifty protesters during the month and a half that she has been president of Peru. She assured that she is a "provincial woman, a victim of hatred and revenge, who only wants to work with clean hands without stealing a sun from Peru." But at the same time, President Dina Boluarte remarked on Tuesday that the protests are "incited by radical groups that have a political and economic agenda based on drug trafficking, illegal mining, and smuggling."
The president's intervention occurred hours before a march, called for this afternoon, which was joined by the General Confederation of Workers of Peru (CGTP) and new caravans of protesters from the regions of Cajamarca, Apurímac, Lambayeque and Puno, some of the departments hardest hit by the repression. Boluarte spoke for more than an hour and repeated the words dialogue, peace and unity several times. His central message was the call for a truce to establish dialogue tables to resolve the conflict and restore the development of the country. Boluarte also reported that the Government has formed a Multisectoral Commission to accompany the families of the victims with financial support that she did not specify and with psychological support to overcome the losses. And she emphasized that her mandate recognizes the right to protest: "I have also gone out to march for fair labor and student struggles, but protests cannot be accompanied by violence, destruction and death."
After making a chronology on how the mobilizations began, Dina Boluarte focused on the events of January 9 in the city of Juliaca, where about twenty protesters died from firearm projectiles, outside the Inca Manco Cápac airport. . Boluarte launched the theory that the protesters would not have been killed by shots from law enforcement but by the civilians themselves. "There are videos where apparently one of the men grabs a huaraca, and no, it is a weapon. It is not the police who have shot. The deaths did not occur where the Police were concentrated, but in the immediate vicinity of the streets", she said, later adding: "Most of the impacts were with a handmade weapon called Dum Dum. Agents don't use those lethal weapons."
When asked about the disproportionate repression by the State, Boluarte bristled and stressed that the main purpose of the troops is the security of all Peruvians, and that this is above a particular region. "What do we do in the face of threats? Do we let them burn us alive like they burned the policeman in Puno and burn down our houses? We have to protect the lives of the 33 million Peruvians. Puno is not Peru, "he stressed.
Regarding the great police operation that violently broke into the campus of the Universidad Nacional Mayor de San Marcos (UNMSM) last Saturday, President Dina Boluarte apologized not for the fact, but for the way in which the events happened. For three days, student groups took over the house of studies with the purpose of giving refuge to the protesters who arrived from the southern highlands of the country. In the intervention, 193 people were arrested without the presence of prosecutors or the Ombudsman's Office. "Perhaps the form was not adequate and for that I apologize. But there were no injuries and they were later released. The Police intervened for the very lives of the students, because it was not known who had entered and we could not guarantee what could happen inside the university, "she explained.
At another point in his press conference, Boluarte accused Pedro Castillo of the country's social upheaval. As is recalled, on December 7 Castillo carried out a failed coup d'état and tried to seek asylum in the Mexican embassy, ​​just when he had to appear before Congress for a third vacancy request. "Being a victim has been the best way for him to get out of government and not respond to the 57 tax files that he has against him for acts of corruption. There is no victim here, Mr. Castillo. Here is a country that is bleeding to death because of its irresponsibility," he said. Dina Boluarte also remarked that she does not intend to screw herself in the Palace beyond the time that she must serve before the new general elections.
Join EL PAÍS to follow all the news and read without limits.
subscribe
Finally, Castillo's successor hinted that the crisis was due to Bolivian paramilitary forces. "In this year and five months of government I ask myself: has all this paramilitary force been prepared? (…) Through the border with Bolivia, the Ponchos Rojos have brought these handmade Dum Dum weapons, "she said. The Red Ponchos are an Aymara militia related to former President Evo Morales, who a couple of weeks ago was banned from entering Peruvian territory indefinitely. This Wednesday Dina Boluarte will hold a meeting with the Permanent Commission of the OAS, who are very concerned about what is happening in Peru.
Follow all the international information on Facebook Y Twitteror in our weekly newsletter.