Health
La Loyola already accumulates more than 3,000 applications for its future Health Sciences campus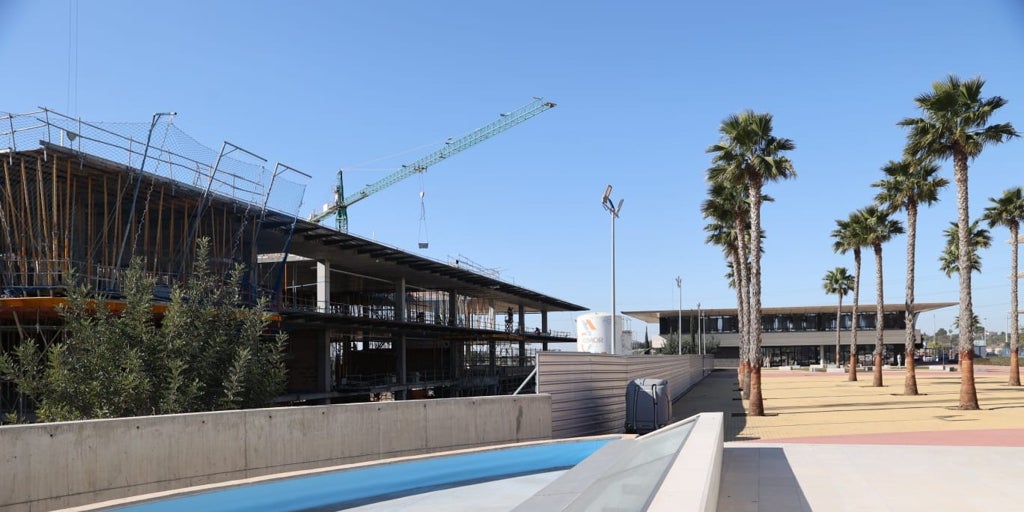 Loyola University is preparing to teach Medicine, Nursing, Biotechnology and other health degrees at its future Health Sciences campus, which it hopes will open next year. has already received up to 3,000 applications, 100 of them for Medicine, of students who are waiting for the private university to obtain authorization to become the first private to offer Medicine, one of the most sought-after degrees. But in the meantime, it continues to advance and already has a decanal team, while it has received up to 200 requests from healthcare professionals who have sent their application to teach in these future degrees.
The rector, Gabriel Pérez Alcalá, has appeared this Monday at a press conference to present the dean team. The dean of that campus will be Antonio Nunez and the vice dean Herminia Ramos Romero.
Núñez has a degree in Medicine and Surgery and a specialist in Hematology, Hemotherapy and Immunology. Doctor of Medicine from the University of Seville, after completing his doctoral studies in Paris he also worked at the Pasteur Institute, where he obtained the Immunology Certificate. Back in Spain, he organized and directed the first histocompatibility and transplant laboratory in Andalusia. Likewise, he was head of the Immunology Service of the Virgen del Rocío University Hospital, a position he has held until 2019. He has also been responsible for the Andalusian Plan for Clinical Laboratories, developing numerous initiatives for the optimization and coordination of clinical laboratories of the Public Health Service of Andalusia (SSPA). In addition, Núñez had an important political career, since he was an Andalusian parliamentarian for years, first with the PA and then with the PSOE.
For her part, Herminia Ramos has a degree in Medicine and Surgery from the University of Navarra, a Master of Science in Human Nutrition from King's College London, as well as a Master's in Clinical Nutrition from the Autonomous University of Madrid and has a diploma from the Program Senior Management of the Health Sector at San Telmo Business School.
He has developed a good part of his career in Andalusia, where he has held various positions, such as Assistant Specialist Physician in the Hospital Nutrition and Dietetics Unit Virgin of Rocío of Seville; deputy director of Economic Management at the Valme University Hospital (Seville); Technician of the Planning, Management and Organization of Resources Service of the General Directorate of Health Care of the Andalusian Health Service; and Deputy Medical Director at the Virgen del Rocío Sevilla University Hospital.
«This project means for me the realization of some of my dreams: building a university space dedicated to committed Health Sciences, on the one hand, with scientific and technological excellence and, on the other, with an unequivocal humanistic and social vocation of future health professionals. One of the things that has surprised and attracted me the most about Loyola is that it has qualities similar to those of some of the best universities I know and I believe that, in a few years, it will undoubtedly be among the most prestigious universities in the world." Núñez has indicated, referring to the creation of the faculty and the university's strategic plan for the coming years.
millionaire investment

Loyola continues to take steps to complete the organization of the new faculties, for which it has invested approximately 30 million euros in a new building that will house these future studies of Medicine, Nursing, Biotechnology and Physiotherapy, that will be added to those already taught in Pharmacy, Psychology, Sports Sciences or Nutrition.
As explained by the rector, while waiting to receive verification from the Directorate of Evaluation and Accreditation (DEVA) of the Andalusian Knowledge Agency, the University has already signed agreements with several private hospitals and with medical colleges and they are at the He hopes to sign others so that future Medicine students do their clinical practices in centers such as Chiron, Fatima, Viamed, Saint Augustine and Vitas, They are the ones with which they already have agreements and will soon close them with other private centers. With these agreements closed, he hopes to be able to teach these degrees in the 2023/2024 academic year,
In addition, the idea is that Medicine offer 60 annual places for new income and that, once the future Health Sciences campus is completed, some 1,800 professionals leave each year from all the degrees that will be taught. The admission process for these degrees that await authorization to be able to be taught the next academic year It has already been opened, and the admission tests will be held on April 22.
In addition, it will be a building that will be presented soon, with cutting-edge technology and in which clinical simulation will be incorporated. In fact, there will be a simulation of an ICU, an operating room, a delivery room, a multifunction room or even a triage area in which students will be able to do their practicals from day one. Similarly, from Loyola they want medical and nursing professionals to work together.
The rector recalled that the Loyola Health Sciences campus was authorized by the Junta de Andalucía by Decree on July 6, 2021. «I think that It will provide us with the necessary knowledge and experience so that this new faculty is a complete success and we can continue taking the appropriate steps in our growth plan until we become the complete university we dream of. Of course without losing our culture of excellence and quality", Pérez Alcalá indicated.