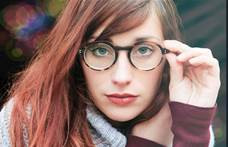 According to visagism – the discipline that is responsible for studying the physiognomy of faces and all the bones that give the structure to the face – there are seven types of faces. Alicia Escuer, technical and training director of Optics & University Audiology, recommends "taking them into account when selecting which glasses to buy, since, depending on the shape of the face, a style of glasses will favor some people more than others." others".
To make it easier to differentiate one face from another, the experts at Optics & University Audiology give examples with famous and well-known people:
The singer Beyoncé can wear any type of glasses
Oval faces are characterized by their harmonious lines, with a longer vertical axis, a slightly broader forehead and a more pointed chin, like that of the model Kendall Jenner or the singer Beyoncé. For this type of face, any style of glasses is appropriate, whether they are round, oval or square, because the face is already harmonious in itself.
Actress Penélope Cruz should wear round glasses
The most common of the faces is square, with a broad and strong physiognomy in the area of ​​the jaw, and with the sides and the forehead very straight. Examples of people with this type of face are the actresses Penelope Cruz and Salma Hayek. To soften the features, the best in these faces are oval or round glasses.
Selena Gomez, on the other hand, has to opt for square glasses
The round or circular face, like that of the actresses Selena Gomez or Miley Cyrus, does not have defined lines and is rounder in the cheekbones and cheeks. In this case, square or rectangular glasses are the ideal ones to harmonize the features.
Bella Hadid needs big round glasses
The rectangular face is very similar to the square, but longer, like that of the actresses Angelina Jolie and Bella Hadid. Round or oval but larger glasses are appropriate in this case.
Small glasses for Shakira
The inverted triangle-shaped face has a broader forehead and a more pointed chin. Examples of them are the singers Shakira or Rihanna. In this case, the ideal are small glasses, either round or square.
Instead, Alba Flores needs big glasses
Elongated or oblong faces are narrow and with a very elongated vertical axis, like that of the actress Alba Flores, who need large glasses with personality to harmonize their faces.
Ruby Rose goes well with glasses with a straight line at the top
Heart faces resemble oval, but with a pronounced heart shape in the center, especially on the forehead. It is not a very common type of face, but we can see it in actresses with Ruby Rose or Maisie Williams. In this case, the glasses can be oval, square or round, but always with a straight line in the upper area.