Entertainment
Review: SoundPEATS Air3 Deluxe HS | Analysis and opinion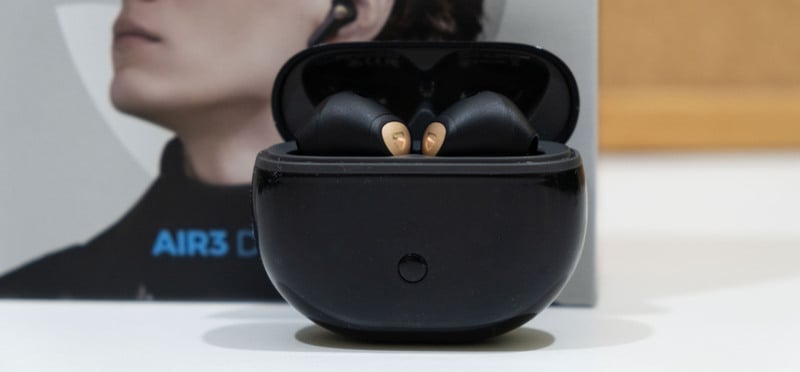 Headphones are a key piece of technology in everyday life, and it is better if they are wireless so that they can be carried with you. Within the lower part of the sector there is a brand that I find interesting, SoundPEATSof which I analyzed its Air3 model, and now I am going to talk about the Air3 Deluxe HS. They don't really change much, since aesthetically they are almost the same, except for the box, so I will focus more on the differences in the sound, which are the fundamental ones.
unpacked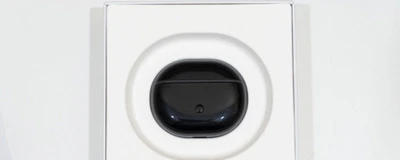 The box of the Air3 Deluxe HS It is somewhat different from the one used in the Air3, somewhat larger, in which the white color predominates instead of black. In this case, the case arrives in a cardboard tray instead of a petroleum-derived product tray, which I see as much better. The case is wrapped in protective plastic. Under the tray there is a user manual, and at the top, below everything, is the tiny USB type A to USB type C cable, just 15 cm long and of fairly normal quality.
The case is finished in gloss instead of matte, with only one led that changes color to indicate the charge level of the box. It gives a feeling of cheaper than the Air3 case. It also has a button that is used to force the pairing of the headphones. It is quite a small case so there is a better chance that it will fit in the coin pocket of many jeans. At the bottom of the case there is a USB Type-C socket for recharging.
The design of these earpieces remains the same as the original AirPods, for better or for worse. SoundPEATS sells them as a product for athletes and therefore have IPX4 water resistance -in instead of IPX5—, which is basically against sweat, so it won't do for swimming or showering in them. In my case, the design of the Air3 Deluxe HS makes them stay well in place, they don't move at all, although they don't fit the ear too much, so they have an "open" sound. Personally I prefer it so that the pressure is not so concentrated in the ear canal.
I can't wear these types of headphones, the in-ear ones, for more than two or three hours before they start to bother me, and the same thing happens with the Air3 Deluxe HS. It is a question of where they are located and their design, but not so much of the weight since this specific model is very light. They won't give anyone any trouble in that area.
Characteristics and use
The main change between the Air3 and the Air3 Deluxe HS it's in the audio codecs. Both integrate SBC, but the first also provides aptX and adaptive aptX, while the second resort to LDAC, Sony's advanced audio codec. That carries a significant extra cost, which justifies cutting certain aspects of these headphones such as the case, which seems cheaper.
LDAC is an audio codec over Bluetooth that provides much more bandwidth in communication, with the problem of leaving less margin in communication to reduce interference. The result is that the frequency response of the connection is 20 Hz to 40,000 Hz with a bit rate of 990 kb/s, almost triple that of aptX. This means that the audio signal is less compressed and loses less detail. Of course, the headphones remain in 24 bits and 96 kHz.
| | Air3 Deluxe HS by SoundPEATS |
| --- | --- |
| Kind | earpieces (Bluetooth earphones) |
| Connection | bluetooth |
| transducers | 10mm |
| Autonomy | 5 a.m. |
| Frequency | 20Hz to 40,000Hz |
| recharge case | 12.5 additional hours |
| Battery of each earpiece | 30mAh |
| battery charging case | 300mAh |
| charging connector | usb type c |
| Microphone | yes, omnidirectional |
| Others | waterproof, IPX4 (sweat, not immersion) |
| retail price | 50 euros |
The case includes a 300 mAh battery and each earpiece includes a 30 mAh battery, which gives them a autonomy for about five hours at medium volume. The case provides another twenty hours of use approximately, with an hour and a half recharging time for the earpieces from scratch. The case also takes just as long to recharge from scratch via the USB Type-C port. The case weighs 36.3g with the earpieces inside, while each earpiece weighs just four grams.
The controls are tactile, in the logo of each headset. For example, with a touch the volume is increased with the right and the volume is decreased with the left. They have a proximity sensor, so it detects if they are put on and taken off to pause the music or play it again. The connection works reliably on mobiles, although on the Mac with which I have tried them, especially playing games, the sound cut out from time to time. Speaking of gaming, there is a low latency mode that will come in handy for that.
There are omnidirectional microphones, one in each earpiece, but as it happened in the Air3 they are functional and little else, producing a click or stutter from time to time. Of course, the voice is heard clearly, within the limitation in the recording, but only if you speak louder than normal. Although they have ambient noise cancellation, it is not a point in which they stand out and therefore they are much better for listening to music than for using them for video conferences. If you have someone next to you, they may be heard more than you on a call.
There is a setup program which is generic for all SoundPEATS headphones. The application called SoundPEATS It's available for Android and iOS and generally works well, but it's annoying to have to register a user account in order to use it. For those who want to equalize the sound to adjust it more to their tastes, it will come in handy. He has the right optionsincluding the activation of low latency mode, and little else.
In this app you can choose between different equalization profiles for different types of music, or create your own setting. I am not a friend of fiddling with the equalization because the frequencies that are improved on the one hand are worsened on others, but there are users who like to have that possibility. Bass can be reinforced, but there are no miracles. From this application the firmware of the headphones.
Better sound… as long as you have LDAC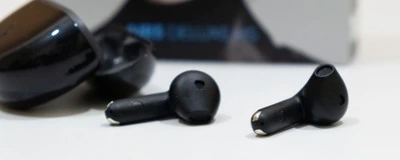 SoundPEATS is a manufacturer of cheap headphones, but having tried two of them already leaves me with a pretty good feeling. These Air3 Deluxe HS yesThey are very similar to AirPodsAlthough its limited price means that its sound is good, but not as good as the Apple model. That is hardly when the PVP of the Air3 Deluxe HS is 42 euros and that of the AirPods is 150 euros or more, depending on the specific model that is looked at.
I have tried them first on an iPhone and a PC, without LDAC. In this context, the sound sounds good at first, but then it becomes too bright, causing uncomfortable peaks in the high frequencies and you don't quite hear a totally clear sound although it sounds good, or at least it doesn't sound bad. Something dull is heard below, something rumbling. With Windows the exact same thing happened to me. The frequency response is far from flat, but in general, this way they sound worse than the Air3.
Then I went to the Realme C33 that I reviewed a few weeks ago and which is LDAC compliant, as most Android phones should be today, and things change a lot. In addition, you can do the test because in the settings of the Bluetooth device there is a switch to activate or deactivate LDAC and you can check how it sounds in both ways. Without LDAC, the sound is the same as on an iPhone or a Mac: good, but exaggerated in treble and bass.
With LDAC activated the sound is heard much clearer, although you can still appreciate, if you pay a lot of attention, some strange noises very in the background and only very occasionally. But the treble is more limited and well-formed, and the bass doesn't rumble as poundingly on certain songs. This is when you can really appreciate the difference between the Air3 and the Air3 Deluxe HS.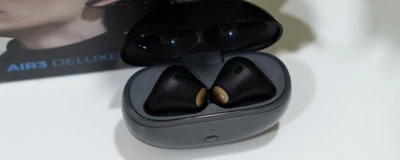 At this time I have been able to try the usual songs What do I use to test headphones? For example, Blood // Water from Grandson, where I check how it behaves with the very deep bass that the song has and that these headphones totally kill. With other earphones that I have tried over the past year, it did not happen in such an exaggerated way, but it is clear that some 40-euro earpieces were going to have their limitations.
In other more guitar songsWhat bleeding heart by Jimi Hendrix, the treble sounds much better -Y more limited— Thanks to LDAC and in that area I don't see any problems. As for the mid frequencies, the vocals are well represented. They still don't have a flat frequency response, but with LDAC these headphones sound much better.
Then I've gone through Ramstein, Metallica, 30 Seconds to Mars, dance music by David Guetta and the like, and some pop, Madonna or Katy Perry, among others. It sounds quite good in general, but they are still not up to the Elite 5. But it is in the difference in price, that these already cost about 40 euros and those of Jabra are 150 euros.
The LDAC issue leads to the fact that it is a problem to use them outside of Android because they won't sound quite right, or not as good as they could sound, and in fact some might find the sound annoying on an iPhone. In that case, I insist that it is better to stick to the Air3, even if they have a similar price, because the transducers are not tuned in the same way in both models. That includes Windows users, who will need to make sure their system supports LDAC. An equalization program like the one in the SoundPEATS app might fix the problem somewhat with some songs, but it won't always.
For the rest, the autonomy is very similar to that of the Air3, although the case includes a little more battery. That's still about five hours of use at 50% volume on the C33, which may taste like little right now. I still like the design a lot. fitting well in my ears without moving. They are comfortable to wear, at least for two or three hours, which is what I usually get tired of using this type of headphones. The design of the case is beautiful, and it provides several additional recharges, also having a USB type C connector.
Punctuation
Related news
15 Nov 2022

Oct 29, 2022

Oct 26, 2022

Oct 15, 2022